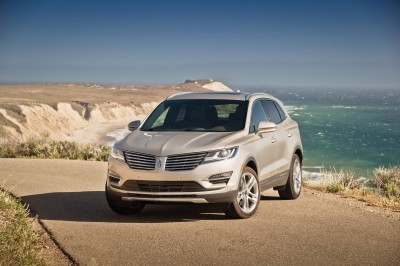 Hitting the sweet spot of any automotive segment on the first try is like hitting your first club at Pebble Beach and seeing nothing but a white dot tickling a flag.  By being named "Crossover Utility Vehicle of Texas" by Texas Auto Writers Association, that's exactly what happened to Lincoln's new MKC.  By sharing a few bits with the benchmark Ford Escape, and enjoying help from Dallas Buyer's Club's Matthew McConaughey, the little Lincoln kicks in the right direction.
MKC is the first crossover to fully employ Lincoln's new design language.  A bow-wake grille cribbed from the classic '40 Continental, sleek roofline, defined shoulders, glass sliding roof, and full-width taillamps tell the story.  Lincoln designers are especially proud of the wrap-around rear hatch that allows for cleaner lines and a wide opening.  Put 18" alloys under it and go for a spin.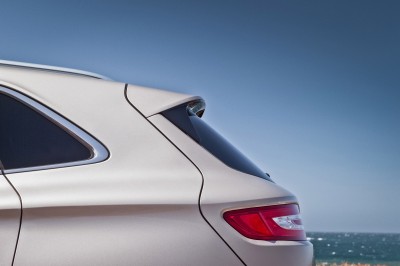 You'll have to figure out the interior first.  Push-button starting and gear selection is easy.  MKC has the best version of Ford's SYNC and touch infotainment system, but the little woman listening for my voice commands is hard of hearing.  Say it three times and she'll probably still go to 980AM instead of satellite channel 58.
My iPhone couldn't speak SYNCese any better (it failed to pair).  Had it all worked, I could have used the MyLincoln Mobile app to start, lock, unlock, locate, and remote-start the vehicle.  At least the car parallel parks itself with ease.  And, I'm a fan of the big silver volume and tuning knobs.
Lincoln interiors are beautifully styled.  Wide swaths of available open-pore wood trim, door panel stitching, and satin chrome details create ambience.  Bridge of Weir leather, from the same company that upholstered Continental Mark II, smells like a buttered English cow.  Settle in and crank up the THX audio system, click on the heated/cooled seats, warm the steering wheel and get busy.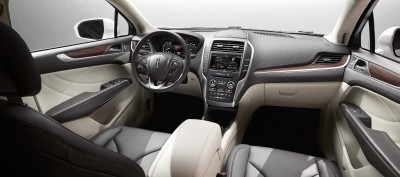 Base models harbor a 240 horsepower 2.0-liter EcoBoost (turbocharged) four-cylinder engine, but our wagon scooted with a 2.3-liter EcoBoost four-cylinder engine delivering 285 horsepower and 18/26-MPG city/hwy.  The fuel economy is just OK for a compact utility, even with AWD, but the smooth torque puts a grin across your face as wide as taillamps illuminating the MKC's rump.
I'd grinned wider had our MKC been equipped with Lincoln Drive Control that uses continuously controlled suspension damping and electric power steering to tweak handling among Sport, Comfort, or Normal.  Standard non-electronic suspension provided a comfortable ride, but lumbers a bit through corners.  It's a Lincoln, not a BMW, and that will be super fly to owners.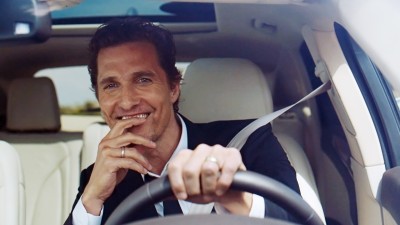 To catch your attention, Lincoln launched its "Live in Your Moment" campaign, featuring McConaughey, on September 6.  The ads show him driving the crossover for some quiet time.  Filming took place in Texas.  No matter, the commercials highlight the serene nature of MKC travels.
Sip bourbon while admiring the MKC from your patio and there's little doubt it is based on the Ford Escape.  Yet, style and features one expects from Lincoln are plentiful.  It doesn't mimic BMW, Mercedes, Lexus, or Cadillac.  It's a Lincoln, and at least writers from Texas and a certain Hollywood actor, think that's swell.  You may too.
A base price of $33,995, and $48,870 as-tested, puts the MKC against the Cadillac SRX, Lexus NX, Mercedes GLA, BMW X1, Audi Q3, and Acura RDX.
Storm Forward!
Send questions and comments to Casey at [email protected].
2015 Lincoln MKC
Five-passenger, AWD crossover
Powertrain: 285hp 2.3-liter I4, 6-spd auto trans
Suspension f/r: Ind/Ind
Wheels: 18"/18" alloy f/r
Brakes: disc/disc fr/rr
Must-have features: Style, power
Fuel economy: 18/26 mpg city/hwy
Assembly: Louisville, KY
Base/as-tested price: $33,995/$48,870