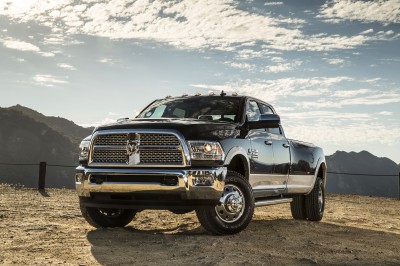 Those of us who enjoy something solid and sturdy realize that we will most likely never get caught in a hot tub or flash flood with The Weather Channel's resident hunky daddy bear Jim Cantori. We may also never get behind the wheel of a really solid and sturdy truck like the ultimate (Dodge) Ram, the 3500. Judy Garland and other gay icons, however, encouraged us to dream and never give up. Okay, we don't really need Mr. Cantori or a big Ram with six wheels (except in adverse weather), but why stop dreaming? And when it comes to the 2014 Ram 3500 Laramie Limited Crew Cab 4×4 Long Box (trying using that as your safe word), your dreams are just $70,000 away.
Ever seen those big cowboy trucks on the road with six wheels and wondered 'Why'? Me too, but if you really do have to haul a lot of supplies, the new Ram 3500 with a 6.4-liter V8 engine (rated at 410 horsepower and 429 pound-feet of torque) is just the complement to your extremely masculine (real or imagined) persona. Just like pairing the perfect filet mignon with the best wine Sonoma or Hidden Valley can harvest, you and your car should also leave palates feeling satisfied.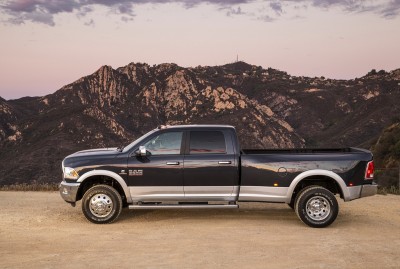 This truck has what many consider the king of all American truck engines: a Cummins Turbo Diesel. Cummins is a manufacturer of big butch engines, including some known as "straight-four" or "straight-six", but we won't hold that against them. Turbo is short for turbocharged, which simply means that – in very simple gay high-school home economic terms – more air is forced into the engine to generate more power. And Diesel, in this instance, refers to the fuel, which is ignited not by a spark from a spark plug but by compression, or friction. Ever see a queen do too many poppers and then get all fired up from the tension? That's kinda it, more or less. Sorta.
To be sure, this powerful truck is only for those who need to get down to business – and want a little Laramie luxury to show the girls that you aren't just all brawn. The one that I test drove (please reference my safe word above) is the snazziest of snazzy. Laramie is Ram's top-tier trim, and the long box means you really can get a California King mattress in the truck bed. The interior is also just as snazzy. Leather abounds inside, as well as most other car creature features, like heated seats for everyone and a remote engine start system (for when you want your truck nice and toasty before you venture from the naturalists' party into the cold).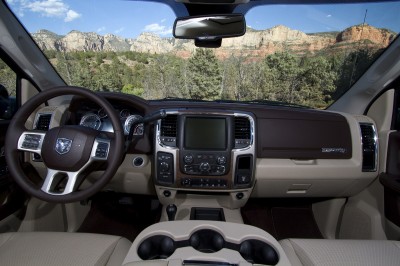 One item I just love, even though I haven't quite yet figured it out, is this Ram's Load-Leveling Rear Suspension, which (get this) uses airbags to help level out the rear – and couldn't we all use that at some point? I mean, you never know when your heavy load will need leveling. Hey, it happens to washing machines and at bear mixers too!
As with any Mr. Heavy Duty Leather contest, there are competitors in this field of the bold and the beautiful, and they too are sexy, solid and sturdy. The Chevy Silverado 3500HD and the Ford F-350 come to mind, and for the business shopper looking for big trucks, these models should also be taken into consideration.
Yet, for those of us who just want a nice solid truck that says "I taught the Village People to be butch", can anything really compare to the classic Ford F-150 truck? The Ram 1500 has been stealing well-deserved thunder as of late, but when it comes to legacy and tradition (a la Freddie Mercury in a leather jacket screaming We Are the Champions) the title-holder-for-life just may well be the F-150. Click here for its impressive résumé, which goes all the way back to the year another gay icon, Olivia Newton John, was born.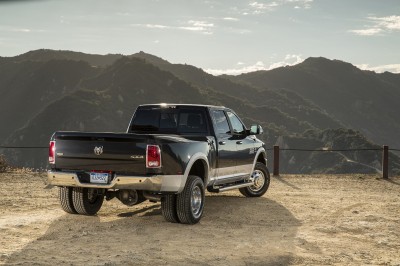 At Gaywheels, we enjoy driving all kinds of cars, and sometimes we get behind the wheel of some vehicles where we don't really know what to think. But rest assured, that will never stop us from trying. If it has wheels and might make you look irresistible, we're on it.
And if we aren't on it, please let us know. We too hate to think we are missing something fabulous, like a gay bash where Olivia Newton John or Jim Cantori just might make an appearance.