Ed. note: Kia is one of only two automakers — the other being its sister, Hyundai — that don't offer workplace protections to LGBT employees.
* * * * *
Just like some bitchy and usually quite thin humans, some dogs just think they are better than everyone else. You can see it at the dog park when all of the Pomeranians hang out together in a tight little pack and won't play with the sad eyed mutts who came from the pound. Or at the Abbey in West Hollywood everywhere. But these "purebreds" are probably just reflecting an attitude that they learned at home. In their closet most likely.
You see, humans can be snobs in all aspects of their lives from the kind of coffee they drink to the brand of car they drive. Two SUV making car brands that battle brand snobbery as much as what some consider the mutts of the proverbial automotive dog park-both Mitsubishi and Kia. And as a canine myself, let me tell you that even though it's a dog eat dog world out there neither the 2015 Mitsubishi Outlander 3.0 GT nor the 2015 Kia Sorento SX-V6 should be anything to not consider if you are in the market for a seven passenger SUV. Both come with 10 year powertrain warranties (only the Mitsubishi allows that coverage to pass to the second owner, however) and both have more style than a number of competitors we could mention from brands with more snob appeal.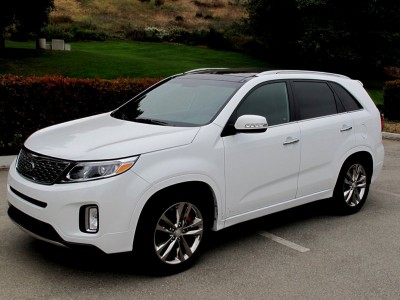 Sniffing Around the 2015 Kia Sorento SX
The 2015 Sorento SX is just the about the perfect size for anyone with a growing brood a large breed dogs like me. Although I do weigh only 44 pounds (Owner: ahem, 50 pounds), even giant slobbering labs and Rhodesian Ridgebacks will find plenty of room to stretch their paws. There is even a third row for small humans. The 37 cubic foot cargo area (behind second row) is also perfect for a crate as it is air conditioned back there for optimum pet comfort. Not that this didn't come at a price since our fully loaded SX-V6 tester stickered for nearly $40,000.
This did include Nappa leather, a premium Infinity audio system, full length panoramic sunroof, a growling 3.3 liter 290 horsepower V6, back-up camera, blind spot warning, heated front and rear seats and cooled front seats because my owner gets hot flashes. Whoops, I didn't mean it like that. He isn't that old. Well, in dog years he would be 280 and I hear gay years are just as long so maybe he is old. At least he feeds me is all I know. I've been trying to leave hints that he use this ultimate pet nutrition coupon code and get me some new food to help support my health through the included vitamins, minerals, antioxidants, and digestive enzymes – I'm not getting any younger so it'll be the ideal meal. Plus, I'm all about saving him money with coupons because he can spend more of it on getting me some nice new collars and toys then!
Back on topic, many may think $40,000 is a lot for a Kia but once you see the level of interior materials quality, remember the 10 year warranty and look at the feature count, it is easy to see this Sorento SX-V6 is still a bargain. There are also plenty of D-Ring hooks in the cargo area for a couple of dog tethers or so you can secure the aforementioned pet crate. Add in a five star NHTSA Government crash test rating and you can easily see that if you need an affordable SUV that can accommodate your partner and your pets at the same time, the 2015 Kia Sorento SX-V6 would be one of my picks of the litter. But is it better than the Mitsubishi?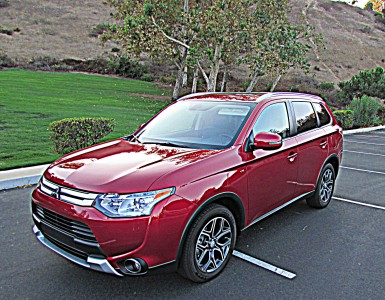 Sniffing Around the 2015 Mitsubishi Outlander 3.0 GT
Admittedly, the styling of the 2015 Mitsubishi Outlander is a bit plain in appearance next to the Sorento but then all SUVs in this segment are conservatively styled. So to complain about that is like saying Barbara Bush dressed more conservatively than Laura Bush. Demonstrating restrained classiness at all times is the name of the game here with these SUVs as well as it was with the fashions of those first ladies. Hey, a dog can know her history. And my owner is gay.
Our test Outlander was equipped with Mitsubishi's own 3.0 liter 224 horsepower V6 engine which, while down on power compared to the stellar Kia's motor, held its own on suburban streets and freeway on-ramps when my owner floored it. The 6-speed automatic, unlike some of Mitsubishi's CVTs autos, made quick and crisp shifts that made sure the engine was always right in the sweet spot of its rev range. Sorry, my owner made me type that last part. He is so serious sometimes.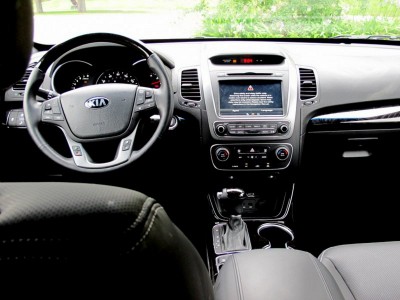 Our fully loaded 2015 Mitsubishi Outlander 3.0 GT stickered at just a smidge over $35,000 which is a bargain in this segment and included features like a multi-setting all-wheel drive system (S-AWC), navigation, power tailgate, adaptive cruise control, leather seats (not quite as nice as the Kia's but pretty good at helping you remove canine fur and dirt if your dog is a slob), power moonroof, a 710-watt Rockford Fosgate audio system with 9-speakers and a 10-inch subwoofer (almost as clear and potent as the Kia's Infiniti unit), dual zone climate control, Bluetooth and most importantly rear seat vents for the climate control. I like to be kept as cool or warm in the back as you do. Don't forget the importance of rear seat vents when buying your next vehicle for your dog. Who else would you think about?
On the safety front the 2015 Mitsubishi Outlander also boasted a lane departure warning system and handy forward collision warning and mitigation system. While we always appreciate warning and emergency braking from a car if it detects an impending impact with the car ahead of you, sometimes we admit that the lane departure warning system got on our nerves. Not only did its beeping wake me up from my naps in the back seat but when my owner would turn it off the SUV would just reactivate it the next time he started the car. No SUV should force you to make smart, safe choices. Humans wouldn't be humans and dogs wouldn't be dogs if they weren't able to do something dumb every now and again.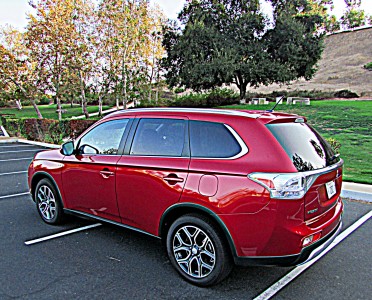 And that is the extent of my complaints about this SUV which by the end of a week found to be very handsome in a deep burgundy color. It really helped enhance the simple lines of the 2015 Mitsubishi Outlander and brought out the fact that its unadorned shape will no doubt look less dated than the Sorento is 5 or 10 years. You know kind of like it is in the fashion world. How would a canine know anything about fashion? Sorry, again I am a dog with a gay owner.
…And the Dog Decides
Well, it's quite simple really. In the real world a price difference of $5,000 can easily make or break a deal for real consumers. Even dogs know that. But if you can afford the extra expense of the Kia its higher quality feel, greater feature count and superior drivetrain all make it a worthwhile vehicle to buy. But if you are truly on a budget you can't do much better than the 2015 Mitsubishi Outlander 3.0 GT with this many features at its price. And that is nothing to sniff at.
(Roxy Hamel , the voice of this piece, is a 5 year old boxer dog who James Hamel adopted from Boxer Rescue Los Angeles. She now works as a freelance canine auto journalist along with James.)