It was January of 2012, and I had just arrived in Detroit for the North American International Auto Show. At the hotel, I hung up my assortment of (mostly) wrinkle-free shirts, plugged in my ailing iPhone, and slapped some water on my face. Then came a text: time to go to the Cadillac event. Crap. The previous few weeks had been so busy, I hadn't had time to prepare myself for what I was about to see, so I walked in the door more-or-less blind.
An hour later, after a couple of speeches and a dramatic unveiling, there it was onstage: the ATS, Cadillac's entry into the compact luxury segment. It debuted later that year as a 2013 model. Three years down the road, how does it measure up?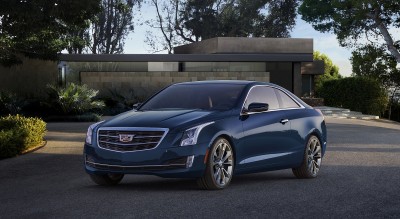 FUEL ECONOMY: 6
It may seem odd to start a review with a discussion of fuel economy, but even now, with gas below $2 a gallon in many parts of the country, efficiency is still the #1 car-buying criteria for many shoppers. And on that count, the ATS isn't so great: just 20 mpg city and 28 mpg highway for the all-wheel-drive coupe I tested. (The rear-wheel-drive version earns a slightly more respectable 21 city/30 highway.)
Granted, Cadillac is a luxury performance brand, so it's not typically the first company that eco-minded consumers turn to when they're looking for a fuel-sipper. Still, you might expect more from a coupe in this day and age.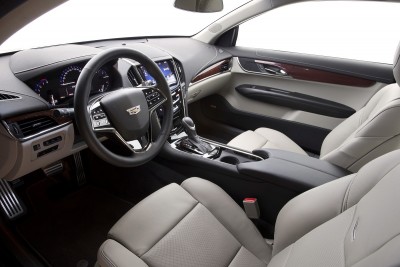 STYLING: 10
I admit, Cadillacs — particularly Cadillacs of recent vintage — haven't really appealed to me. The creased sheetmetal that defines the Cadillac silhouette can seem overwrought. That's why the unveiling of the ATS confounded me: "How is this a Cadillac?", I wondered. The coupe looked less like the fussy origami I'd been expecting and more like an arrow or an elegant paper airplane. It was sleek and sophisticated and oddly effortless, inside and out. It still is.
COMFORT: 7
Like many of its peers the ATS sits low to the ground — especially low for someone like me, who's used to high-riding SUVs. But the driver's and passenger's areas are supremely comfortable little cocoons. From the leather seats and steering wheel to the dual-zone climate control to the ergonomically designed controls, the ATS swaddles.
Unfortunately, as my husband discovered, the same can't be said for the backseat. Headroom is cramped, and if the front passengers have legs, those in the back may be stuck resting their chins on their knees. If you plan to haul around more than one other person, please step up to the ATS sedan.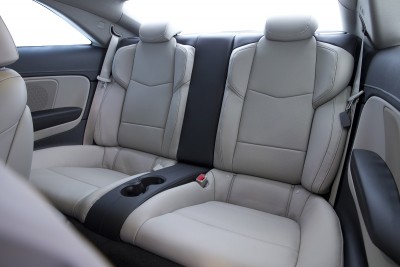 PERFORMANCE: 9
The ATS easily lives up to Cadillac's longstanding reputation for performance. On paper, the 2.0-liter, four-cylinder engine may not seem that outrageous, but engineers have given the coupe a very smooth, lag-free turbocharger that boosts output to a whopping 272 horsepower. Throw in some rear-wheel drive (or the all-wheel-drive that my test car came with), and you've got power from the word "go".
AMENITIES: 8
The ATS features a host of high-end goodies, including a fob-based passive entry system, push-button start, parking assist, a rearview camera, a heads-up display, and a touchscreen on the center stack that measures a girthy 8″. (Heh.)
My only complaint is with the controls below the screen, which manage things like stereo volume and the A/C. Those controls are embedded beneath a solid sheet of plastic and are activated by touch, much like the screen itself. Unfortunately, I found the controls fiddly and unpredictable, and it took some time to figure out where and how I needed to touch things to turn them on. (Also heh.)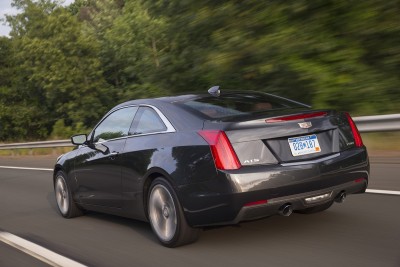 SAFETY: 9
The National Highway Traffic Safety Administration awarded the ATS a five-star safety rating — its highest. The coupe boasts the full complement of airbags and other restraints you'd expect to find on vehicles in its class, as well as some high-tech features like lane-keeping assistance, which alerts the driver when the car drifts out of its lane. Though IIHS hasn't yet conducted full tests on the ATS, it did put the vehicle's collision-avoidance system through its paces and found it to be "Superior". Because of that technology, the ATS is eligible for IIHS' highest rating, Top Safety Pick+.
AVERAGE SCORE: 8.2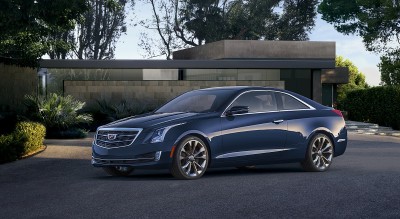 If you're looking for an entry-level luxury coupe, you'd be well advised to put the 2015 Cadillac ATS on your short list. It's stylish but not trendy, powerful but not excessive, technologically advanced but not technologically encumbered And with a starting price just below $38,000, it's also within reach of many mainstream consumers willing to stretch their budgets a bit. Give it a try, and let us know what you think.