The media preview of the 2015 North American International Auto Show has come to an end, and most of us have returned home to reflect on what we saw. After a day of recuperation (including some much-needed cuddle time with my Xbox), I've put together a short list of running themes at NAIAS and the most important vehicles on view in Detroit.
THEMES
#1: Money is flowing. It's no secret that U.S. auto sales are booming right now, with nearly every major car company ending 2014 in the black. (Volkswagen being one of the few exceptions.) Automakers took some of their profits from last year and invested them in high-end booths to show off high-priced rides on the convention floor. From the giant video screens hovering above fleets of luxurious cars, crossovers, and trucks, this year's NAIAS was all about excess.
#2 Power is back: Just a few years ago, the Detroit auto show put modest, gas-sipping green cars front and center. This year, all anyone wanted to talk about were two supercars — the Ford GT and Acura NSX. The obsession with power filtered down to other models, too, including the monster Cadillac CTS-V sedan.
#3 High-tech no longer dazzles: Once upon a time, a touchscreen was all automakers needed to turn heads. Now, they've got to work much harder to get attention — and with tech firms like Apple and Google beginning their assault on dashboards (and powertrains), the going isn't going to get any easier.
BEST CARS
What was interesting at this year's NAIAS was that there weren't that many standouts. Conversations tended to be equally divided among a range of vehicles on the show floor. To me, that suggests that — as I've said elsewhere — competition between automakers is stiffer than ever, making it harder for new models to leave a lasting impression.
That said, there were a handful of cars that I found noteworthy in Detroit. Here are my top five, in alphabetical order: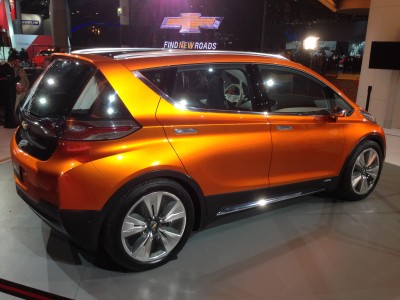 Chevrolet Bolt Concept
Unlike the Chevy Volt, which employs a hybrid propulsion system that uses both a battery and gasoline, the Chevy Bolt is 100% electric. And unlike some other battery electric vehicles, the Bolt has a pretty good range: an estimated 200 miles of travel on a full charge.
Of course, at this point, the Bolt is just a concept. (If Chevrolet hadn't said as much, the door handles and the side-view mirrors would've been dead giveaways.) However, it's very clear that GM plans to produce this vehicle in some form very soon: the company estimated that the sticker price would ring in around $30,000 after federal tax credits.
Let's just hope Chevy changes the name before it goes on sale. Having a Volt and a Bolt in the same showroom could get confusing.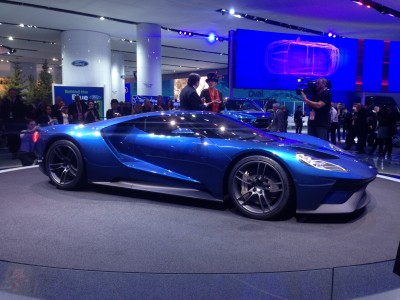 Ford GT
I freely admit, I'm not bowled over by supercars. I was one of those sad little kids who was always intensely practical, and while supercars are many things, practical they are not. Apart from the six- and seven-figure sticker prices, where the hell are you supposed to put groceries?
Normally, the Ford GT wouldn't do much for me, but it completely stole the show at this year's NAIAS. Somehow, Ford managed to prevent any details about the car from leaking prior to the reveal. No one expected it. And it rolled out at one of the convention's very first events, upstaging everything else that debuted after it.
So, beyond the fact that it's a beautiful ride, the GT proves Ford's sense of showmanship. That alone is worth a nod.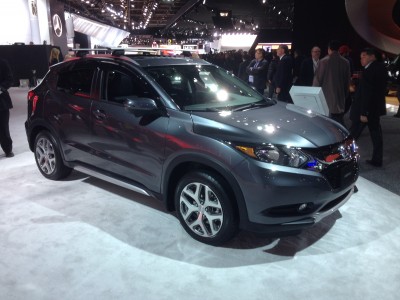 Honda HR-V
The Honda HR-V wasn't revealed at NAIAS — that happened several weeks ago. However it's still a very, very new model, and it's poised to shake up the compact crossover segment.
Basically, the HR-V is meant to be the crossover sibling of Honda's hugely popular Fit compact car — or, put another way, it's the baby brother to Honda's equally popular CR-V. That's one hell of a pedigree.
Pair all that with good looks and a starting price expected to be around $20,000, you could be seeing a lot of these in the very near future.
Keep your eyes on this one.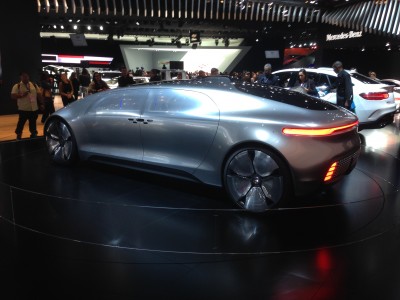 Mercedes-Benz F 015 Luxury in Motion concept
Every year, automakers debut a slew of crazy concept cars. This year, Mercedes-Benz took all that crazy, threw it in a casserole dish with some Pam and a layer of Lay's potato chips, and tossed it into an 8,000-degree oven until everything melted and came out as this awesome mercury blob of a car.
What does it do? Who cares? It's the typical autonomous-driving conversation pod with displays on every surface — a variation on a theme that we've seen from many other automakers at many other auto shows. What matters about the F 015 Luxury in Motion concept (yes, that's its full name) is its sleek, unusual look. Think of it like a work of art: it's not functional, just pretty. Very, very pretty. And deeply weird.
As I've written elsewhere, nothing pisses off Volkswagen like America. The automaker controls Planet Earth's other car markets like only a German outfit bent on world domination could. But in America? Not so much.
Personally, I find most Volkswagen designs very, very dull. Even the Golf — which was voted this year's North American Car of the Year — is an acquired taste. The awesomeness of the Golf has little to do with its ungainly silhouette and more to do with how fun it is to drive.
VW's biggest problem in America is its lack of crossovers, which U.S. consumers crave. Sure, VW offers the Tiguan and the Touareg, but most U.S. shoppers avoid those models like the plague.
That's where the new Volkswagen Cross Coupe GTE comes in. VW hopes that when it goes on sale late next year, it will change consumer opinion — and VW's sinking fortunes in the U.S. If it doesn't, VW will remain a minor player in the U.S. car market, leaving the company with little hope of achieving its goal of becoming the world's biggest automaker by 2018.