With each generation, Mercedes claims the C-Class is more sophisticated, more upscale, and just more of everything.  That was true when the 1994 C-Class replaced the 190E and it's true as the fourth-generation supplants the third.  You often hear these cars compared to the flagship S-Class.  Beyond hyperbole, those comparisons bear truth.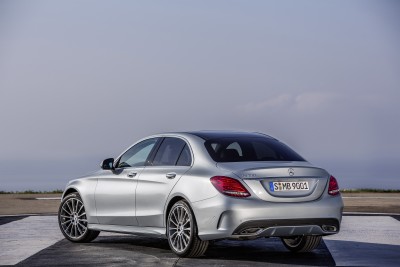 By introducing the "$30,000" front/all-wheel-drive CLA, Mercedes was able to move the C-Class up to the $40,000+ range, allowing it to become better equipped in looks and function.  Oh, the looks!  You'll absolutely see the family resemblance to its much larger sibling through side sculpting meant to recall classic Mercedes, LED driving lamps, sloped rump, and horizontal light tubes in the taillamps.  Our Sport model wears its star in the grille and 19" AMG alloys under the fenders, but a classic grille with stand-up hood ornament are also available.
Inside, the experience is more uplifting.  The center consoles and doors are paneled in artful black ash.  Stitched leather on the doors, aluminum Bermester audio grilles, and a triplet of round air vents that echo R107 SL roadsters from the '80s blend modern and traditional.  Navigation, USB inputs, and cloud-based infotainment system hit techies in the heart.  I love red leather seats – especially when they're heated and cooled.  Ambient lighting washes the cabin – just as it does in the big cars.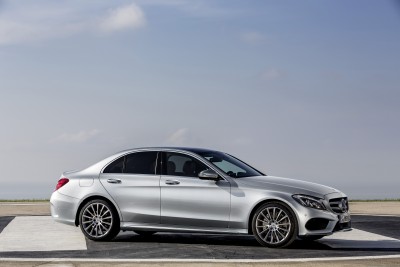 Depending on how you feel about the size of one's engine, you'll be thrilled about the C300 or not.  I wish Mercedes would quit inflating its trunk badges to compensate for whatever it's hiding.  The hood covers a 2.0-liter turbocharged four-cylinder engine instead of the 3.0-liter unit it implies, but its 241 horsepower, 273 lb.-ft. of torque, and 24/31-MPG city/hwy. redeem numerical transgressions.
In our car, power was routed to the 4MATIC all-wheel-drive system through a seven-speed automatic transmission.  Start/stop technology helps conserve fuel.  I have no complaints about the engine.  It will eventually run out of thrust, but it's smooth and quiet – stomping down the left lane with gusto.  And, if you need more power, Mercedes offers a range of powertrains that will wake the company's long-dead founders.
The biggest complaint I've heard about the C300 is it doesn't drive like a BMW.  No, sire, it does not.  It drives like a Mercedes-Benz.
I drove the C330 on the Interstate and on potholed city streets.  As in the S-Class, the car's adjustable air suspension floats over bumps in Comfort mode, or pretends it's a BMW in Sport mode.  Beyond adjusting the suspension, the drive modes vary steering, throttle, and transmission response.  Long-time Mercedes owners will compare Comfort to Mercedes' famous wafting ride while Sport entices driving enthusiasts.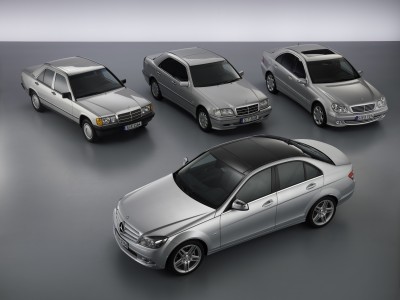 Some of you know I own a "first generation" 1995 C-Class that belonged to my grandmother.  My impression of the 2015 C300 left me believing it's larger than my old C220, so I parked them in the driveway side-by-side.  Nope, they're almost identical.  Size is by perception, but sophistication is not.  The car has grown up, becoming a smaller alternative to larger Benzes rather than just a bargain price point.  This is a good thing for the new kid of class.
Storm Forward!
2015 Mercedes-Benz C300
Five-passenger, AWD Sedan
Powertrain: 241hp 2.0-liter T4, 7-spd auto trans
Suspension f/r: Elect Ind/Ind
Wheels: 19"/19" alloy f/r
Brakes: disc/disc fr/rr
Must-have features: Cabin, chassis
Fuel economy: 24/31 mpg city/hwy
Assembly: Vance, AL
Base/as-tested price: $40,400/52,735