I'm a sucker for small German sedans, hooked by the Mercedes 190E a few decades ago.  But the current wave, including the Mercedes-Benz CLA and Audi A3, make my heart patter.  I'm not immune to the wicked ways of VW Jettas or American-branded, but German-engineered, compacts like the Ford Focus RS or Buick Verano Turbo either.  While I'm currently married to a Mercedes, I could commit adultery with an Audi – especially one with a frugal diesel engine.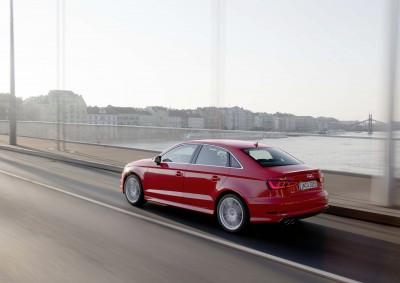 I mean, just look at that shape.  I'd probably buy the five-door hatchback for utility, but the sedan is the real hottie.  You just want to walk up and caress its curves before running fingers along the bodyside creases.  A tightly-arched roofline will have you bumping your head getting through the doors, but we all must endure a little pain for pleasure.  Check the LED running lamps, 18" alloys, LED taillamps, and Billiant Red paint on our car.  You could recognize it as an Audi in a dark garage, but one with more compact dimensions across lines tightly-drawn.
Audi channeled its inner TT for the interior.  Simply padded dash and doors are highlighted with twist-activated aluminum rings around the air vents with simple controls for the dual-mode automatic climate control beneath.  All infotainment functions are controlled with the MMI touch-sensitive joywheel and buttons in the console – or control by voice if you choose.  Heated front seats, dual-pane panoramic sunroof, navigation, and crisp audio system with Bluetooth and USB keep the minions happy.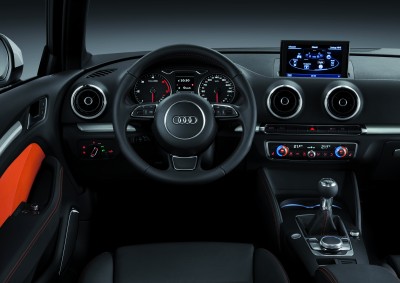 Press a button on the dash and you'll see something that's like catching Sasquatch in a snowstorm:  A touchscreen-free dashboard.  Ah, remembering the days when German cars were just over-engineered go-machines without drama…
Seek deliverance under the hood.  The A3's 2.0-liter turbo-diesel four-cylinder engine is a tale of adequate 150 horsepower paired with 236 lb.-ft. of ground-clawing torque – routed to the front wheels through a 6-speed S tronic automatic transmission with manual shift mode.  Check the fuel economy ratings of 31/43-MPG city/hwy and you'll think you bought a hybrid.
But, the Audi is a lot more fun to drive.  The engine's low-end torque gets you off the line and is ever-present, but the turbo adds its gusto at speed for a vigorous drive in the left lane.  You barely hear untoward diesel sounds coming from under the hood and often look down to see unmentionable speeds.  The chassis is near-magical in its ability to stabilize corners while possessing talent to glide over rough pavement – all without fancy-pantsy magnetic ride control systems.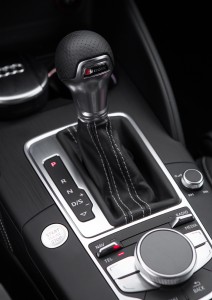 If there's any sulfur in this diesel-driven delicacy, it's in the electromechanical speed-sensitive power steering and the car's teeny weeny size.  The steering is OK in town, but feels too much like a video arcade game on the highway.  It won't settle dead-center and its fake weight does little to help guide drivers through semi gusts or sweeping corners.  It needs refinement.
I don't suspect an Audi A3 will cause actual human adultery, but it could cause a rift between you and other compact luxury rides.  It's the complete deal – a rockin' body with an efficient package neatly tucked under the hood.  A base price of $29,900 and $38,645 as-tested tosses it against competitors already mentioned plus the BMW 3-Series, Cadillac ATS, Acura ILX, and Lexus CT Hybrid.
Storm Forward!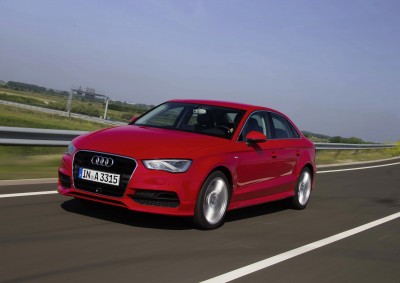 2015 Audi A3 TDI
Five-passenger, FWD Sedan
Powertrain: 150hp 2.0-liter diesel, 6-spd auto trans
Suspension f/r: Ind/Ind
Wheels: 18"/18" alloy f/r
Brakes: disc/disc fr/rr
Must-have features: Style, MPGs
Fuel economy: 31/43 mpg city/hwy
Assembly: Gyor, Hungary
Base/as-tested price: $29,900/38,645