When I was an auto-loving geek-nerd in high school, I dreamt my future family would be carted about in a Volvo turbo wagon. They were the coolest. In the day, there were ads comparing the quick haulers to Lamborghinis. Sure, it was silly, but these were the baddest station wagons rolling. So, it seems right that the V60 takes Volvo back to its wagon roots – made cooler in Cross Country kit.
Additonally, when thinking about making the car cooler, a Charge Air Cooler will return the engine air back down to a cooler temperature, this increases the overall output of the engine. Cool, right?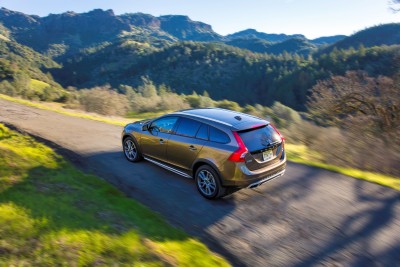 Compared to the ground-hugging boxes of decades ago, the V60 Cross Country is jacked up and sleeked out. Volvo has offered the S80-based XC70 for years, but this is the first time the V60 has been offered with all of the off-road accoutrement. Check the 19″ alloys, plastic wheelwell extensions, and aluminum capping the ground affects and lower facias. An array of colors that would look right in a Smokey The Bear video glistens in sunlight.
A higher ride height makes the Volvo easier to enter and no less comfortable. I'd buy a Volvo just for the plush and huggy seats, but also appreciate the thin control stack with storage behind, dark zebra woodgrain, aluminum trim, and roomy console storage. By Swedish tradition, everything feels well-made, but not flashy. Plug in your iThing, crank up the Harman/Kardon audio, open the moonroof, and make all the Bluetooth calls you want.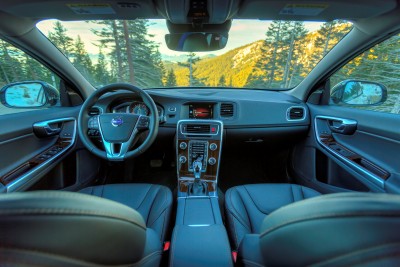 Fortifying its Volvoness, the V60 is loaded with safety gear like Lane Departure Warning, Front and Rear Park Assist, rear camera, and Cross traffic alert systems. There's also a pedestrian and cyclist detection system that can completely stop the car if you don't. And in case you really aren't paying attention, red lights appear as ever-brightening glowing embers at the base of the windshield, politely saying, "Uh, pay attention, dude".
Pop the hood to see the turbocharged 2.5-liter five-cylinder engine that delivers 250 horsepower and 20/28-MPG city/hwy. It connects to a six-speed automatic transmission and Haldex all-wheel-drive system. That's all good, and the engine produces enough skedaddle, but it would be a lot better with the S60 sedan's turbocharged and supercharged four-cylinder engine. Not only does the four-pot produce as much (or more) power, but it also achieves significantly better fuel economy. This is one place where Volvo needs to step up – and fast.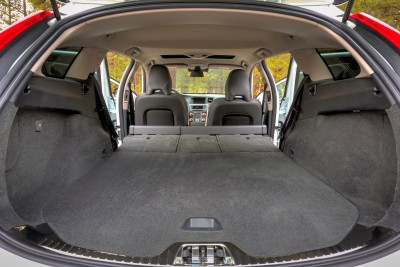 Want another reason to check out the V60 Cross Country? Tap into the Volvo On Call Smartphone App that's available on every 2015.5 model. Available for iOS, Android, and Windows Phone; the app gives owners status updates on their vehicle. It can show the car's current location, position of windows/door locks, recount trips, and detail fuel usage. It can even provide remote starting, request roadside assistance, and send locations to the car's navigation system.
At the end of the road, most owners just want their Volvo to be safe, capable, reliable, and family-friendly. Yeah, and my teenage self wants it to dust Lamborghinis with turbo wailing. If your alternate family needs an alternate family car, the V60 Cross Country may be your thing. If wagons aren't your thing, check out the new S60 Cross Country sedan. Wagon prices start at $41,000, pitting it against the Subaru Outback, Honda Crosstour, Audi Allroad, and Mercedes-Benz GLK.
Storm Forward!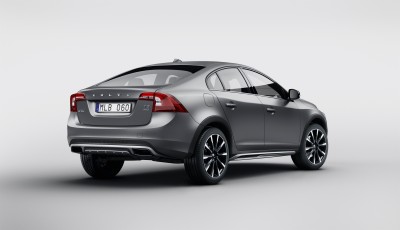 2015 Volvo V60 Cross Country
Five-passenger, AWD Wagon
Powertrain: 250hp 2.5-liter T4, 6-spd auto trans
Suspension f/r: Ind/Ind
Wheels: 19″/19″ alloy f/r
Brakes: disc/disc fr/rr
Must-have features: Style, Comfort
Fuel economy: 20/28 mpg city/hwy
Assembly: Torslanda, Sweden
Base price: $41,000