No matter what you think about Honda and its line-up of family friendly coupes, sedans, hybrids, SUVs and trucks, there is no way any dog or lover of dogs could spend a week with the 2015 Honda CR-V and not feel confident that this company is just crazy for the four legged set. It positively screams "designed for hounds then humans" with the true accomplishment being that the 2015 CR-V is perfect for both man and his best friends. Even when they are people.
But seriously, do you want to make your dog die from embarrassment pulling up to his or her ultra-chic doggie day care play group in a frumpy Toyota RAV4? That is canine abuse on a level that perhaps only animal control or The Dog Whisperer could handle. They'll just wish they were… Homeward Hound ba-dum-tssh. People have accused the canine author of this piece (She is Roxy Hamel who is a rescued 5 year old Boxer dog who lives with his rescuer and co-author/driver James Hamel) to be both a Mazda and Honda sympathizer which is admittedly true a lot of the time because they make so many superior alternatives to something dreadful like a Nissan. Was that rude? Sorry, dogs only tell the truth.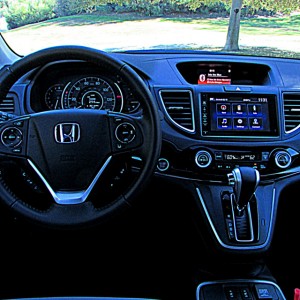 The 2015 Honda CR-V
Both my owner and I found the CR-V's front interior roof mounted sunglass holder and built-in rear seat monitoring mirror design to be both brilliant and chilling at the same time. Not only could my owner watch what I was doing in the leather lined rear seat of our test 2015 CR-V EX-L AWD model, but he could also then easily store his Maui Jim there sunglasses when it got dark out. As a dog, I didn't really enjoy the fact that my backseat privacy was being invaded but it should be a boon for parents of unruly children.
The 2015 Honda CR-V is also great for any person who not only hauls their family dog but also has to haul lots of stuff in the cargo area. If you need more room during your travels in your 2015 CR-V all you need to do is just flip a handle in the cargo hold and the second row of seats folds flat in one fluid and mechanically brilliant motion. With those seats down, the CR-V sure felt like it was easy to load full of kibble bags and I was told that it offered around 79 cubic feet of cargo space. Too bad I don't know what numbers mean but it sounds like a whole lot of dog food. Speaking of that, I think I left a snack in my bowl. Be right back.
James: Okay, I have taken the keyboard back from Roxy so here are some facts and figures about the newly updated 2015 Honda CR-V we tested. Acceleration times are improved as is fuel efficiency thanks to a new 2.4 liter 185 horsepower Earth Dreams Technology 4-cylinder under the hood mated to one of the best CVT automatic transmissions I have ever experienced. There are small exterior appearance adjustments, interior quality is improved and the center screen infotainment system/navigation unit is much improved although it could still use a volume knob for those too dumb to understand the steering wheel mounted volume control.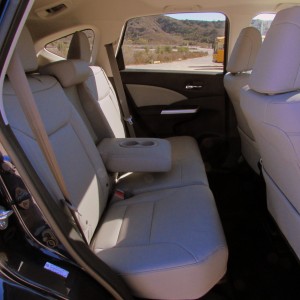 Our test 2015 Honda CR-V was a top of the line EX-L model with navigation and all-wheel drive yet the sticker price barely creeped past $30,000 which is very impressive considering you also get automatic climate control, Bluetooth, power everything, leather seats, USB/iPod integration, Pandora internet radio, a power moonroof, stylish 17-inch alloy wheels, power 10-way driver's seat, a back-up camera, tinted windows (so Roxy can avoid the "Dog-arazzi" in LA), heated front seats and a premium AM/FM/CD 7-speaker audio system with subwoofer. Honestly, the 2015 Honda CR-V is still a tremendous SUV value and, uh-oh, Roxy is done eating better not let her see me.
Roxy: My owner is so lazy, there he is just lying on the couch napping while making me do all the work. Anyway, to sum up the 2015 Honda CR-V it is without question currently the best compact SUV buy on the market today whether your family is made up of kids, dogs or even cats. This idea that having your pet be your friend or a part of your family is to many only the terrain of only that "crazy cat lady with 1,000 cats in one house" that the local news reports about every six months to scare single people. We are furry so naturally dogs are better to have as friends than humans, right? I think that came out in a way that could be taken wrong so let's move on.
With its easy to access cabin, wealth of solid feeling interior materials, generous features specification, improved style and zippy driving dynamics (enjoyed immensely by my owner), I whole heartedly recommend the 2015 CR-V if your family is looking for a new SUV. It's almost like Honda designed it with dogs needs in mind. Imagine that, a car company thinking beforehand about who in the family might most often be riding in the SUV? Honda must be full of geniuses. Or every other car company is run by idiots. Or cats. Sorry, I am a dog I only speak the truth.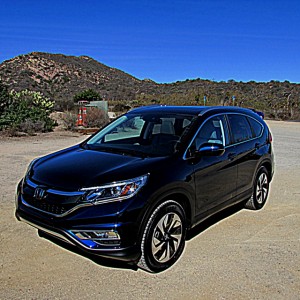 2015 Mazda CX-5 Grand Touring
For overall SUV excellence, the Mazda CX-5 doesn't quite have the CR-V beaten yet but there are attributes to this SUV which make it truly an excellent alternative to consider. Kind of like an Ellen DeGeneres to a Neil Patrick Harris as host of an awards show. I swear those two are the same person sometimes. But like Neil and Ellen, both the CX-5 and CR-V have very disparate personalities with the Mazda sacrificing some comfort and utility for outright sportiness.
Yes, people, apparently this SUV has both "Zoom-Zoom" and SkyActiv Technology which make it fun to drive, fuel efficient (more so in testing than ever the Honda) as well as a top of the Class performer in crash testing. (Note: The CX-5 and CR-V both now boast "Top Safety Pick Plus" ratings from the IIHS.) But while the CX-5 may boast swoopier exterior styling, the back doors are smaller and the seats higher off the ground than in the CR-V which I did not particularly approve of. But then I will only exit from the right rear door at night so maybe I am the wrong dog to ask if this is really a problem. Don't worry, I am seeing a therapist about this phobia.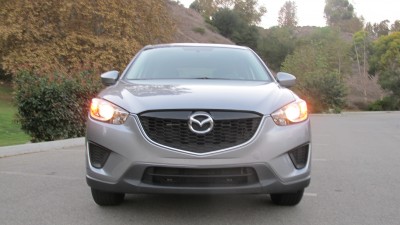 My owner loved how the CX-5 drove and I always know that's true when he drags me on 4 hour drives to nowhere in the middle of the night when there is no traffic just because the car is "calling to him." Who needs therapy now? Anyway, he was always happy and smiling driving the Mazda which would inevitably lead to a loud in-car sing along to either Katy Perry, Lady Gaga, Madonna or Kelly Clarkson. Ok, we get it Kelly, you are not dead and you're stronger. I wish my owner carried some of those 'CBD for dogs' treats on these drives so that I could properly relax in the back, without having to listen to the cacophony around me. The one thing my owner constantly cursed, however, was the slow reaction time of the Mazda's infotainment system which to him is the kiss of death. Thankfully Mazda's updating this system for 2016. Then, we may need a rematch.
And The Dog Decides the Winner is….(The 2015 Honda CR-V!)
(Words and Concept by James Hamel and Roxy Hamel–a 5 year old female dog adopted from Boxer Rescue Los Angeles.)