I came out of my house the other day and thought to myself, "I could really use a smaller Range Rover."  Don't I wish?  I mean, the original is a big barge, loaded to the rafters with delicious cowhide, felled timber, and all the latest electronics.  Ridiculous off-road capability, iconic style, and exquisite comfort are givens.  But, something smaller…something like the Range Rover Sport would be nice.
But, we're not going to leave anything behind.
Any random Brit would recognize the shaved down Range Rover as a flag-bearer of their home country.  Recently updated, the SUV keeps its nose with RANGE ROVER written across the hood, but steps out with 22" alloys, smoother lines, and fast wrap-around taillamps.  The gently sloping roof and angled D-pillar are classic Range Rover.  It's surprising how a basic design that began in the '70s has evolved to a very sleek wagon.
Stick your nose inside and suck all the buttery leather aroma your schnoz can suck.  They should bottle that stuff and serve it with bourbon and cigars.  It's all coming from the thickly bolstered, comfy headrested Oxford leather seats.  Other details also impress.  Authentic zebrano wood is beautiful, as is the cabinet look of the doors that would look proper in a private jet.  Heated front/rear seats, ventilated front seats, and heated steering wheel add comfort.
The infotainment screen is not the easiest to use, but it's not the hardest either.  Navigation, audio, and Bluetooth-enabled phone displays work well.  I'm not sure why the seat heat/cool controls are integrated with the touchscreen, but I'd prefer not to wait until the system boots up before conditioning my underside.  Console buttons, please.  I'll not complain about the 825w Meridian audio system.  Put four aboard and you're ready to go.
On-road or off, our HSE is packed to perform.  Start with its supercharged V6 that delivers 340 horsepower and 17/22-MPG city/hwy.    While that's plenty of power to raise the RR's nose and hurry it down the Interstate, it's nothing to write Greenpeace about.  Just imagine what fuel economy might be without a fuel-preserving 8-speed automatic transmission start/stop technology.  I'd focus on the scenery or blur thereof.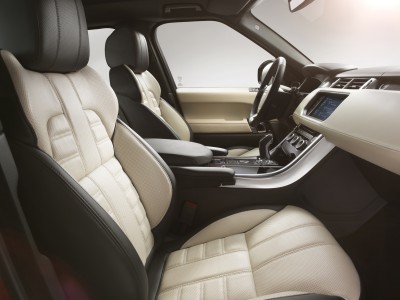 Given the Range Rover's capability, you can see that scenery from afar or get up close and personal with your bad shrubs.  Land Rover's Terrain Response System tunes the powertrain for varying conditions like snow, mud, rocks, and pavement.  Then, you can raise the air suspension for challenging trails or lower it for entry and high-speed pavement strafing.  It's all courtesy of a few buttons in the console.
If your biggest problem is looking for a "less large" Range Rover, you'll be pleased with the Sport.  It still has quite an appetite for fuel, but it is much easier to maneuver in downtown parking garages and local coffee shops.  If the Range Rover Sport doesn't quite rise to the feeling of owning an estate, you'll look as though you wrap yourself in a sizable London townhouse.  Range Rover Sport starts at $63,350, but our loaded HSE edition rose to $82,027 – not trivial, but about $40,000 less than the last full-size Range Rover we tested.
Storm Forward!
2015 Range Rover Sport HSE
Five-passenger, AWD SUV
Powertrain: 340hp 3.0-liter SC V6, 8-spd auto trans
Suspension f/r: Ind/Ind
Wheels: 22"/22" alloy f/r
Brakes: disc/disc fr/rr
Must-have features: Leather, Capability
Fuel economy: 17/22 mpg city/hwy
Assembly: Solihull, U.K.
Base/as-tested price: $63,350/82,027