The Buick Regal has been around longer than Hillary Clinton has had a Chelsea Morning. What has generally been consider a car destined for rental fleets, the Buick Regal has been built consistently by General Motors for the last 43 years, sans one period during Operation Iraqi Freedom when production just stopped … and then started again magically in 2011. It keeps coming back because buyers like it.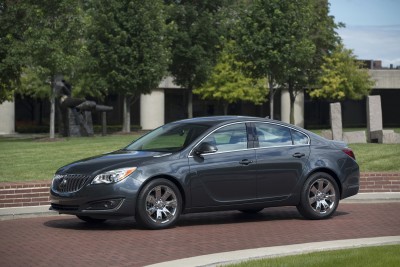 I have absolutely loved the Buick Regal ever since I first test drove it in 1994. It's not the Town and Country of Dr. Huxtable, nor the Pink Cadillac of the Mary Kay ladies. But it is a really nice car, one that says status without the accompanying gout. The drive has always been smooth, the interior nice and even occasionally stunning … and no matter what anyone may say, getting from the Kwik-E-Mart to the Drunken Clam to Mr. Ha-Ha's Hotdog Hacienda has never been as classy and reliable as when you do it in a Buick Regal.
The big news for 2015 is that all Buick Regals come standard with a turbocharged engine. I'm not sure what brought that on, but wow, does it make the Regal more racy, sorta like when the Windsors finally got Princess Fergie into the family fold. This already smooth car is now very peppy, so watch out when you are at the drive-thru or the drive-in. Just a tap of the accelerator just may kick you into that zone where the cop cameras will send you a ticket for running a red light.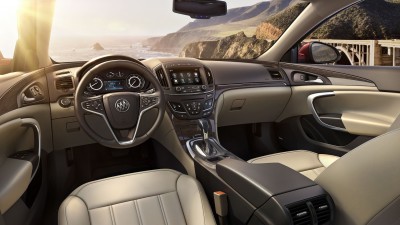 Leather upholstery is also standard on the 2015, as well as Bluetooth and a USB port so you don't have to carry around all those 8-tracks and cassettes like I did when I first tested the Regal. This classic really has come into the 21st Century – you can now even read text messages aloud over the car's audio system, which comes with Buick's standard IntelliLink infotainment system on an 8-inch screen. Goodness, now the Regal gives you 8-inches every time you park your rear in the front. Dr. Huxtable is nowhere near as up-to-date … or profitable.
And as with any Norma Desmond who still has fans, there are attempts to update her image that don't go well. This year's Regal Norma Desmond looks hot and flashy with a curved roof and sportier accouterments. But the sleek curve of that sloped roof means that passenger space in back is cramped. Alas, once you find someone who is as fast and racy as you, you soon realize they can't handle the girth that you've been able to handle all your gay life.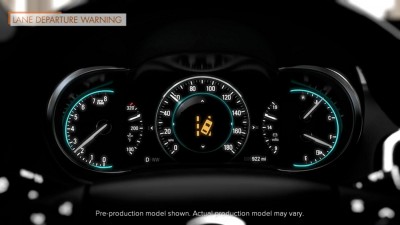 Also new (I think) for 2015, there is this new Buick eAssist mild-hybrid powertrain, which is basically an inline-4 engine with a small electric motor. This is an option that I tested, and it is quiet and fuel-efficient, though like most hybrid engines, there is a delay when you need to hit the gas. It threw me for a loop at times because I did not think I was driving a hybrid (and I was not) but it just kept acting like a hybrid, especially when I would punch it. This didn't distract from my fondness of the Regal, it just seemed odd that Buick would use a hybrid feature to tame down a turbocharged engine. Hey, I still liked it.
It seems like everyone from Consumer Reports to Kelly Blue Book loves the 2015 Buick Regal, and for a turbo that starts around $31K, that's quite the compliment. To be sure, it's not quite luxury and not quite sporty – but practical with some cash advantages.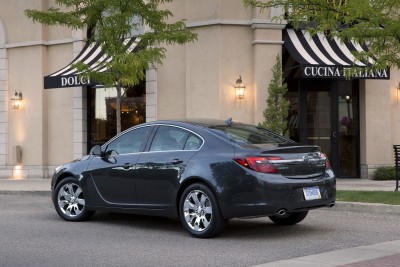 If I were trying to woo the latest incarnation of Sam Smith, I might use this car as my love machine. This is definitely a car for those who are in that solid relationship and need a car that is just as solid with a hint of club kid and back-alley naughtiness – or for anyone who has gone through middle age and just wants a good solid car …..
…. and only cares to drive around one friend at a time.