My husband hopped in the Discovery Sport and said, "So, which Range Rover is this?"  After which a long conversation ensued, wherein I explained why an Evoque is a Range Rover while a Discovery is a Land Rover, and the Discovery Sport is Land Rover's mid-size crossover — which goes against the idea of a hard-charging off-road Rover.  It's a bit confusing, but there's nothing confusing about why uppy yuppies of all persuasions will like the sportier Discovery.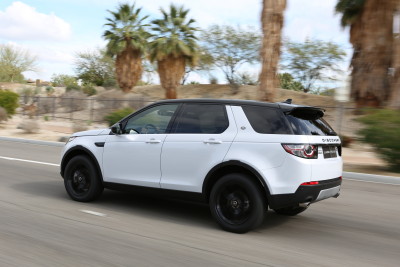 In form and function, the Discovery Sport splits the difference between the Range Rover Evoque and Range Rover Sport, but takes on a shape that separates it from both.  Calling it a Range Rover would have locked the wagon into a basic look that dates to the '70s, but with the Discovery, there's more design latitude.
There's an obvious family connection with the high cross-hatch grille, DISCOVERY lettering across the hood, and Xenon headlights with LED signature lighting, but the body is one slick hide placed over 19" alloys.  The rear roof is a little higher and the forward-angled C-pillar is distinct from Range Rovers.  Styling is bang on, setting up owners for a life of upfront parking privileges and sidewalk envy.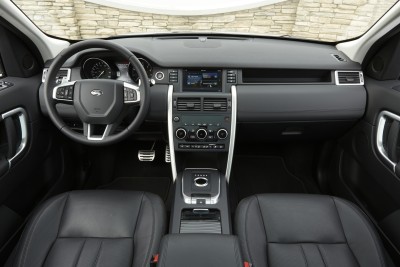 I'd ride inside to the four corners of the earth, sniffing orgasmic leather and soaking sunlight from the full-length sunroof all the way.  I suspect the air-conditioning will freeze your nuggins even in the Sahara.  Front and rear heated seats, heated steering wheel, and 250-watt stereo with subwoofer soothe weary souls.  Safety is enhanced with autonomous emergency braking, rear camera, and lane departure warning systems.
The infotainment system with touchscreen and auxiliary buttons beside is not the most difficult to use, but it's far from the easiest.  There is no tuning knob, so you either browse stations by typing them in (if it's in the mood to accept commands) or clomping with the seek button from one to the next.  Still, there are many multiple USB and power ports front and rear, so connecting iThings is easy.  A few miles, and tunes and directions are firmly under control.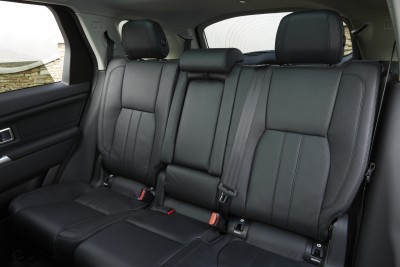 You'd think a mid-size crossover with a 2.0-liter four-cylinder engine would barely be able to climb a steep driveway, but you often find yourself hammering the left lane with spunk to spare.  Of course, the little engine is turbocharged to deliver 240 horsepower and 250 lb.-ft. of torque — routed to the wheels through a 9-speed automatic transmission with Normal, Sport, and Manual modes.  If anything, the throttle is a little too sensitive around town as only quick knew-jerk reactions keep passengers from having quick neck-jerk reactions.  Articulate knees gently to see 20/26-MPG city/hwy.
Those numbers could come from many luxury crossovers, but this Land Rover it is mildly capable of ditching pavement for trails.  Discovery Sport offers Land Rover's Terrain Response System that adjusts the powertrain for General driving, Snow, Mud, and Sand.  The system works with electronic all-wheel-drive, traction control, and electronic rear differential with active torque biasing to keep this wagon hauling.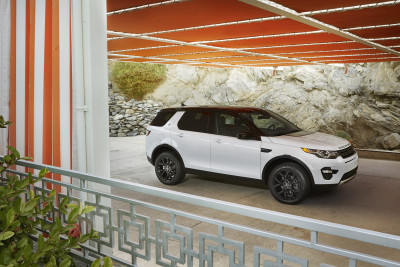 Overall, the Discovery Sport has its pluses and minuses.  It isn't laden with wood, but the soft leather and interior design give little away to its more expensive siblings.  Four real people and their luggage fit comfortably inside, but there are squeaks, rattles, and an aura of fragility that are unbecoming a luxury crossover.  There always seems to be a warning light going off with a message that requires the translation of the owner's manual, service center, or perhaps a Nordic Monk.  That shit would get old in a hurry!
The Land Rover Discovery enters a segment crowded by the Acura MDX, Mercedes GLK, GMC Terrain, BMW X3, and Audi Q5, but offers styling and pedigree that separates it from the barely-luxury masses.  It's long-distance comfortable, offers reasonable fuel economy, and can still play rough.  It's exactly the vehicle Land Rover needs. With a base price of $37,070, or $46,620 as tested, they'll sell heaps.
Storm Forward!
2015 Land Rover Discovery Sport
Five-passenger, AWD Crossover
Powertrain: 240hp 2.0-liter Turbo-4, 9-spd auto trans
Suspension f/r: Ind/Ind
Wheels: 19"/19" alloy f/r
Brakes: disc/disc fr/rr with ABS
Must-have features: Performance, Pedigree
Fuel economy: 20/26 mpg city/hwy
Assembly: Halewood, U.K.
Base/as-tested price: $37,070/46,620