And so we came to the last day of our four-day road trip. This was a different sort of day — one that took us back to well-traveled, densely populated areas of the country, and to get there, we had to spend part of our time on well-traveled, four-lane, could-be-anywhere interstate.
But there were still memorable moments. In fact, the first few hours of the trip, driving along Crater Lake Highway North to highway 138, then back to Interstate 5, were amazing — especially for someone like me who lives on a flat plain below sea level.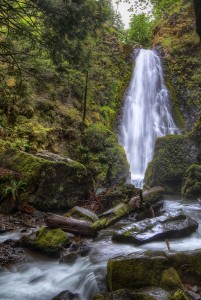 That's because nearly the entire route was a slow, steady grade headed down, down, down out of the mountains. Since Crater Lake sits more than 6,000 feet above sea level, the decline took a long time. I think I tapped the gas maybe five times in the first three hours. My fuel economy was stellar, and the views were nothing to sneeze at, either.
We caught up with I-5 in Roseburg, and apart from an outstanding, vegan-friendly lunch at Jack Sprats in Cottage Grove, Oregon, we remained on the interstate all the way to Portland. Soon after finding our hotel, we returned our car to the rental shop, and that was it for driving.
But if I had it to do over again, I'd probably have kept the car a few more days. Portland is more spread out than I'd thought, and although the city boasts a decent mass transit system, having a car would've allowed us to see a couple of things that were difficult/impossible otherwise. (More on that in a minute.)
If you've never been to Portland, you're in for a treat. The city is modern without being overwhelming, and there's a lot to do — especially if you're a foodie.

Our base camp was the Ace Hotel, conveniently located downtown. I admit, it might be a little trendy for some. The rooms are small, and though some have conventional sleeping accouterments, ours came with bunk beds. (Sadly, it takes more than a queen to accommodate the three of us, and there were no kings available at the inn. Feel free to insert your own jokes here.) Also, some rooms, like ours, had to make use of a shared bath. Thankfully, the bunk beds were among the most comfortable mattresses of the entire trip, and there was never a line for the can. Plus, the staff were very friendly, which is always nice. In fact everyone in Portland was friendly. Maybe there's something in the water.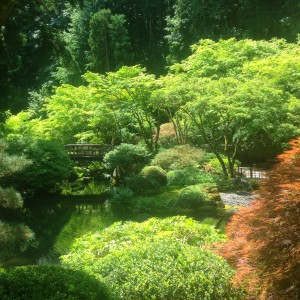 The Ace also had bikes available for guests to use at no charge. That was super convenient — though because our home city of New Orleans has exactly one hill, biking in Portland was literally outside our comfort zone. We endured, however, and with a few stops for water and, you know, breathing, we made it to the botanical gardens. I'd make that a priority for any trip — especially the International Rose Test Garden (pictured above), the Japanese Garden, and the Hoyt Arboretum.
The Ace was also two blocks from one of the most important independent bookstores on the planet, Powell's. Because my husband and I were both professional grad students for many years and accumulated a massive collection of theory books, monographs, and novels, I do my best to avoid buying hard copies of books unless absolutely necessary. (The major exception: cookbooks, for obvious reasons.) But I began rethinking that policy as soon as I set foot in Powell's.
And of course, we were surrounded by a bajillion restaurants, big and small, fancy and simple, on-trend and old-school. If you're a food truck person, you're in luck, because there are food truck pods stationed all around town, and they serve every kind of grub imaginable (Even grubs, I presume.) In my opinion, though, the best eateries we hit were Oven and Shaker (amazing pizza, great atmosphere), Tasty N Alder (good breakfast, even for non-breakfast-eaters like me), and Pok Pok (top-notch Thai).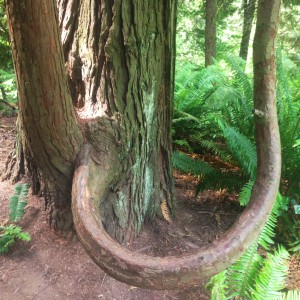 There was a lot more to see and do in Portland, some of which — as I mentioned above — would've been easier with a car. The Columbia River Gorge is less than 20 miles from town, heading east on I-84. Everyone we spoke to was gobsmacked that were weren't heading out there. Mount Hood is slightly further — roughly 90 minutes by car — but again, by all accounts, an unmissable place to go. Well, unmissable unless you're us.
I'm sure I've left out hundreds if not thousands of noteworthy sights in San Francisco, Portland, and along the roads connecting the two. If you know the area well, or if you have travel advice for first-timers — especially first-timers in Portland — share them in the comments below.