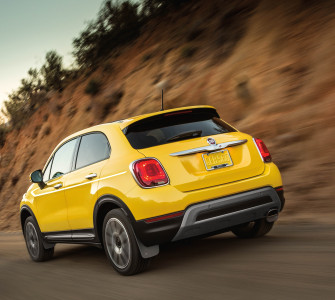 It used to be that just being gay or gay-leaning meant that you were automatically ahead of the curve. We knew all the dance moves and remixes before anyone knew that Lady Gaga was not a Stephen King character. Nowadays, the breeders are gaining on us and even using scientific tools to stay ahead in the race to be just as hip and phat and gnarly as The Gayes – and it seems to be working.
The new 2106 Fiat 500X is already in showrooms. Those trying to be hipster and outta-sight in a Sam-Smith-2015 kind of way have already scooped up this hot little property and driven it around, as if they too were a hot It-Girl like we are. Well, it's understandable why everyone likes the Fiat 500X. It's fun, it's peppy, it's roomy – it's gay. You can park this baby on any crowded street in the gay-borhood and stand out, especially in such gay exterior colors as Nero Cinema, Verde Toscana, Rosso Passione and Rosso Amore. Nothing says "It's My Party and Everyone is Cumming" like the 2015 Fiat 500X. You can't go wrong with this car.
….Unless you are really into Power Trannies. I must say, the four-cylinder 2.4 liter base engine left me yearning for more – but in all fairness, I always want more, even from my elected officials. It's sluggish at times, to be sure, and when you really need to punch it, you will ultimately get there within a few seconds…..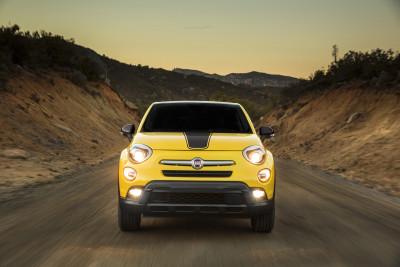 …. Well, maybe that's a good thing. When you and your vehicle are this fabulous, you always want to shout 'Punch It, Bree' (as they did on Charlie's Angels) – yet often, you really should just take your time so you don't spill your edibles all over the car floor. Caution is always advised when you are this fabulous, even when you are in the Fab or Pre-Fab Lane on the Freeway of Life.
The interior is roomy, as it has been for the last three model years. The inside is also quite luxurious, composed of fine materials that we as gays have come to expect everywhere we go (even at the detention center). Getting in and out the 500X is easier than getting in and out of that drunken relationship you had last month at 3 a.m. at Taco Johns. With mileage of 25 city / 34 hwy, it's a good match for your limited funds (ya know, because of all the glitter, accessories, cocktails and Golden Girls cheesecake you have to buy every week).
Starting at $23K and going up to $25K when you add in options like power and heated seats, 18-inch aluminum wheels (Oww!) and Ambien Lightning – whoops, that was a typo, it should be AmbienT Lighting – this car is truly one of the most affordable, fully-practical and totally gay cars on the lot. On the bell curve of life, this car is a steal.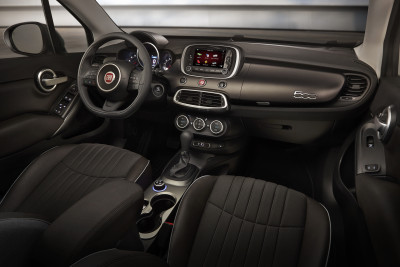 No doubt, I love this car. If there was ever a design that screamed G-A-Y (with a big hint of Caitlyn Jenner and Laverne Cox thrown in), it's the Fiat 500X. You knew it was something special when years ago, J Lo started pushing it. (Dinah Shore did the same thing for Chevrolet back in the Flintstone days of the 20th Century.) Since then, it has been like Barack Obama – fresh on the scene a decade ago, and even as the grey shows through, it's still easy, breezy, George and 'Weezy (thanks to LGBT favourite Vanessa Williams for that memorable rhyme).
But perhaps Left Lane News sums it up best: "Designed with slightly more form than function, the Fiat 500X, as Fiat predicts, isn't likely to become a mainstream vehicle any time soon."
To which I say "Bravo". Who wants to be mainstream, even though now, with even Diana Ross and The Supreme Court on our side, we are more mainstream than salmon and catfish. Yes, this is indeed a quirky car, and if you can admit to and bathe in your quirkiness, you can more than handle where the Fiat 500X can drive you to. In a time when being a non-conformist is becoming harder and harder to do, the Fiat 500X allows you to at least feel like you are standing up and taking a stand ….
… While sitting down in the lap of luxury and gayness.