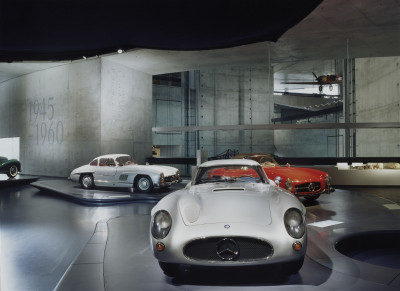 Since the mid-'50s, Mercedes-Benz sports cars have been some of the most desirable in the world.  We're talking about the 300SL "Gullwing", McLaren-developed SLR, SLS AMG "Gullwing", and now, the AMG GT-S.  All have been sexy as sin, but from styling to technology, the latest takes the three-pointed star to different tracks.
I could probably just show you a photo of the car's exterior, posterior, and end this review now.  That long sculpted hood, LED headlamps, and giant star in the grille make me want to wet-smooch it.  And, I could ogle that same hood all day from behind the wheel where it seems to stretch for the horizon.  It all looks serious planted over 19" front/20" rear alloys in front of red AMG brake calipers.  Around back, the look is all Porsche with a round rump, dual exhausts, retractable spoiler, and thin LED taillamps.  I vibrate in its presence.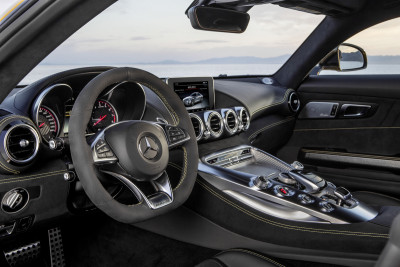 If you want a comfy car for long trips and daily commutes, the "regular" Mercedes SL is a better choice than the GT-S.  However, given it is one step removed from a racecar, the GT-S' cabin is plenty luxurious.  Deeply-bolstered and heated Nappa leather seats grip your sides no matter the drive while dual-zone automatic climate control, divine Bermester audio, and joywheel-controlled infotainment system ease longer journeys.  Navigation, USBs, Bluetooth calling/streaming audio, lane keep assist, and blind spot warning are all part of the deal.  Bumper beepers keep you from nuzzling curbs too closely.
Behind that big chrome star whumps a 4.0-liter Biturbo V8 engine that conjures 503 horsepower and 479 lb.-ft. of torque – connected to the rear wheels through a paddle-shifted 7-speed automated transmission.  Auto start-stop technology (which, praise Karl and Gottlieb, can be defeated) pauses the engine at rest to help deliver a relatively economical 16/22-MPG city/hwy.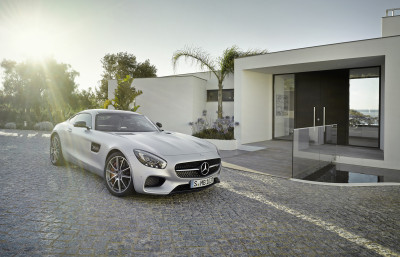 To put all of this in perspective, a 1989 560SL – Mercedes top sports car at the time – with a 1.5-liter bigger engine, generated 227 horsepower and 14/17-MPG city/hwy.  It's been a busy quarter-century for the German automaker!
Drivers can also configure the car with a console knob turns through Comfort, Sport, Sport+, and Race modes.  Each makes the throttle more sensitive, shift points more aggressive, suspension stiffer, steering heavier, and stability control less intrusive than the one before.  It also adjusts the throttle sound.  You can stealth out of the neighborhood in Comfort or Sport, but select one of the others and the throttle summons demons from the third ring as it blips before downshifts and rips the atmosphere.  Bless me!  There's also an Indvidual mode that lets you customize the settings.
If I could configure the car anyway I chose, I'd make a couple of adjustments.  I'd love a head-up display, simpler infotainment controls, and slightly softer seats.  Despite Mercedes targeting the Porsche 911, the GT-S is more of a German Corvette.  It's more high-speed projectile than sports car.  GT-S owners will dream of a Corvette's roomy trunk.  I'll get back to you if I think of other complaints, but you may have a long wait.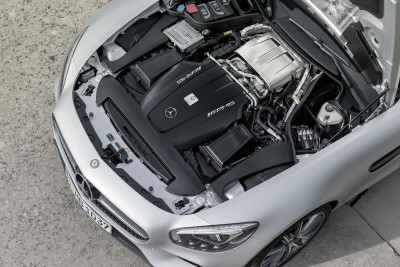 The GT-S is a stern master with hard seats and stiff suspension, so I wouldn't plan to drive it every day.  It's a weekend toy – ideal for L.A. socialites, professional athletes, and Middle East potentates.  And, to those, it anchors Mercedes' supercar legacy for the next generation.  Plan to mortgage the manse for at least $129,900 or $146,330 as-tested.  Compare it to the Porsche 911, Corvette Z06, BMW i8, Aston Martin Vantage, and Jaguar F-Type.
Storm Forward!
Check out Casey's video review of the GT-S and follow him on Twitter: @AutoCasey.
2016 Mercedes-AMG GT-S
Two-passenger, RWD GT
Powertrain: 503 hp 4.0-liter TTV8, 7-spd auto trans
Suspension f/r: Elect. Ind/Ind
Wheels f/r: 19"/20" alloy
Brakes f/r: disc/disc                   
Must-have features: Style, performance
Fuel economy: 16/22 mpg city/hwy
Assembly: Sindelfingen, Germany
Base/as-tested price: $129,900/146,330