My crazy love for a Smart is well-documented, but I'm one of those nerds who fell in love on a trip to Europe and couldn't wait to order one when they became available stateside in 2008. In fact, I ordered mine in February 2008 and took delivery a year later!
In the nearly 7 years since, I've driven two round-trips from Indianapolis to Myrtle Beach, South Carolina, a round-trip to Savannah Georgia, and more to Detroit, Chicago, and Memphis. It also makes a great airport shuttle and squeezes into parking spaces that don't officially exist – like the space behind my Corvette in the garage. It's also small enough to park out of the way, especially when I had trouble with my garage door and I needed to get in touch with a service similar to ADP Garage Door Repair (https://www.adpgaragedoors.com/owings-mills-md/).
But, my car has its issues. The five-speed automated transmission seemingly takes a smoke break during gear changes, crosswinds keep drivers unnerved, and putting it through the Smokey Mountains between Knoxville and Asheville rivals 500 miles of Indy. Given 71 horsepower, it can maintain 80 mph all day, but there's nothing in reserve. Trying to stay ahead of a semi, I once sounded like an old Jewish Catholic praying for a turbo. Prayers answered.
Any child could tell it's a Smart from the Tridion safety cell frame to the little vents over the rear wheels indicating the engine is still back there. Gaze head-on, and you start to see the car's additional half-foot of width, taller hood to meet European pedestrian crash standards, and LED driving lights. Its profile is more two-box than one, but looks handsome with plastic body panels, square taillamp pods, and 15″ alloys. Surprisingly, it's no longer than the outgoing model for easy garage storage and nose-in parking. There is no danger of scraping the garage doors and being in need of Kings Garage Doors of King of Prussia, PA. or other garage door specialists. Although, I have considered renovating my garage door purely to match my new wheels. Truth be told, when I was looking for garage door specialists, some of my friends recommended me to look for firms like KLM Garage Doors (https://www.klmgaragedoors.com/). I was told that firms like these have their work portfolios on their websites and also feature customer reviews. To be honest, I was almost tempted to call them but then I decided that I will consider this option the next time.
Anyway, coming back to the topic, additional width and refinement influenced the interior. Two people can now sit side-by-side without being staggered. The multicolor dash design features fabric coverings as before but is dominated by a center LCD pod for infotainment and automatic climate controls below. Doors are noticeably thicker for side impact protection, but also look more expensive. Bluetooth, USB, and convenient console cupholders were added. A clever drawer slides out of the console for storing small items.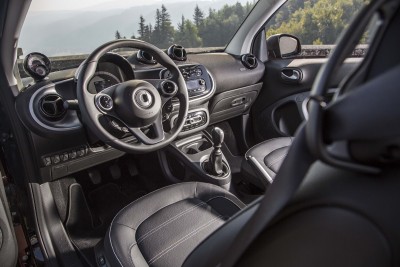 Smart hallmarks like clear polycarbonate roof panels, high seating position, heated leather buckets, and a leather-wrapped steering wheel remain, though the eyeball tachometer and clock have combined into a single sprout on the driver's left. The two-piece tailgate can be deployed with one hand. A flip-forward front seat and roomy cargo hold can haul a painting or two roller bags and a couple of duffles for a week away. JBL audio, cruise control, automatic wipers, and collision avoidance systems are available.
Even with years of Smart driving, I couldn't prepare myself for the driving experience. A new turbocharged three-cylinder engine delivers 89 horsepower and 100 lb.-ft. of torque to the rear wheels – enough to touch 96 mph and give it much deeper lungs when huffing through mountains or jumping onto the freeway. You can finally get a traditional five-speed manual transmission, but the 6-speed dual clutch automatic would be my choice as it now clicks through gears rather than lunging through them. Fuel economy of 33/39-MPG city/hwy is not stellar, but good for a non-hybrid.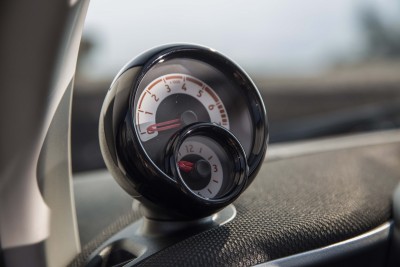 That's only half of the driving story. Engineers refined the rear suspension and developed a version of the Mercedes C-Class' for the front. Combine that with a wider stance, and the car rumbles over bumps without the crash-banging from before and can be tossed into corners without feeling tipsy. It's legitimately fun. Electronic stability control and Crosswind assist stand by just in case. Don't worry about safety; the ForTwo is stuffed with airbags and was crash-tested against the Mercedes C- and S-Class sedans.
Look, I'm a nerd who would not recommend a Smart to everybody. It's, um, unique. I knew what I was getting into, don't mind my car's quirky personality, and appreciate how easy it is to park and store. And while I'm not selling mine anytime soon, the new model is much better. Dramatically improved handling, power, and interior space should find a much wider audience while keeping early adopters adopting. I look forward to my next one.
Storm Forward!
Follow Casey on Youtube and Twitter: @AutoCasey.
2016 Smart ForTwo Prime
Two-passenger, rwd coupe
Powertrain: 89hp 0.9-liter T3, 6-spd auto trans
Suspension f/r: Ind/De-Deion
Wheels f/r: 15″/15″ alloy f/r
Brakes f/r: disc/drum
Must-have features: Style, Maneuverability
Weight: 2,053 lbs
Top speed: 96 mph
Fuel economy: 33/39 mpg city/hwy
Assembly: Hambach, France
Base/as-tested price: $14,650/18,480