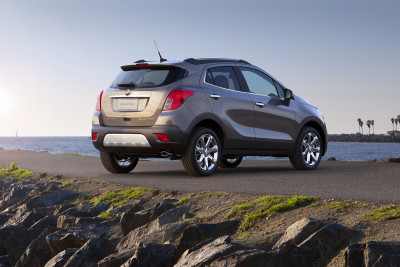 The great Barbara Mandrell once sang about being "country when country wasn't cool".  Buick's Encore crossover might sing a similar song of being compact before compact was cool, virtually inventing the compact luxury crossover segment with unpretentious, efficient comfort.  Now, compact crossovers are one of the fastest-growing segments with everybody from Honda to Infiniti joining the fray.  
Basic architecture comes from the Chevy Sonic sub-compact and is built by GM-Korea.  With only slight variations, the same vehicle is sold in Buick's largest market, China, and in Europe as the Opel Mokka.  GM decided to grace us with the similar and globally-sold Chevrolet Trax based on the Encore's success.  You would never know its breeding by looking at it or from behind the wheel.
Encore wears a toothy grin that would make its Enclave, LaCrosse, Regal, and Verano siblings proud.  Standard 18" wheels anchor the tall body to the road, as do neatly formed character lines down the side, multi-faceted hood, and integrated luggage rack.  Composite projector beams with blue translucent ring reflect bigger Buicks.  Geeks will notice the hood wears six portholes while the engine bay contains only four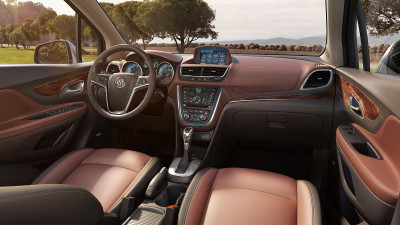 Base models come with cloth/vinyl seats that feel like they came out of a Volkswagen while up-level trim packages wear heated leather seats, heated steering wheel, dual-zone climate control, navigation, power sunroof, and Bose audio.  Safety is enhanced with Forward Collision Alert, Front and Rear Park Assist, Lane Departure Warning, rear vision camera, Rainsense automatic wipers, and 10 airbags.  Remote Start takes the chill off of winter mornings.  
A feature list does not adequately convey interior ambience.  Your fingers rarely touch hard surfaces and the Saddle leather package conjures cowboys and saddles or a woman's bag, depending on who you ask.  What's chrome in daylight magically glows blue at night with an azure haze that seeps from every crevice.  It's beautiful, like fog rolling off of a Vegas stage.  I prefer the gray woodgrain over fake walnut, but the leather-wrapped steering wheel is perfectly-sized in any color.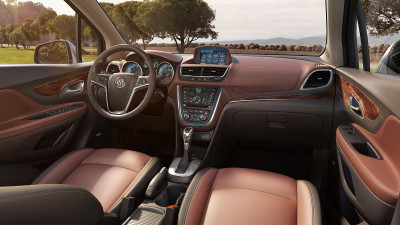 Most of the infotainment controls are cribbed from Opels, which means they're not immediately intuitive.  Buick Intellilink uses a color screen and joywheel controller to access voice dialing, XM Satellite radio, USB port-connected MP3 players, and Pandora Internet radio.  Bluetooth audio/calling and 4G Wi-Fi are available.  Bose active noise-cancellation technology works with laminated glass and insulation to give the Encore an interior that would make a Rolls-Royce clock seem rambunctious.  
Our Encore came with a 138 horsepower 1.4-liter turbo-four connected to a six-speed automatic transmission.  It's enough power, but you're not going to fast-tromp it through mountain Interstates with four and their luggage aboard.  Passing on tight two-lanes is better left to more-athletic carriages.  The big pluses are fuel economy ratings of 23/30-MPG city/hwy with AWD.  If you need more performance, check out the new Sport Touring with 153 horsepower and lowered suspension.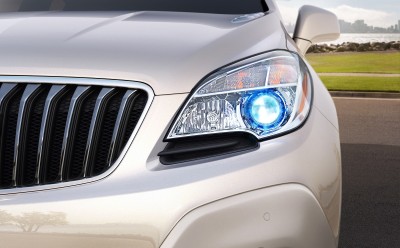 If you want a big and fast crossover, consult Porsche.  While compact crossovers are now cool, Encore still owns its place on the stage by offering all the luxury you want in a package that can be parked almost anywhere.  A base price of $24,065 and $34,390 as-tested squares it against the Mercedes GLA, Lincoln MKC, Honda HR-V, Mini Countryman, Mazda Q3, Fiat 500X, and upcoming Infiniti Q30.
Storm Forward!
Send questions and comments to Casey at [email protected].  Follow him on Youtube and Twitter: @AutoCasey.
2015 Buick Encore
Five-passenger, AWD crossover
Powertrain: 138hp 1.4-liter Turbo-4, 6-spd. auto. transmission
Suspension f/r: Ind/Torsion beam
Wheels: 18"/18" alloy f/r
Brakes: disc/disc fr/rr with ABS
Must-have features: Style, convenience
Fuel economy: 23/30 mpg city/hwy (AWD)
Assembly: Bupyeong, S. Korea
Base/as-tested price: $24,065/34,390