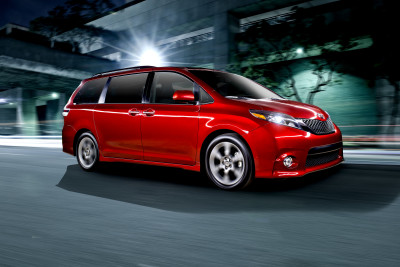 It angers me to no end that states like Kansas would deny children a happy home with a caring, loving lesbian or gay couple – or individual. Look closely at many of these inclusive families and often you find more than two parents and just one child in the family. When there is that much love in the house, more children and pets can be accommodated. That means that a small family can grow quicker than you can binge-watch all episodes of Orange Is the New Black and RuPaul's Drag Race (and Miss Charles has thankfully been around awhile). When there is that much love, you need a big roomy, flexible vehicle in which to travel from holiday shopping to holiday party. One big van that can handle all your love is this year's Toyota Sienna.
This is a big, big van IMHO, even though it is technically a minivan. One drawback for me is that the second-row seats do not fold down (though they can be easily removed), but when you push them up and fold down the third row of seats, you suddenly have a cavernous 150 cubic feet of space. That's some big space to fill, and even when you are using all three rows of seats, you still get almost 40 cubic feet of space for all your family jewels – and Costco purchases. The beauty of that last 40 cubic feet of space is that it is mostly vertical, so transportation is a Snap! for your precious artwork, bicycles still in the box for Christmas or your own personal Barbie's Malibu Mansion (formerly occupied by Caitlyn Jenner) with some assembly required.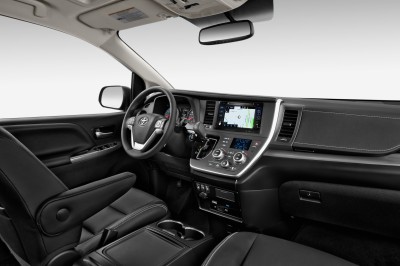 You get a V6 engine that is more than sufficient for the Sienna. This is not a hot rod or a performance car by any means. The side doors and rear gate can be opened manually or with a push of a button (use the button), and that right there tells you the Sienna is for precious cargo and not for impressing your friends or the occasional cute guy with chest hair and arm hair who is driving alongside you in his super-charged speed semen demon. (Darn auto correct!)
You can get a sports-tuned suspension and even All-Wheel Drive with your Sienna. You don't really need those things, assuming you really are using this 'mini' van just for safe and sound transportation. What you do need – and what the Sienna does have – are big, easy-to-reach-and-understand controls on the dashboard. If you are one of those big LGBT families on par with Brangelina, the family discourse right behind your seat while driving is enough of a distraction. You don't need the added stress of having to program the temperature, audio, weather alerts and other duties-as-assigned when you are driver-in-chief. I love it!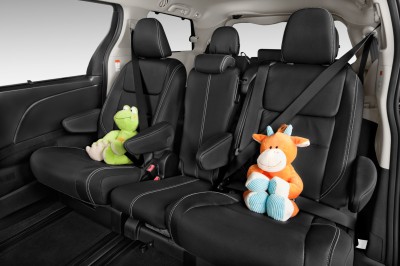 Here's an article on using everyday items to keep your Sienna operating safely and you operating sanely. My friend Jason Lancaster is always coming up with these great little tips for keeping your costs low while keeping your vehicle running well (he must have a lot of kids). In short, your Sienna can benefit from the masking tape, hand sanitizer and artist's brush that you keep in your car's toolbox – which also doubles as your drag performance makeup kit (we all know, honey, no need to lie about it during the President's last year in office).
I will never understand why anyone, especially so-called Christians, would have a problem with children in need of a home being adopted by loving people who span the rainbow. These kids need love, not bureaucracy or hate. They also need to be safe at school and on the road. We here at gaywheels.com can help you when you are on the road. As 2015 closes, the Toyota Sienna should be on your short list …..
…. Which is truly a combination of the naughty and nice list.