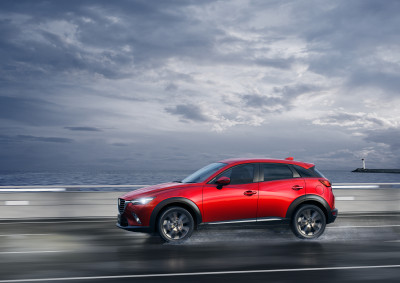 As rents and mortgages in America rocket to the sky, items that used to be considered standard, like off-street parking, now come at a premium, sometimes for as much as $1,000 more a month in some gay hotspots. That's truly ridiculous, but sometimes you have no choice. Yet if you can find parking on the street, size matters, and at just 14 feet in length, the 2016 Mazda CX-3 is one of the shortest yet peppiest new vehicles on the lot right now. The Streets of San Francisco, here we come.
The CX-3 is all new for 2016, and this year's model can get an impressive 29 combined-mpg with All-Wheel Drive, and even better mileage with standard Front-Wheel Drive. It's a hot little car, rivaling the Nissan Juke and the Honda HR-V, both considered to be economy/affordable/SUV/groovy/gay-friendly/hipster roadsters. The CX-3 is all that too, which means you really should check out all these cars if you want all that Fabuloso. The CX-3 should be on your short list, just like that handsome man you may have passed by because he leaned more toward sincerity than toward hyper-sensuality.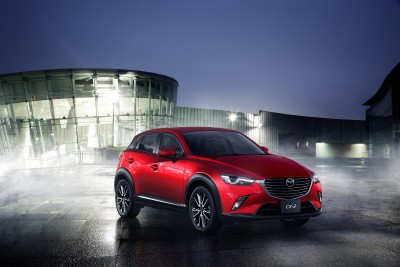 The engine is simple yet powerful. You get a 2.0-liter inline-4 146-horsepower engine, which sounds like a bore until you hear it roar. With most cars in this class, acceleration and power are sacrificed for economy, and I understand that. But with the CX-3, you get the economy and the power – and it's great. It's like meeting the love of your life in the restroom, already knowing what his hidden assets are and realizing that he doesn't want steak and lobster but just a homemade meal from your kitchen. All the power and glory with few financial hits to your wallet – what's not to like about that?
Rear seat space is a little tight, to be honest. Unlike the Nissan Versa (which prides itself on being roomy but is woefully short when it comes to being zoom-y), you may want to pass on the CX-3 if you plan on using your backseat a lot for hauling ass and assets.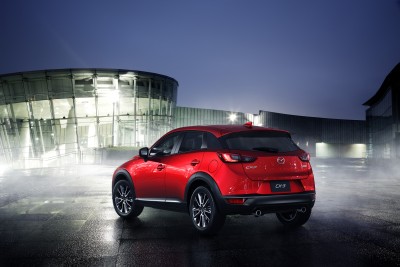 Another complaint I have about the CX-3 is the layout of the controls. There are no buttons on the dash, which is always a frustration for someone of my age and stature. Instead, there are just two buttons located on the side of the driver's seat. One dial can help you navigate the navigation, audio and other controls. There is a smaller dial right below it and that controls the volume and other audio functions. The problem is that these buttons are right underneath the foldable armrest. And also underneath that armrest are the cup-holders. Yikes, I had to be limber in ways I once had to be when I frequented men's saunas. I don't know who came up with that design, but it stinks, though I do like how the USB, Aux In and other audio ports are right at knee level on the dash. (Thankfully, I can still grab my knees and my ankles.)
Yeah, but baby, it sure is a pretty car. This car screams way-gay and Jorge (hey-whore) all at the same level and pitch. And for those of you still trying to butch it up for the rest of the world, this car, even with glitter, still fits right in with the football / buffalo wings crowd. Left alone or gussied up, the CX-3 is beautiful.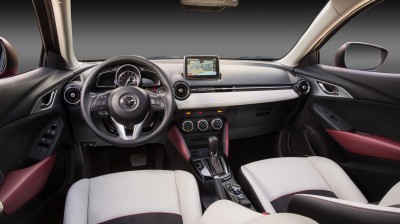 And just because you have a brand new car doesn't mean you shouldn't pamper it. Ever thought about winter tires, window tinting (where legal), roof rack or clear bra? Personally, I'm not into hiding behind smoky glass or anything about bras, but you should consider getting some extra 'stuff' to make your Mazda snazzier and safer. Click here for some ideas about how you can use that extra $1,000 you saved by not buying a parking space.
2016 promises to be an interesting year, complete with our best president in history IMHO leaving office in 2017 (sniff). Rents don't look like they will be coming down soon and neither will the price of cars, even if gasoline stays cheap during this first full year of marriage equality throughout the land. Stay gay and keep shopping, since nowadays being thrifty and over-the-top has never been easier.
Or as safe…