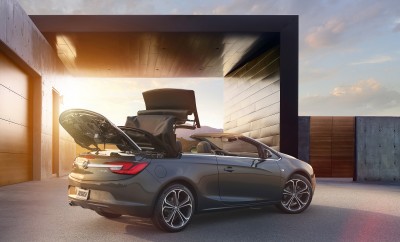 There's a scene in the movie Pleasantville where Tobey Maguire's character is driving a 1952 Buick Roadmaster convertible, arm around his babe, when all the colors change from black and white to color.  That's kinda what it's like to leave Indiana in January and land in Key West, especially when I'm there to drive the first-ever Buick Cascada convertible.  Flip the top and all the scenery changes.
It's a sassy little Buick, flaunting the brand's new winged grille (goodbye waterfall), crisp lighting elements, and 20" wheels – two styles available.  Look a little closer to notice elegant chrome around the windowline and bodysides that are truly sculpted with positive and negative curvature along the main crease and lower sill.  Buyers can select 6 colors – all looking like they came from a fashion runway (think silvers and blacks), though a bright red or blue would be nice.  There's not a porthole, sweepspear, or toothy grille, but it still says "Buick".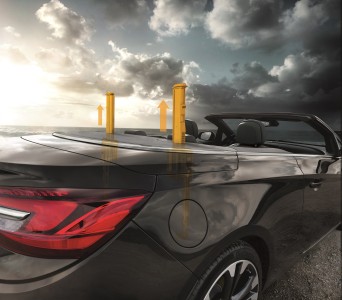 Well, not all of it.  Truth is the Cascada is a slightly Buick-ized version of the European Opel Cascada.  That gives it very upscale German undertones that should play well with the car's intended audience.  For Buick duty, the canvas top is more thickly layered to keep the cabin insulated from noise and temperature.  And, who needs a hard top?  The tightly snugged soft canvas on the Cascada is very elegant!
But, when it's 75 and sunny in January, you don't look at the top long.  One button retracts it and the windows in 17 seconds at speeds up to 31 mph.  It's like "Transformers" going down the road – always a crowd pleaser.  A wind blocker, heated seats, and heated steering wheel keep the cabin comfortable top up or down.
Cascada's German roots reveal themselves again in ridiculously-buttoned center controls, but the group controls navigation, radio, and smartphones via Bluetooth and USB inputs.  You can get Siri EyesFree and 4G LTE Wi-Fi, but not Apple CarPlay or Android Auto.  Those, pray Ponce de Leon, shall arrive later…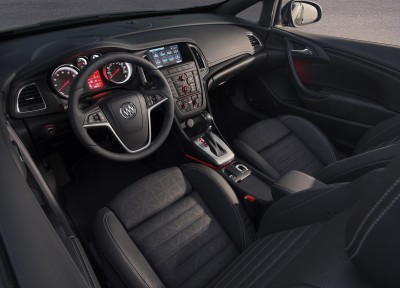 Even with the top stowed at highway speeds, the audio system sounds crisp and clear – perfect for a little coffee house music along the drive over Seven Mile Bridge or rocking the night club thrump of South Beach.  Contrasting stitching on the dash and doors adds a tailored finish.
Engineers shone light under the Cascada to insure its underpinnings are as sexy as its bodywork.  Step into the 1.6-liter turbo-four, connected to a six-speed automatic transmission, to feel a surge from 200 horsepower and 206 lb.-ft. of torque.  It's no Camaro, but it is smooth and athletic.  Fuel economy ratings of 20/27-MPG city/hwy are less than brilliant.  
Thanks to X-bracing, there's virtually no cowl shake and the suspension/steering were better tuned for responsiveness.  Straight on The Overseas Highway, it felt like a Category 4 hurricane wouldn't divert it and the brakes feel like they would stop a train.  It's a car that can cruise comfortably, but enjoys a curvy backroad or sweeping freeway onramp.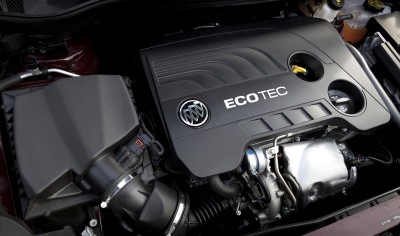 Especially given the retractable roof, safety was vital.  Beyond substantial body fortification, roll bars deploy from behind the rear seats should Cascada go wheels up.  Lane Departure Warning, Rear Park Assist, rearview camera, and auto wipers are part of the package.  Apparently, blind spot warning, active cruise, and forward collision alert systems were not in the Opel toolbox.  It's anticipated the little Buick will achieve a 5-Star NHTSA crash rating.   
As the scenery changes from beach communities to the hip urban nightlife of Miami Beach, Cascada is as much a darling of valet stands as diners at dockside hamburger shacks.  Where Key West is a palette of white and aqua, Miami is technicolor, a visual barrage of neon and LEDs.  Our little Buick fit right in among the Maseratis and Bentleys parked at Milo's.
As I board the plane in Miami and head back to white and gray, I look forward to spring when I can meet up with the Cascada again in warmer hues.  I'll put down the top, let the bright rays hit my face, and remember when I was refreshed by a drive through "Pleasantville".  Though, even now, the front-drive convertible with heated leather and insulated top would add color to my day.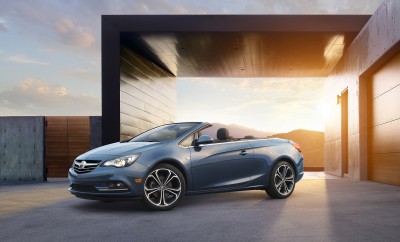 If you can't wait until spring for the first Buick convertible in a quarter-century, no problem.  Cascada goes on sale at the end of January with a base price of $33,990 – or $37,385 all-in.  That's a fair price for a car that's the size of an Audi A5, but priced like an A3.
Storm Forward!
2016 Buick Cascada
Four-passenger, FWD convertible
Powertrain: 200hp 1.6-liter T4, 6-spd. trans
Suspension f/r: Independent/torsion beam
Wheels f/r: 20"/20" alloy
Brakes f/r: disc/disc
Must-have features: Style, comfort
Fuel economy: 20/27 mpg city/hwy
Assembly: Gliwice, Poland
Base/as-tested price: $33,900/$37,385