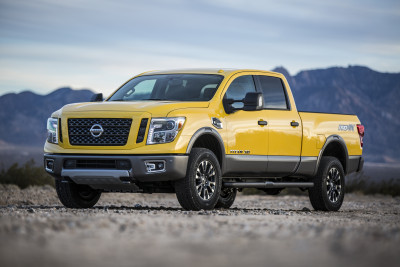 Dave Bear here, the new "cub" reporter for Gaywheels.com.
For as long as I can remember, I have been a car and truck guy.
I probably got it from my Dad at an early age. I recall loving cars and trucks – everything about the world of driving. That love has only grown stronger through the years, and now that I am an adult, I still get a giddy-thrill just like when I was a kid. But now as a gay man, I get to drive and play with these awesome toys.
A big awesome toy I would like to get my hands on is the new Nissan American TITAN XD truck. Nissan has created a new class of full-size pickups and their flagship TITAN XD model combines the capabilities of a heavy-duty hauler with the drivability of a light-duty pickup. This all new Tennessee-sourced 5.6-liter Endurance V8 gasoline 4-valved direct-injection engine is rated at 390 horsepower at 5,800 rpm with 401 lb-ft of torque at 4,000 rpms. Or you can get the Turbo Diesel Cummins 5.0-liter V8, which puts out 555 lb-ft of torque. Couple either with Nissan's bold new design and you have a very handsome bad-ass truck. It's like a MMA fighter with a PhD in a custom-fitted Armani Collezioni suit.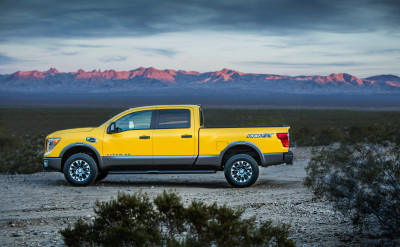 Not only has it won the prestigious 2016 Truck of Texas award, but even Nissan's own Fred Diaz, Vice President and GM of North America has positioned it as a "powerful precision tool" for hard-working, hard-playing buyers. OMG, I could make so many gay sexual innuendos and double-entendres from that, but I'll leave that for you to make up your own. With three cab configurations options, two frame sizes and three powertrain offering, the fun doesn't stop there. How about a host of cool stuff that sounds sexy? How about a bed extender, electronic tailgate lock, rear bumper step, sliding toolbox, lighted extended running boards and splash guards, tailgate guard, remote engine start, tow hitch receiver, water-resistant seat covers and (wait for it) bed tent? That's right, a Bed Tent!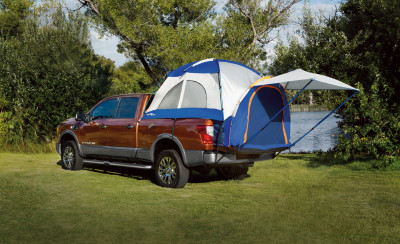 Exterior changes from 2015 include upgrades that replace the "weak-chinned" hood-line of the past with a new strong and aggressive "chiseled-chin" like the Man of Steel's chrome and mesh grille. On the inside, the new Rockford Fosgate premium 12-speaker audio system cranks out the beat like Club Babylon. The interior projects the quality and style of an outdoor quilted hunting jacket with durable leather appointments and water repellant fabrics, which makes this truck uniquely versatile – in more ways than one.
A few other things make this American titan come to life: a new column shifter with manual shift control (which allows for increased console storage), multiple power points (12V, 120V and USB), heated steering wheel and zero gravity seats that would be so comfortable to any tired bottom.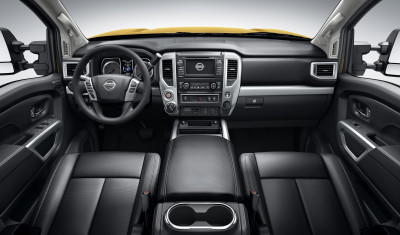 Now that we've talked about the trimming, let get to the meat! Towing and hauling is where the new American Titan really cuts its teeth. With a maximum payload of 2,091 lbs. and a max tow rating of 12,314 lbs. it can haul! Whether by gooseneck or conventional hitch, the additional tow-package features an integrated trailer brake controller, Trailer Sway Control, downhill speed control, rearview monitor with trailer guides and a trailer lights check-system making, for an easy hook-up. While you do still need to buy your trailer lights and accessories from somewhere like www.truckelectrics.com, the trailer lights check system is honestly so helpful because you don't need to be fiddling with the light for ages, wondering whether or not they're connected, making hooking up even easier. And what guy doesn't like an easy hook-up with a "powerful precision tool"?
The American Titan is that hook-up tool.