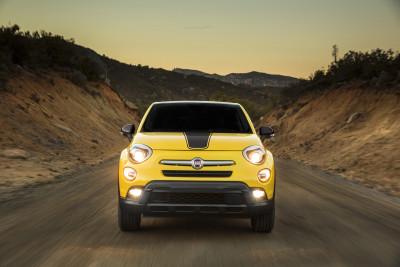 I loved the 2015 Fiat 500L so much that I dubbed it the Gayest Car of 2015, a high honor that admittedly doesn't even come with a drink coupon or sash made from cocktail napkins. It had plenty of room for friends, it was nimble and stylish – and most of all, it constantly screamed GAY in a way that didn't offend anyone, even Republicans, who hate it when we scream 'gay'.
That said, the 2016 Fiat 500X (as in X-Men, X-Sports, X-Files?) missed a bit this go-round IMHO. Let me be clear, this is still a very, very gay car. With trims like Pop, Easy, Lounge, Trekking and Trekking Plus, you know this is such a gay car that even older queens like me, Tab Hunter and George Takei can enjoy it. Yet the 500 is no small car anymore, since it is now actually considered a 'crossover' vehicle, one that tries to be a lot of things to a lot of people (and we as LGBTs know how that goes at home, work and family potlucks). In fact, the 500X is nothing like the car that J Lo tooted around America just a few years back when Marriage Equality was just the name of a lesbian garage band. It's bigger, it's still beautiful….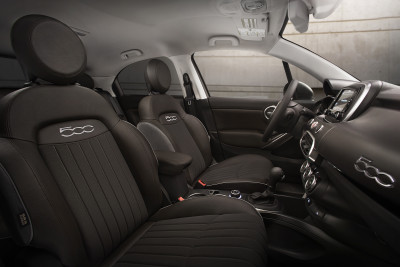 …. And a bit clunky to drive. Maybe the gearing is off (that happens to me all the time at The Eagle). It could be the turbocharged engine – I'm not sure it needs one, because we assume that you and your friends are turbo-charged, so wouldn't that be overkill? My guess is that because the 500X is trying to be a crossover, it is trying to act like a crossover, and that always results in some loss of gay flair. Think of it this way: the drama club kids who suddenly wear shop aprons aren't fooling anyone and actually move slower because those aprons don't allow for as much freedom-of-movement. I think the same thing is happening here: heavier isn't always better if it means not being able to, say, slip underneath the door of a stall in the men's room (in case, you know, the latch breaks).
But what really made me feel like the Viagra had worn off for the 500X was the 3.5 inches…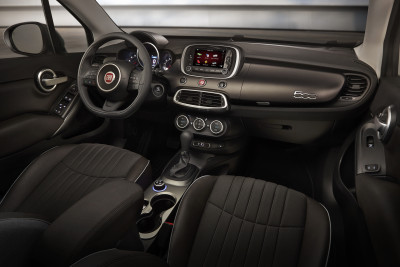 We gays love our inches, so after driving all those cars with all those big touchscreens (i.e. over 12 inches on the Lexus RX), it was a real letdown for me to get only 3.5 inches of finger action in the 500X. Sure, it's functional and does the job, but, I dunno, it just seemed so …. small. In the future, Fiat should look at installing a humongous touchscreen (minimum nine inches, I always ask). Sure, it may seem too big inside the very roomy 500X, but we gays know that big things in tight jeans genres always make for a party – and believe-you-me, the Fiat 500X is still a LGBT party on wheels.
My gaywheels.com colleague and road scholar Casey Williams just wrote about the 500X and used a lot more technical, graduate school words to explain what I just tried to say (he's smarter, I'm jealous). It's a great review (click here for it), and his attention to detail will enlighten you. (Casey, I just love what you said about 'whiskers and logo' – I get that all the time at The Eagle as well.) As always here at gaywheels.com, we let everyone speak – because you never know whose voice you will find seductive and persuasive.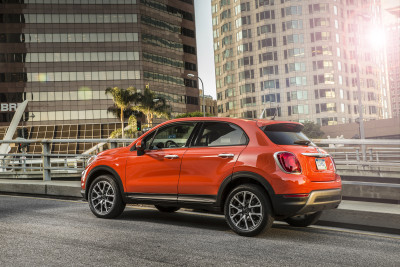 My friend and techie car buddy Dave Bear will soon be joining us here at Gaywheels.com as a cub reporter (goodness, it's like When Bears Attack around the office). Last month while driving through the Belmont Shore area in Long Beach (California), he saw a very gay billboard for the very gay Fiat 500X: Drive Proudly Through Any State, it read. These billboards were put up by FCA (parent company of Fiat) in honor of California Pride month. They worked so well, many are still up and staring down at us. How gay is that?
Goodness, we've come a long way when even a few less glitter bombs and Lady Gaga lyrics can put your Gay Card in question. Rest assured, Fiat's gay card is still good, loaded and not in question….
…. and the 500X still in contention of Gayest Car of 2016. Now how gay is that?