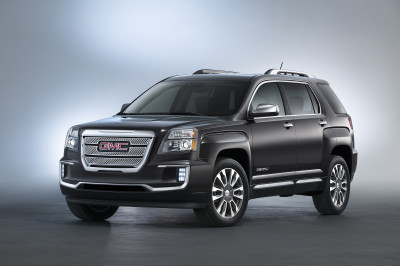 People who analyze trends in the auto industry often focus on overall sales, specific model sales, and the best-performing brands. But if you really want to take the temperature of the U.S. auto market, I suggest you take look at segment sales. The types of vehicles that are — and aren't — flying out of showrooms can tell you a lot about the market's current state and where things might be heading.
For example, given today's low, low gas prices, it should come as no surprise that the popularity of cars is waning. Sales of midsize cars are up 5% for the year, but all other sizes are down, down, down.
On the other hand, sales of SUVs, crossovers, vans, and trucks are booming. Crossovers alone are up nearly 12% over 2015, trouncing the modest 2.8% growth in SUV sales. (Clearly, car-based crossovers are turning the heads of shoppers who might otherwise be looking at midsize sedans.) Today's strong demand for crossovers like the GMC Terrain suggests great resale value down the line.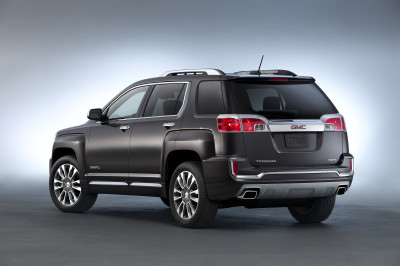 Of course, high resale value isn't the biggest must-have for most new car shoppers. Heck, it probably doesn't even rank in the top ten. Thankfully, the 2016 GMC Terrain Denali has plenty of other selling points for those in search of a new ride.
Exterior
It's said that first impressions are everything, and the Terrain makes a strong one. Its squared-off silhouette feels nice and solid and safe. No, it's not as sleek as crossovers like the Toyota RAV4 or Ford Escape, but for those who appreciate the truck-like appearance of SUVs, the Terrain's a definite looker.
The Denali trim adds a few more nifty bells and whistles. The Iridium Metallic paint job on our test vehicle was complemented by door handles, outside mirrors, rocker moldings, and a roof rack all done in satin. And from the front, there's no mistaking the unique Denali grille.
Interior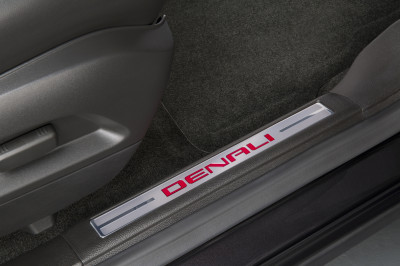 Open the Terrain's door, and the first thing you'll likely notice is the illuminated Denali sill plates — a very nice touch. The steering wheel and seats are upholstered in leather, with heaters for the driver's and front passenger's perches. The seats, doors, and windows are, of course, all power-operated, and the Pioneer premium stereo is pitch-perfect, no matter whether you're banging with the Biebs, belting with Babs, or softly crooning into your soy latte with Celine.
Where the Terrain really shines — and frankly, where it's always shone — is in its tech features. There's OnStar, naturally, as well as a built-in 4G LTE wi-fi hotspot. The GMC Intellilink software paired our phones with relative ease, and the 7″ color touch screen came in handy for navigation and other functions.
Safety and performance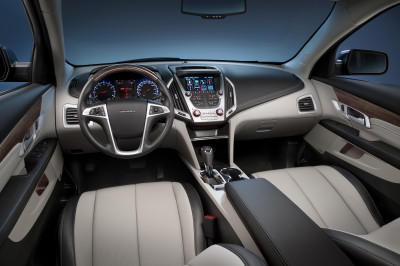 If safety features are at the top of your wish list, take note, because the Terrain has plenty. There's a built in rear-view camera, and multiple warning systems for drivers, including forward collision alert, lane departure warning, and side blind zone alert, for those times when you just don't see that car in the passing lane. There's also a rear cross-traffic alert system, which monitors streets, parking lots, and other thoroughfares when you're backing into traffic.
Where the Terrain Denali comes up slightly short is on the performance front. The base 2.4-liter, four-cylinder, direct-injection engine puts out 182 horsepower and 172 lb-ft of torque, which can't really compete with larger trucks and SUVs. Our Terrain came with a 3.6-liter V6 — a $1,500 upgrade — that churned out a beefier 301 hp and 272 lb-ft of torque.
Of course, that increase in power means a drop in fuel economy. The 3.6-liter is rated at 16 mpg city / 23 mpg highway. The 2.4-liter performs slightly better at 18 city / 24 highway. The Ford Edge, by comparison, earns 20 city/30 hwy — and with a lower starting price.
Bottom line
The Terrain Denali has enough luxury touches to please shoppers looking to feel a bit pampered, but it's also rugged enough to handle schlepping, chauffeuring, and everything else you might do during an ordinary day. The fuel economy might be a turn-off to folks with long commutes, but others should put the Terrain Denali on their short list.