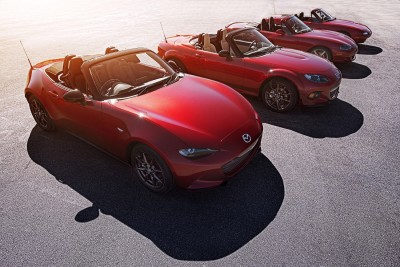 When the Mazda MX-5 Miata debuted at the 1989 Chicago Auto Show, it was a sensation. There was a lightweight two-seat, rear-drive roadster inspired by classic British and Italian sports cars, but built to exacting Japanese standards. There was something so pure and elemental about the driving experience that it became the heart and soul of Mazda. Four generations on, the little car from Hiroshima returns to its roots while finally expressing itself.
Styling advances from cute to dynamic, starting with eagle eye headlamps and flowing back into flared fenders, canvas roof, and round LED taillamps. Our Club model – designed to start owners down the path of track days – adds 17" black BBS alloy wheels, black front air dam, ground affects, and lip spoiler. An aluminum hood and trunk lid keep it light. It's every inch a Miata, but looks a little angrier – no longer the playground pushover.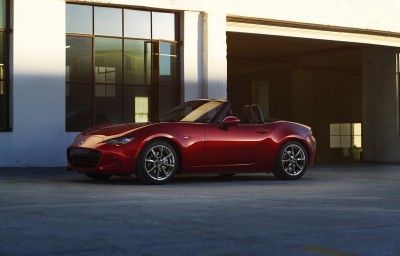 Designers conjured an interior that retains the car's historic simplicity while adding luxuries. There's no need for a power top – just flip the handle and throw it over your head. Light shines on a simple horizontal dash with round air vents, piano black trim, and stitched lower covering. The view ahead is dominated by a leather-wrapped steering wheel and instrument cluster with large center tachometer flanked by an analog speedometer.
You'll wish your elbows have fingers when you reach for the cupholders, but there's a roomy cubby between the seats. And, the 9-speaker Bose audio system insures your favorite tunes shine top up or down. Infotainment, including navigation, is controlled with Mazda's console joywheel that works in conjunction with a dash-mounted screen. Bluetooth calling and audio streaming are included – as are power windows, keyless entry, and push button starting. Miata advances.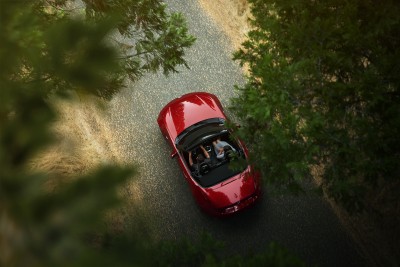 Striking the balance between performance and efficiency is a 2.0-liter four-cylinder engine delivering 155 horsepower, 148 lb-ft. of torque, and 27/34-MPG city/hwy. It's best revved through a snick-snick six-speed manual transmission. If you can find a better shifter, buy it. You have to rev the engine like a turbine to get power out of it, but when you do, the car scats. A limited slip rear differential puts it to pavement evenly.
The track-leaning Club's sport-tuned suspension, fortified with Bilstein shock absorbers, is on the stiff side for daily use. It's not brutal, but drive the car over broken pavement and you'll wish for a touring-tuned chassis. On Interstate pavement or an asphalt two-lane, nirvana. Under hood shock tower braces stiffen the body for performance and to reduce cowl shake. True to Miata tradition, steering is quick and light.
Over the past two and a half decades, Mazda could have corrupted the Miata in any number of ways. But, it didn't. The MX-5 Miata remains a lightweight, elegantly styled, reasonably comfortable, notoriously reliable roadster that lets drivers indulge in the passion of driving. In the ultimate student-becomes-the-master, this slayer of European convertibles hosts the new Fiat 124 roadster – built by Mazda.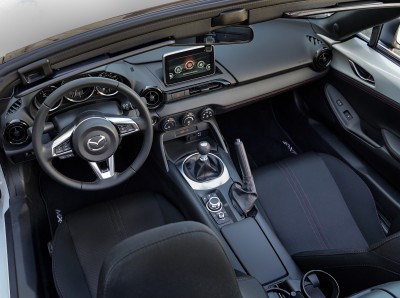 A base price of $24,915 – $33,120 as-tested – puts it against cars as varied as the Nissan 370Z, BMW Z4, Mercedes-Benz SLC, Scion FR-S, Subaru BRZ, and Smart ForTwo Cabrio.
Storm Forward!
Watch Casey's video review of the MX-5 Miata above, and follow him on YouTube and Twitter: @AutoCasey.
2016 Mazda MX-5 Miata Club
Two-passenger, rwd roadster
Powertrain: 155hp 2.0-liter I4, 6-spd manual trans
Wheels f/r: 17"/17" BBS alloy
Brakes f/r: Brembo disc/disc
Fuel economy: 27/34 mpg city/hwy
Assembly: Hiroshima, Japan
Must-have features: Elegance, performance
Base/loaded price: $24,915/33,120
Ed. note: Want a second opinion? Sam Gomez recently reviewed the Miata, too.