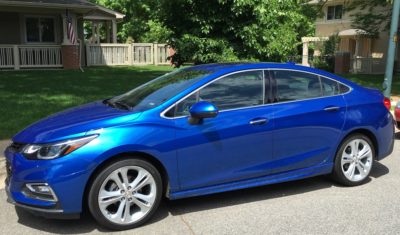 "Baseball, hotdogs, apple pie and Chevrolet!" It was a great jingle that cemented the association of the Chevrolet brand with the USA. Interestingly enough, outside of our borders the Cruze has rocketed to the top of the sales charts, knocking its big brother, the Silverado pickup truck, out of the #1 spot, although it hasn't been able to achieve that pole-position in the domestic market.
Some major changes have been made in the new Cruze, with a sleeker design, lighter weight — due to the predominantly steel body structure (a 250 lb. loss) — and a wider wheel base that stretches overall length by almost 3 inches.  That makes the back seat area much more accommodating, with enough room to use a laptop.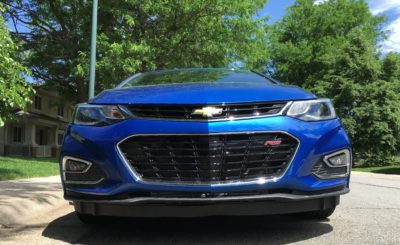 But even with the fat trimming, carb-cutting, and expressive detailing changes to the Cruze, the most impressive feature of the demo car I drove was the color: Kinetic Blue Metallic.  Maybe that's because blue as a color is newer than some other colors.  Historians have suggested that the word "blue" didn't even exist in ancient Greece.  The first color words to appear in English — and most other languages for that matter — were words for "white" and "black", then "red", followed by "yellow" and "green", with "blue" appearing last. Since that time, we humans have adored the color blue and the blue metallic color of this Cruze makes it one of the best features.
Sadly, one departure from the first generation is the zip. The Cruze's turbocharged 4-cylinder 1.4 liter DOHC coupled with a 6-speed automatic transmission turns out 153 horsepower and 177 lb-ft of torque, giving it an eight-second time from 0-60mph — which felt slightly underpowered and somewhat disappointing.  However, Chevy believes the increased fuel economy will compensate for that loss, with a 34mpg in the city and over 40mpg on the highway. My test driving averaged about 43mpg and I tend to have a heavy foot.
Another new feature is the more responsive 7-inch touch-screen display, with Chevrolet's easy-to-use MyLink infotainment menu. The system is compatible with both Apple CarPlay and Android Auto and comes standard with a 4G LTE data connection, plus built-in wi-fi hotspot and a Bose Premium 9 speaker audio system. Our test car was the Premier RS with the Confidence II Package which includes blind-spot monitoring, rear park assist, and cross-traffic alert, as well as automatic high beams, forward-collision alert, a following-distance indicator, and lane-departure warning for those drivers that need the extra help. It's funny that the real stand-out for me was the clever, air-conditioned cell phone holder in the center console that keeps your phone cool when the A/C is on and also provides wireless charging with compatible phones.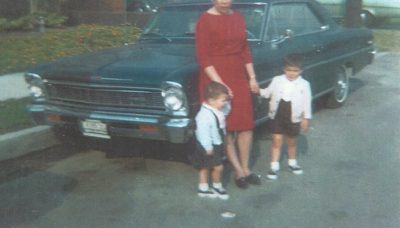 There are a lot of things to like about the 2016 Chevy Cruze Premier RS 4 door sedan, from the expansive trunk to its fuel economy and the noticeably sportier appearance and eye catching color. It's no cruise missile, but it's not your mema's Nova either. (Yup, I'm on the left, age 4, with my Grandma Mema next to her 66')