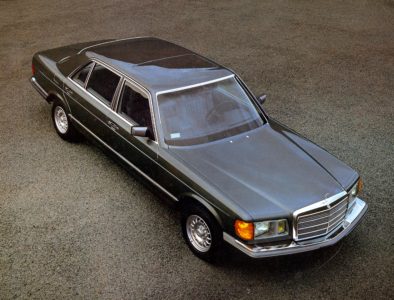 Nobody ever called a 1980s Mercedes S-Class "beautiful", but nobody would deny it conveys presence. It's a big car with a big interior, and when it moves into the left lane, people move out of its way – because it can set a point on the horizon and get there expeditiously. It reminds me of the Volkswagen Passat 1.8T.
My two-year-old daughter and I took the Passat on an adventure over miles of Interstate and corn-sided two-lanes in a quest to visit a state park for lunch and play.
Walking to the driveway, that sense of presence carries to the Passat. It's more styled than stylish, contrarily conservative in a world of sleek family sedans with exuberant flair. But, it reeks of wealth and could easily be confused for the latest Audi. Recent enhancements include a new hood with swoopy ridges, more aggressive front facia, 18" alloys, and flashy chrome around the body. LEDs illuminate the headlights, daytime running lamps, and taillights.
My daughter didn't care. She just wanted to get inside.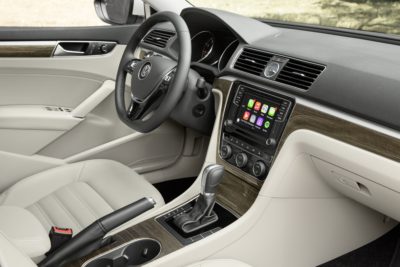 If you're looking for a lush lounge, shop on; the Passat is a driving machine designed to get four and their luggage across continents. Leather seats are firm, but offer good support and are heated front and rear. Real people (and small children) sit upright in the rear seats, enjoying stretch-out legroom that is unsurpassed competitors. Dual-zone climate control, rear vents, and a power sunroof add comfort. Ab-so-lutely get the Fender audio system – especially if you enjoy acoustic music.
We listened to Radio Disney on satellite radio – for four hours straight. Ugh.
The Passat's dash lay-out is a direct descendant of mid-70s Mercedes that debuted the tall center control stack that wraps into a long console. It all looks elegant with gray woodish pattern embellished with aluminum-feel plastic on the dash, console, and doors. Forty years on, and enhanced with 6.3" touchscreen, the design works as invented. Access technology like Bluetooth phone connectivity, CD player, and compatibility with Apple CarPlay and Android Auto.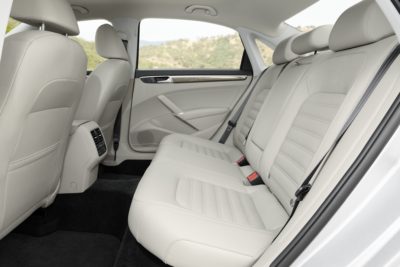 Keeping my princess safe was a high priority and VW delivers with adaptive cruise control, lane departure warning, and lane keep assist systems. A blind spot monitor, rear cross path detection, and parking sensors protect paint. The car can even semi-autonomously parallel park itself. You could get none of this in an '80s Mercedes.
You can get the Passat with a 280 horsepower 3.6-liter V6, but you'd give up 10-MPG highway from our test car's 1.8-liter turbocharged four-cylinder engine that delivers 170 horsepower, 184 lb.-ft. of torque, and frugal 25/38-MPG city/hwy. Best of all, that's achieved without annoying start/stop technology or a continuously-variable transmission; a click-click 6-speed automatic does the work.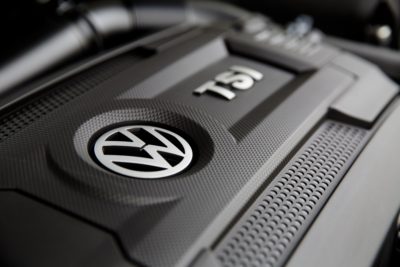 Like old-school Mercedes, the Passat doesn't leap to 60 mph, but it could not be smoother or more confident nearing triple digits. Whether slurping asphalt or munching curvy two lanes, the chassis responds confidently while isolating passengers. It feels almost compact.
It's not all honey-coated cereal (though, a few will be found in the back seat). There's a lot of plastic on the doors and the navigation system is abysmal. And, if you're looking for a plush avant-garde interior, this isn't it. On backroads, you'll want the V6 to pass slow-poking farm tractors and old ladies in their glacial barges. Styling remains subject to debate. Some love it while others snooze.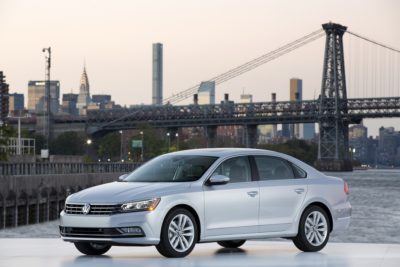 All in, the Passat is a big German car in all that once meant. It's understated, but conveys presence. The interior is not fancy, but allows drivers to focus on driving. Trunk space is cavernous and rear passengers enjoy a ballroom. It's a car that wants to stretch its legs with the turbo spooled and the chassis comfortably tight. A base price of $22,440 – $35,090 as tested – makes a good case for buying one. I'd certainly put my family in it.