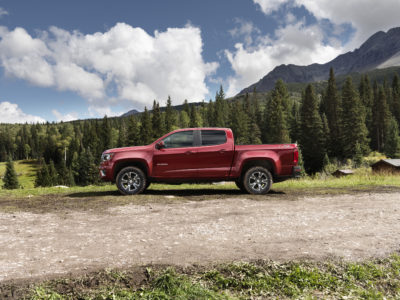 I really enjoyed driving the 2016 Chevy Colorado. Though not an inspiring name (if you're from the state of Colorado), the truck is inspiring from a driving perspective. This truck is easy to drive, and in many ways it gives you the best of both a truck and a regular-sized vehicle. U.S. News and World Report considers it the Number One Compact Pickup Truck of model year 2016, based on reviews of reviews on the web of reviews. Ah, it's great when great minds (me and the world of journalism) think alike ……
I tested the 4-Wheel Drive Z71 Colorado, which is a top-tier trim that, after you add bells and whistles like navigation and Bose premium audio system, will run you more than $41K, more than double the base price of the basic Chevy Colorado, which is $20K. If you prefer to rent, it might be worth checking out 4WD hire as an option if you are deciding to go on a short road trip.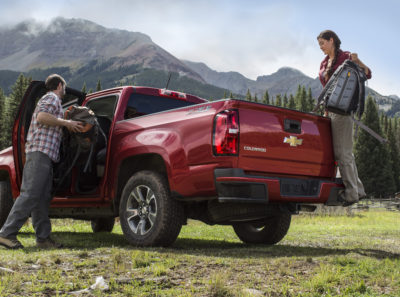 The extra price, however, comes with a new optional 2.8-liter four-cylinder Duramax turbo engine, and this engine really makes Colorado sing. The punch at your left foot is quick and forceful, and that can give you incredible confidence as you weave in and out of traffic. (Don't do that, please, but when it does happen.…) This engine is responsive, which is something you don't find often in any size truck, mostly because trucks are supposed to be powerful and not swift. The standard engine is a 2.5-liter inline-four that cranks out 200 horsepower; optional is the 2.8-liter turbo or a 3.6-liter V6 that gives 305 horses. All of these add up to a smooth ride with punch and punctuation that really makes for a fun truck to drive.
Mileage comes in at 20/27 with the base 2.5-liter engine, while the turbo can get you 22/31, which is above-average for the class. The base model (known simply as Base) comes with a rearview camera, USB and not much else. If you need a truck and not much else, this would be a good use of the $20K that you received, say, as your IRS refund. Yet if you want technology and turbo performance, you will need to cough up more dough, but it would be worth it. This year's Colorado is spanking and new, not the also-ran of years past.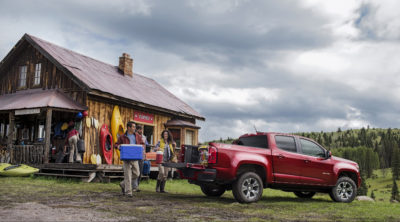 (Be sure to get only the base Rear-Wheel Drive if you plan to do a lot of towing on mostly dry roads. If you live where road conditions are as variable as many a love life, get the optional 4WD and save your prayers from something a little more out of your control.)
The women and men at U.S. News gave the top sash to the Chevy Colorado because of "its combination of quality and value." You see, the contestant with the best costumes and prettiest hair (on the head, on the chest, wherever) doesn't always mean you are getting something of quality or value. Sure, sometimes all you want and need is something pretty. But if you need something reliable and a love who can help you do the heavy lifting, being just a pretty face is not enough. The 2016 Chevy Colorado is the one that you can believe when she promises that she really will be with you on your life's journey, especially when it involves real work or rough patches.
The question, then, is whether or not you really want to work that hard. Dionne Warwick once sang "when you walk, let your heart lead the way".
But why walk when you can drive a Chevy Colorado?