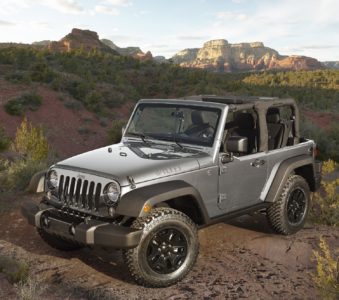 Driving a Jeep Wrangler Willys Wheeler Edition to commute to work through urban traffic or thrumming tires on the freeway is like using a hatchet to peel taters. Sure, with a bit if finesse it can be done, but it's not exactly the best tool for the job. I suppose that doesn't matter because this ode to Jeep's heritage cuts a swath wherever it goes.
The Willys Wheeler takes inspiration from the original civilian Jeep, manufactured by Willys-Overland. Check the WILLYS script on the hood and 10 hipster color choices like "Rhino" on our Jeep and a range from Firecracker Red, to "Granite Crystal", "Hypergreen", and "Tank". Designers also glammed it up with gloss black grille, Jeep badges, and 17" wheels. Willys Wheeler Edition comes with the canvas Sunrider soft top that can be partially or completely retracted.
Don't expect much luxury once you grab that handle on the roll bars and heave yourself inside. Acres of hard plastic, rubber floormats, and canvas seats will take mud and rain like a puddle-cuddling piggy. Ice cold air-conditioning, power windows, and Alpine audio with rollbar-mounted speakers add comfort, but at a certain price, heated leather seats and navigation should be expected. Conjuring music via USB-connected devices without a touchscreen is a bit ridiculous.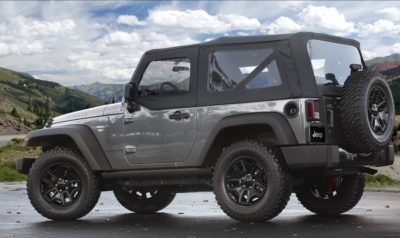 There's no elegant way to shove a brick through the air, but the Wrangler's 3.6-liter V6, one of Ward's 10 Best Engines, digs up 285 horsepower and 260 lb.-ft. of torque to blast a channel. The engine's oil sump is designed to keep oil pumping even at extreme driving angles and the alternator is placed high for water fording (this is a serious machine). Shifting the six-speed manual transmission may be best for rock crawling, but working it is like stirring a tractor. At least the clutch is relatively light. Choose the 5-speed automatic if urban dwelling is your game. Fuel economy is about the same urban/extra-urban at 17/21-MPG.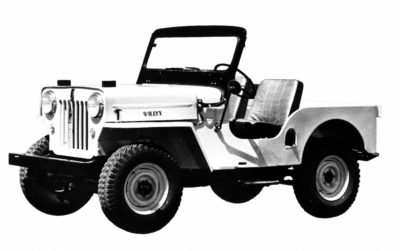 But that's all about charging asphalt. Wranglers shine brighter off-road, charging hills. Willys Wheeler Edition is stoked with a Dana 44 rear axle with limited-slip differential that works with the Jeep Command-Trac 4×4 part-time two-speed transfer case with low-range gear ratio. Add to that BF Goodrich KM Mud Terrain tires, rock rails, D-Ring, tow strap, and gloves in a Jeep-branded bag to tackle the roughest landscape. Just looking at it may make you grunt, summon boxes of granola, and dream of splashing mud in your face.
I'm a fan of the Wrangler Willys Wheeler Edition because it pays homage to Jeep's ancestors during the brand's 75th Anniversary and does it with flair that is wholly appropriate for today's drivers. Jeeps will always be cool, but they bounce you around like a pinball, steer with the urgency of a cat waking from a nap, and guzzle fuel like a hound lapping water. But, put down a couple of feet of snow or a muddy trail better suited for donkeys and mountain goats and the Wrangler is your tater peeler. And, that short wheelbase that weaves through tight trails is pretty handy in tight parking garages.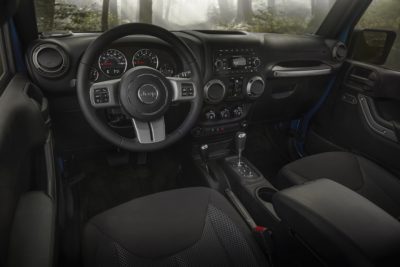 But, there's one teeny, tiny, little window sticker that may cause a sharp-peaked mountain-sized heart attack. At a base price of $23,895, the Wrangler is full-framed value. Nothing can touch it. But, hold your chest for the $34,330 price tag clinging to our special edition…with canvas seats and without navigation. Buy it for style, buy it for capability, but be sure you appreciate what you're buying.
Storm Forward!
Watch Casey's video review of the Jeep Wrangler Willys Wheeler Edition above,then follow him on YouTube and Twitter.
2016 Jeep Wrangler Willys
Four-passenger, 4×4 SUV
Powertrain: 285hp 3.6-liter V6, 6-speed manual transmission
Suspension f/r: Live axles
Wheels f/r: 17"/17" alloy
Brakes f/r: disc/disc
Must-have features: Style, Capability
Fuel economy: 17/21 mpg city/hwy
Assembly: Toledo, OH
Base/as-tested price: $23,895/34,330