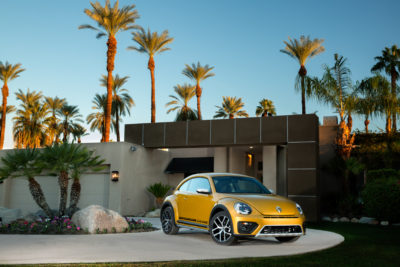 I hereby proclaim that a late entrant and possible Miss Congeniality in the 2016 Gayest Car of the Year contest is the Volkswagen Beetle Dune.  This car gets your attention, mostly because of that unmistakable Coppertone / Grey Poupon (my term) Sandstorm Orange (their term) color that screams ….. something. Along with being a very peppy ride, this is a car that gives sass, throws shade and is still just a cool and charismatic as it was 50 years ago, even without the little vase for a fresh daisy.
I tested a Beetle Dune with a convertible top, and honey, that was more fun than my Aqua Net and silk scarfs could handle. No need for a cello player or dozens of Compact Discs when the Dune comes standard Bluetooth (Apple CarPlay et al. is extra). Select some pounding driving music, lower your top and away we go.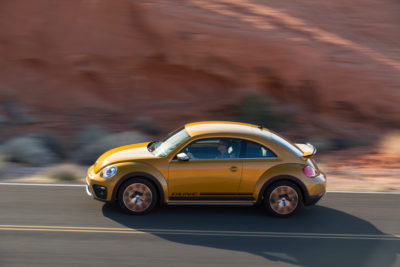 There is a very peppy engine under the hood, one that springs you forward with power suitable for all assets, big and small. How do they do that?  With a turbocharged engine, of course. The Dune comes with a 1.8-liter inline-four turbocharged engine that puts out 170 horsepower and a maximum torque of 184 lbs.-fit at 1500 rpm.  That really is a lot more engine than this classic Beetle needs, but when you are spending around $24,000 for a sportscar that really isn't a sportscar (front wheel drive only), there has to be something to make it worthwhile.  No doubt, turbocharged engines, as I have mentioned previously, seem to be the 'it-girls' for 2016 models: everyone wants one because they are fast and easy and though not cheap, a good time is guaranteed for all.
A really good-looking cosmetic feature for the Dune is a kooky-looking rear spoiler. This thing sticks out just shy of a foot and almost looks like some combination of a boomerang and a serving tray. As you move through the Western Hemisphere in your Beetle Dune, this spoiler will do what rear spoilers are intended to do: 'spoil' unfavorable air movement across a body of a vehicle in motion, usually described as turbulence or drag (thanks, Wikipedia, not to be confused with Wiki-leaks). I always hate turbulence when I am doing drag, and for those who are interested, the drag coefficient on this baby is 0.39. (Yeah, I don't get it either because I am truly lost without my slide ruler.)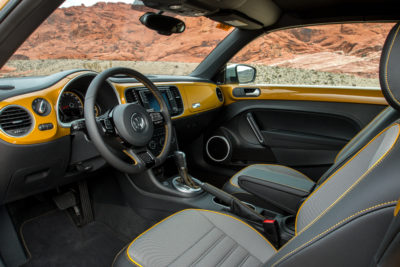 Keep in mind that ultimately, the 2016 VW Beetle (and all Beetles, really) are two-seater hot rods.  Sure, there are two somewhat bucket seats in back, and you could get your too-large-for-a-car-seat children back there comfortably. Most coolers, however (ya know, the ones that can hold enough beer, booze and brats for your friends), may not make it back there, even with the seats forward. Caution is always advised if you are in need of interior room, and especially if this will be your primary day-to-day getaway car. Your cargo volume is only 15.4 cubic feet, and if you fold the rear seats down (who knew you could do that?), you can get 30 cubic feet of space, but keep in mind that the convertible soft top has to be up.  Get it? A soft top that hopes to be up? (chortle) Yeah, well, heck, everything sounds gay to me….
The 2016 Volkswagen Beetle Dune is one of those cars that is just plain fun to drive and in many respects, not much else. Practicality here is limited, but be honest, was that bachelor's degree you got in Impressionistic Art or World Politics really all that practical? And yet you still enjoyed it, right? Sometimes you just have to live your dreams, no matter how fleeting and impractical they may be …. and sometimes you have to figure out how to pay for gas and rent and something more than the food you get from the food bank every other week. Thus, choose wisely but happily when you can. Sometimes, like me, all you really want out of a summer is something that goes well with Coppertone and Grey Poupon (think weenies) …..
…. and to be a contender for Miss Congeniality.