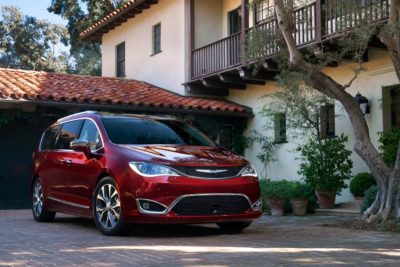 When was the last time you heard a gay guy say, "Boy, I covet your big, long, beautiful minivan"? Um, like never, probably. I mean, aren't they big boxes on wheels for a straight man's brood? Well, times have changed, and gay dads – often married – now cart around their own little posse. Shouldn't they do it in a van with flair? Yep, I thought so too. The Chrysler Pacifica is the gay man's minivan.
Compared to the frumpy Town & Country it replaces, the Pacifica is a sexy Maserati. Think Chrysler 200 scaled up to baby bus proportions with a wide stance, 20" wheels, and hidden sliding door rails. Arching side sculpting, canted rear windowline, and deftly applied chrome conspire with the sleek shape to form a road-going party jet. Our Limited model adds a tri-pane panoramic sunroof that shines on all three rows of seats so you can see the stars glitter. Gleaming HID headlamps and LED exterior lamps add panache. Roll up in this chic coach and all the club boys (and soccer papas) will lose themselves.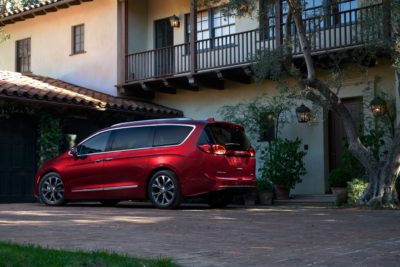 And, wait until they open the front doors and peer inside where cheap plastic from the past is replaced by artistry that befits a luxury car. As with the 200, Pacifica's dash projects elegance with a crisp center touchscreen, swoops of anodized deep red on the dash and doors, piano black trim around climate controls, chrome gear selector knob, and two-tone heated leather-wrapped steering wheel. Beige leather seats with burgundy piping are quite handsome. Heated and cooled, they're also pretty comfy.
Chrysler's Uconnect infotainment system is about the world's easiest to use. Summon navigation, climate control, and audio via touchscreen, voice, or redundant buttons beneath. You can direct-tune Satellite radio, or twirl through the stations with a proper tuning knob. There's also a big volume knob where it should be. This is how all automakers should do it. Active noise cancellation keeps the 506-watt amplifier fully heard; rock out to your favorite club tunes if you must.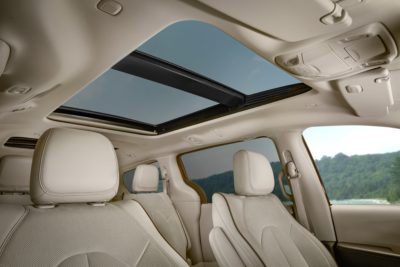 The rear quarters are pretty posh too. Access is granted through twin powered sliders with foot swipe operation and power rear hatch. Heated middle-row seats place passengers in range of twin seat-mounted video screens, concealable storage, and their own automatic climate controls overhead. If the little munchkins spray goldfish and Cheerios, there's a built-in vacuum to suck them up. Just because you're rolling doesn't mean you can't remain fabulous.
If there's a downside, it's the Stow n' Go seats. Sure, there's a dance hall's floor space when when the middle and third rows fold flat into the floor. However, they are thinly padded, somewhat hard, and positioned at strange angles so they can collapse and perform their gymnastics to dive beneath the floor. Adults can ride in the back for relatively long trips, but cross-country voyages are better left to the young.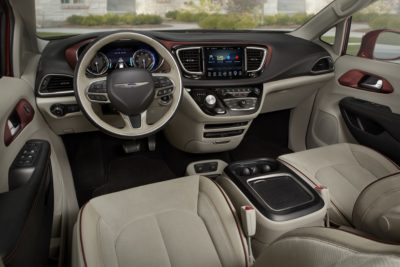 Underway, the driver has the most fun. Even with wide rubber, it's not hard to squirch the tires. A sensitive throttle wakes all of the 3.6-liter Pentastar V6 engine/s 287 horsepower and 262 lb.-ft. of torque to scoot off the line or strafe slow moving traffic on the Interstate. Chrysler's efficient TorqueFlite 9-speed automatic transmission, engine start-stop technology, and active grille shutters enable 18/28-MPG city/hwy. Good luck doing better in a very large three-row people mover.
During the transformation from Town & Country to Pacifica, Chrysler's minivan has evolved from a boring box to a fantastically beautiful family conveyance that any gentleman should be proud to own. So, what does this beautifully sleek and luxuriously loaded family fracas cost? Well, the Chrysler Pacifica starts at $28,595, but came to $46,480 all in. Also check out the Toyota Sienna, Honda Odyssey, Nissan Quest, Kia Sedona, and full-size crossovers like the Ford Explorer, Chevy Traverse, and Hyundai Santa Fe.
Storm Forward!
View Casey's video review of the Chrysler Pacifica above, then follow him on YouTube and Twitter. And be sure to check out Sam's preview of the Pacifica here.
2017 Chrysler Pacifica
Seven-passenger, FWD minivan
Powertrain: 287hp 3.6-liter V6, 9-spd. auto trans
Suspension f/r: Ind/Twist-blade
Wheels f/r: 20"/20" alloy
Brakes f/r: disc/disc
Must-have features: Style, luxury
Fuel economy: 18/28 mpg city/hwy
Assembly: Windsor, ON
Base/As-tested price: $28,595/$46,480