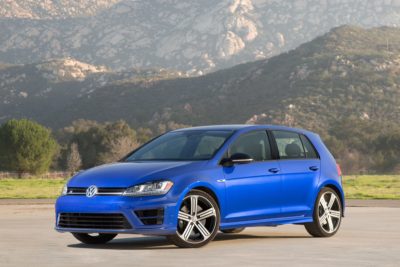 My buddy and I were walking to my car for lunch while I was telling him about this really cool Volkswagen I was driving. He saw it from the door and said, "Big deal, it's just a Golf"!" Well, he's half right. It is a four-door Golf in all the familiar styling and practicality that implies. But, it's not just a Golf. It's a Golf R that kicks pants and stops hearts.
When we walked a little closer, it was clear something a little more sinister than a sweet little Golf was percolating. Sure, the neatly creased hood, swept windshield, straight roofline, and upright backlight are shared with other Golfs, but the R receives a more aggressive front facia, accentuated side skirts, rear diffuser, dual chrome exhaust tips, and 18" alloys. Bi-Xenon headlamps and LED driving lights brighten its face. "R" logos are everywhere; check the black brake calipers, grille, and faux vents on the fenders.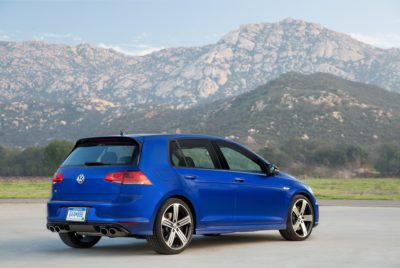 Volkswagen decided the Golf R needed an interior equal to its exterior, which means a basically good design enhanced for performance. Deeply bolstered sport seats – leather, heated, power-adjusted, and with lumbar support – tell your ribs and backside this is no ordinary Golf. A flat-bottom, leather-wrapped steering wheel fronts large red, white, and blue-lit analog gauges. Look lower for alloy pedals and lighted doorsills. Carbonesque accents adorn the dash and doors. "R" logos dress the seats, steering wheel, and dash in case you forgot this is not a regular Golf.
Beyond the trimmings, the cabin just feels like a more expensive version of other Golfs'. Dual zone automatic climate control, navigation, push button starting, and keyless entry add convenience. The uplevel audio system makes the Fender system in other VWs sound quaint. Bluetooth and USBs make connecting iDevices a snap. I like VW pairs simple volume and tuning knobs with a swipe-sensitive touchscreen that reacts as your hand approaches. More practically, almost anything you want to haul fits inside when you flip the hatch and toss down the split/fold rear seats.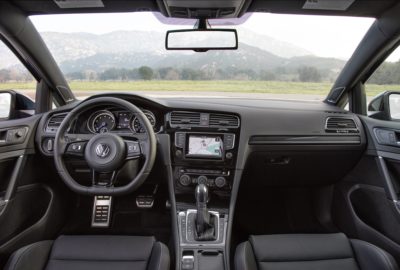 All confusion about what separates the R from other Golfs goes poof when you press the gas pedal and it kicks you in the pants. The 2.0-liter turbocharged and intercooled four-cylinder engine puts 292 horsepower and 280 lb.-ft. of torque through VW's 4Motion all-wheel-drive system. A six-speed manual transmission is standard, but the optional six-speed automatic transmission is a better choice for daily commutes. Flash from 0-60 mph in less than 5 seconds, which would match an early C5 Corvette! All that, and fuel economy rated 22/31-MPG city/hwy.
On the open road, the Golf R swallows asphalt like the proper German car it is. If it were legal, you could run triple digits in the left lane all day long. Dispensing with slow-poke farm trucks on two-lane backroads is simply a snap of the ankle. Put it into a corner and the all-wheel-drive system claws in as the steering becomes heavy. No matter how you drive it, the Golf R feels like it's anticipating your next move. More impressive, all of this comes in a car as practical as any boring little hatchback.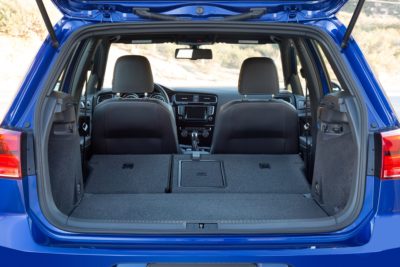 If this all sounds good to you, there is a heart-stopping aspect of the Golf R for which you need warning. While you can buy a base Golf for $19,895, or even the iconic GTI for $25,595, the Golf R starts at $39,375 and came to, a-hem, $41,295 with the automatic transmission. It may be a kick in the pants, but for Golf R money, you can buy serious German pedigree like the Mercedes-Benz C-Class, BMW 3-Series, or Audi A4. None are quite as cool.
Storm Forward!
Watch Casey's video of the Golf R above, and be sure to follow him on YouTube and Twitter.
2016 Volkswagen Golf R
Five-passenger, AWD sedan
Powertrain: 292 hp 2.0-liter Turbo-4, 6-spd auto trans Suspension f/r: Ind/Ind
Wheels f/r: 18"/18" alloy
Brakes f/r: disc/disc
Must-have features: Engine, Convenience
Fuel economy: 22/31 mpg city/hwy
Assembly: Germany
Base/as-tested price: $39,375/41,295