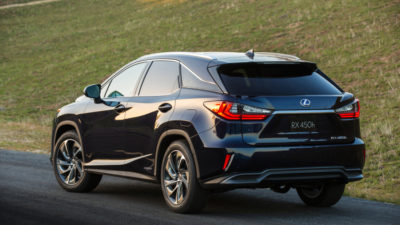 Let's face it, there are a number of hybrids that can certainly bring out a yawn, or two, or three in the best of us! The 2016 Lexus RX 450h's redesign is however far from boring with its radical looks. Some hatahs have referred to the luxe crossover's exterior looks as fugly, while others would agree, the automaker's best seller has certainly turnt up big time!
The RX 450h has strikingly razor sharp character lines, a huge gaping spindle grille dominates the fascia, boxed fenders, sculpted rocker panels, sharply raked roofline and the rear is punctuated by a spindle-shaped design. Overall, no one would even argue, the macho looking vehicle resembles metal origami! Step inside the crossover's futuristic-like innards and it screams quality, sumptuousness all around, a real impressive fit and finish. Cabin room for tree-toppers and plus-sizers is admirable. There are lots of adjustments for the seating and the steering wheel that will be a real hit for those folks who need the extra room. Comfort factor as far as seating in the RX 450h will certainly help stave off those sciatica or herniated disc rumblings, as the seats are bolstered to a fare thee well.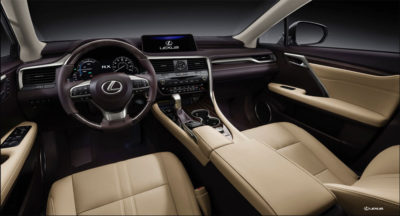 The center control stack set up in the RX 450h is driver-centric and angled towards who's in charge of the vessel. Makes perfect sense! A few RX 450h welcomed standards include a 12-speaker audio system with satellite radio, dual-zone automatic climate control, power folding heated mirrors, power tilt and telescoping steering wheel, moonroof, and power rear tailgate. A few folks might bellyache however, about the fourth generation's rectangular joystick that controls the cutting-edge infotainment system on a 12-inch plus screen. The controller can be annoying, even finicky with its oftentimes much too strong haptic feedback, a pretty unwelcomed distraction.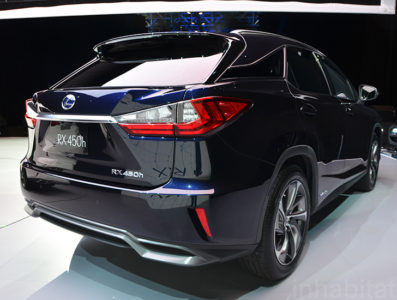 On the performance tip, the RX 450h is not a vehicle for those who are seeking a snapback driving experience, it's meant for the buttoned-down set, who prefer scenic enjoyment. Under the five-seater crossover's hood is a 3.5 liter V6 engine with 308 horses and 247 lb-ft of torque. When threading through your everyday mixed bag of city road drama, the RX 450h behaves like a good sport because of its ability to run on electric power alone at low speeds and shut off when sitting in traffic. Going over really rough pavement, the crossover absorbs bumps well. It feels planted, poised, when hustled through turns and twists and all in a can't-hear-an-outside-peep cabin. The steering in the RX 450h feels balanced and the braking is truly responsive.
The RX 450h will keep you from visiting your local gas station as much due to its EPA-estimated fuel economy of 30 mpg combined (31 city/30 highway) with front-wheel drive; 30 mpg combined (30/28) with all-wheel drive. On the safety front, the RX 450h comes standard with antilock brakes, traction and stability control, front and rear side airbags, full-length side curtain airbags and front knee airbags and rearview camera. Go up a few rungs and you can add such safety goodies as automatic emergency braking, blind-spot monitoring, forward collision warning, forward collision mitigation system with automatic braking, lane keep assist with departure warning and navigation system.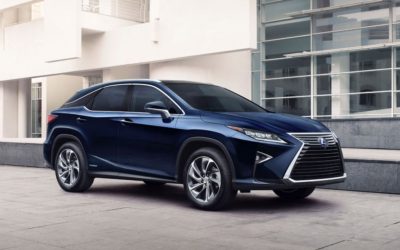 The 2016 Lexus RX 450h with its cutting edge looks is a luxomobile
that is a capable performer and one that remains an appealing/reliable choice for families everywhere.
Prices start at $52,235.
Keep up with Ruth (aka Car Chick) on Facebook.