As those spanking new 2017 models roll into dealerships, don't side-eye some of the current-year models that are left gathering dust on dealer parking lots. You can still haggle to snag a deal on a 2016, so with this in mind, here are three vehicles that are truly worth breaking a good sweat over: the Mazda CX-3, Hyundai Tucson and Toyota Camry.
Mazda CX-3
The Mazda CX-3 is certainly easy on the eye. The five-seater subcompact crossover that comes in three trims (Sport, Touring and Grand Touring), sports a rakish exterior, long hood, prominent front and overall sinewy looks.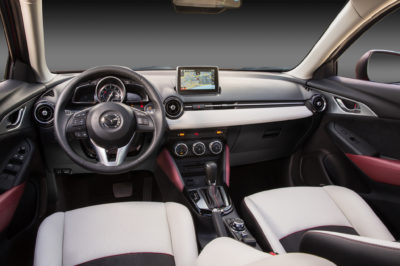 Looking more expensive than its starting sticker price of $19,960, the inside of the CX-3 is refined, stylish and well equipped with hands-down comfy/supportive seating. And even though the CX-3 is a subcompact, it can surprisingly accommodate a driver north of six feet, without them uttering one negative peep.
Standard features in the CX-3 include push-button ignition, tilt-and-telescopic steering wheel, Bluetooth (phone and audio), rearview camera, a six-speaker audio system, voice controls and an artful 7-inch touchscreen interface. Step up in trim levels and safety must-haves can be added, such as heated mirrors, blind-spot monitor with rear cross-traffic alert, keyless entry and ignition, navigation, steering-wheel-mounted paddle shifters, lane departure warning, adaptive cruise control and a forward collision mitigation system with automatic braking.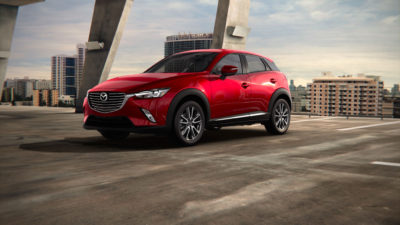 Under the hood, the vehicle sports a 2.0-liter four-cylinder engine that cranks out 146 horsepower and 146 lb-ft of torque. Front-wheel drive is standard, with all-wheel drive offered as an option on all trim levels. The CX-3 is also no lush at the pumps guzzling 29 city/35 highway with front wheel drive and 27 city/32 highway for all-wheel drive.
Driving the CX-3 feels absolutely carlike, and it gets super high marks for its agility, stability, total maneuverability and parking ease, which can be a real draw especially for city slickers. Eager acceleration, a great traffic darter and just plain old fun to drive, the CX-3 really struts its stuff as far as driving dynamics go.
The Mazda CX-3 can fit many lifestyles that make it a great option for small families, empty nesters, Millennials and even active types, who need a capable hauler for all of their sports gear. Oh yes, this little affordable crossover certainly punches way above its weight class and has proven, that it can certainly run with the big dawgs!
Hyundai Tucson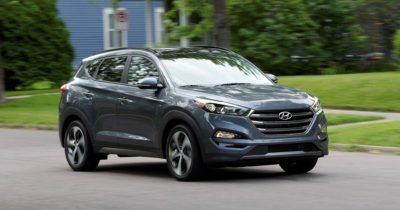 The Hyundai Tucson is a competent crossover that gives drama coming and going. The brawny and assertive looking Tucson most def has 'tude. Sporting the familiar dominant horizontal grill, eyebrowed headlamps, dramatic taillights and sculpted fluid lines, the compact crossover's looks is a stylish eyeful.
Under its metal skin, the Tucson is a practical, comfy and easygoing hauler. The vehicle's interior is roomy, well laid out and tidy. The Tucson's nicely bolstered seating is supportive and accommodating for all figure types, and the 60/40-split rear ones are truly adult-friendly.
If you're a hauler, the Tucson offers more than enough room for all of your antique weekend finds—61.9 cubic feet of space with the seatbacks folded down. The soft touches throughout the Tucson's cabin add an air of hoity-toity–so much so, you won't mind the here-and-there hard plastic touches.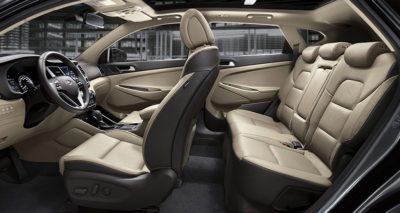 The center console's layout includes a standard 5-inch color touchscreen with rearview cam, or there's an available 8-inch. The controls used to summon various features on the infotainment system are a snap to figure out. There is plenty of storage in the Tucson for those who like to stow–a pair of cup holders, large cubby under a padded lid, small open bin in the front with USB and power plug-ins and bottle holders in the pockets of all four doors.
Driving the Tucson is relaxing. It offers decent punch, responsive steering and a ride that remains composed and competent, even over rough road patches. It imparts a nice level of agility and hushed environment even at highway speeds.
The Tucson comes in four trim levels—SE, Eco, Sport, and Limited. Front-wheel drive is standard across the lineup, but all-wheel drive is optional. The base Tucson is offered as a 2.0-liter four with 164 horsepower and 151 lb-ft of torque. Other versions (Eco, Sport, Limited) come with a turbocharged 1.6-liter four with 175 hp, and 195 lb-ft of torque.
And by the by, the Tucson is certainly not contributing to hefty financial outlays at the pumps! The entry-level model is rated at 23 mpg city/31 highway, while the greener Eco is rated at 26 mpg city/33 highway. Safety is covered on the Tucson: standard rearview camera, antilock disc brakes, stability and traction control, active front head restraints, front and side airbags, hill-hold assist and hill descent control. There are other safety options offered on the Tucson such as blind-spot monitoring and rear cross-traffic alert, lane-departure warning and a forward collision mitigation system with automatic braking and pedestrian detection. The crossover also earned a top five-star frontal- and side-impact rating from NHTSA.
With a starting sticker of $22,700, the Hyundai Tucson has an inherent versatility that makes it a great option for lots of folks from all walks of life. It has quite a few desirable ingredients like drivability, fuel economy, road manners, roominess–and utility to boot!
Toyota Camry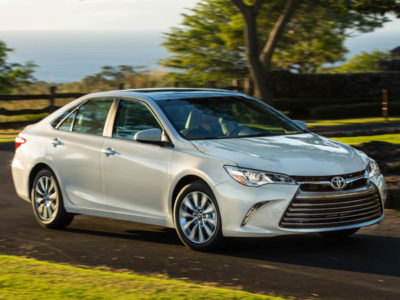 The Toyota Camry has a reigned supreme for 14 years and counting as a best-selling sedan. It's had an enviable reputation with a fan base of loyalists, who just keep coming back to purchase it. The popular five-passenger family pick that was redesigned last year and slapped with a whole lot of edginess has kept its swag with the current model year. But what are the secrets to the Camry's success in a segment that's so hotly contested?
For starters, the Camry has full-throttle styling that collects second glances from onlookers with its sharper angles and overall aggressive road presence. Offered in the following trims–LE, XLE, SE, Special Edition, XSE, Hybrid LE, Hybrid SE and Hybrid XLE–the Camry is spacious and known for providing its passengers with a comfortable interior that is nice without excuses. Even the Camry's rear quarters, manages to give its taller occupants usable head and legroom. The vehicle's well-crafted seating provides adequate lumbar and leg support and a high degree of adjustability.
On the technology front, the base LE Camry gets a standard 6.1-inch Entune audio touchscreen interface that not only has a high-end look but is also easy to operate as far as ergonomics go–and it includes voice controls, Bluetooth phone connectivity, integrated backup camera, CD player, an auxiliary audio jack and a USB/iPod interface. As you go up in trims, the automaker adds a 4.2-inch color driver information display, an Entune Audio Plus package that includes an upgraded 7-inch touchscreen, satellite radio and HD radio and Qi wireless smartphone charging.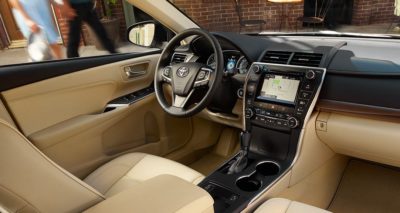 Performance-wise, the Camry prioritizes the way real folks drive. First of all, it's immediately obvious that the sedan has been carefully refined for quiet times, suppressing road drama to a tee. With its standard 2.5 liter 4 cylinder engine that kicks out 178 horses and 170 lb-ft of torque, the sedan strikes a really nice balance between road comfort and responsive handling that will satisfy a slew of driving tastes. (The XSE and XLE trims have a 3.5-liter V6 engine rated at 268 hp and 248 lb-ft of torque.) The Camry's surefooted cornering and impressive antilock disc braking system also adds to a driver's peace of mind.
On the safety front, the Camry comes standard with stability and traction control, front and rear side airbags, front knee airbags, full-length side curtain airbags and the integrated backup camera. Other options on higher trims include a blind-spot monitor, rear cross-traffic alert system, lane-departure alert, radar cruise control and pre-collision system. EPA-estimated fuel economy for the four-cylinder engine is 24 city/33 highway and 21 city/30 highway for the V6.
Toyota's attention to driver must-haves will continue to keep the Camry (starting price $23,070), a competitive offering for probably many years to come. Positive on-road dynamics and just plain comfort are what makes choosing a Camry a no-brainer for discriminating buyers.
Keep up with Ruth (aka Car Chick) on Facebook. And for another take on the 2016 Altima, check out Casey's review.