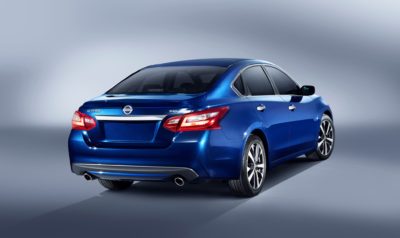 The Nissan Altima has matured nicely, and for some, the operative word here is "matured".
Being the fastest go-kart in the HOA is all the rage these days, and understandably. The rare kind of engine power that used to propel all those little bucket seaters into all the best drag race shows now is available for everyone, and those engines are more powerful and easier to maintain. At the top of the 2016 Nissan Altima line, you can get a 3.5-liter V6 engine, and that can give you some pep…..
The beauty of the Altima is that it provides a nice, solid, quiet ride, and that's best enjoyed at the lower trims, where the base engine is a 2.5-liter four-cylinder gasser. Sure, some big hairy Marys might think that engine is too small, and if you need to roar a lot and guzzle a lot of gas, you're right. The 2016 Altima is for those who want a solid sedan, a quiet yet reassuring sense of stability, and the ability to move about in the kind of luxury that doesn't fear your nephew's dirty shoes and slushy drinks, even if he is fast approaching age 40.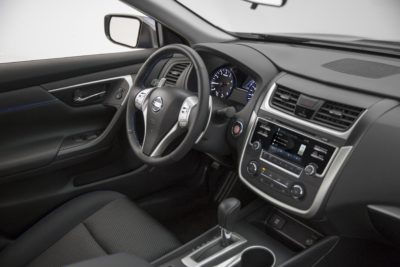 For those of us who like to drive while listening to a little Madeleine Peyroux, this is your car.  I am reminded of the Toyota Avalon, another smooth car I really like.  The Altima is smaller and easier to park than the Avalon, and comes in about $10,000 cheaper.  The only real downside to the Altima is the rear seat room – so if your nephew really is a legally responsible adult, have him get his own wheels or a bus pass.
This is one of those cars that really is a rolling living room, complete with satin couch, china coffee service and a percolator full of Maxwell House. Okay, not quite, but you get the picture: to be sure, the interior really is nice and satin-y without the satin or the string of pearls or pearl necklace. I test-drove the 2.5 SL trim with a white/beige/lite taupe/off-white interior and, mister, it was perfect for me and my lite taupe/off-white friends. Anymore, people (i.e. hipsters, hard-workers with a lot of student debt) seem to want spunk and speed in their vehicles. Back when Queen Elizabeth was considered middle-aged, however, many people aspired to a nice quiet car with a nice ride and a nice interior that didn't look like a mechanic's grease gun had spurted all over the floor mats. This is that car.  The 2016 Nissan Altima is …. nice. Ahhh!
If you are looking for pep, I would check out the 2016 Nissan Maxima, a butcher and stealthier brother to the Altima.  Think of it as 'Max' and his more refined sibling, the 'Ahh'-tima. They are a family, combined they have a lot to offer, so just pick one and hop in for something that really will be more fun that mechanic's grease gun.
Except on Fetish Night.