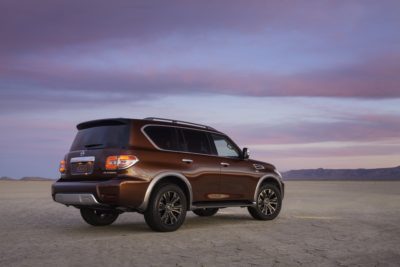 Ever been invaded by something big and overwhelming and Spanish?
During the Renaissance, the Spanish Armada was a force to be reckoned with–until Queen Elizabeth I took it down a peg or three, that is. Today's Armada is Japanese, not Spanish, but it's still something that you shouldn't ignore.  The 2017 Nissan Armada, a really huge truck / SUV / tanker / floating party, is all set to dial up the G.A.Y. (Girl, it's All about You) and make an impression wherever or however you dock it.
The 2017 Armada is back from a year's absence for updating and remodeling. That's always a gamble for any carmaker, but the response to the 2017 Armada has been positive all the way around the web. Technically a large SUV in the vein of the Chevy Tahoe, the Armada gets high marks for its ability to be a rolling tank of fiesta, fun and family (can't say the F word that also means cigarette anymore). It has plenty of room, a smooth ride, a solid feel as you roam around town…all for a starting price of $44,400.  Yes, that's a lot of Benjamins (444 to be exact), so make sure you really need something this big.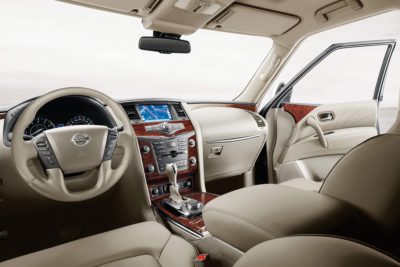 Personally, I can't think of any reason or anybody in my compact economical gay world who would need an Armada–but who cares, this is one fun car. If you're in the market for a Chevy Tahoe or a Chevy Suburban (two classic family cars for those families who just keep popping out or scooping up the kids) and want a little LGBT flair in your life (glitter not included), you should stop by the local Nissan dealer and test drive the Armada.
Be advised, this beauty, like most beautiful things, ain't cheap. The engine is a 5.6-liter V8 (prepare to refuel often) offering 390 horsepower and 394 pound-feet of torque. That's an incredible amount of power and probably more than you need for most things you do.  Mileage is a combined 15 mpg for city and highway.  Again, open your wallet and feed the Fame Monster, but as you do, realize that this monster is big, beautiful and you're gonna love it – as long as you can afford it.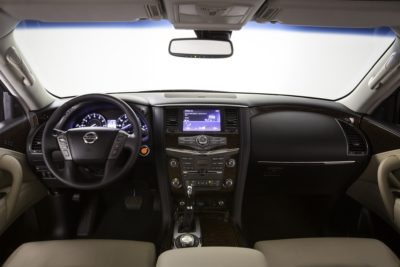 Some standout standard features include 18-inch alloy wheels, rearview camera, rear privacy glass, full-size spare tire, a 13-speaker Bose audio system (a true joy, IMHO) and a CD player, anymore a thing of the past but always welcome when you are carting around anyone over 55 who is an expert at ripping personalized music compilations of 80 minutes or less.
The mammoth 2017 Armada I test drove was the Platinum 4WD, the top-tier, over-the-top trim that went nicely with Lady Gaga singing "don't be a drag, be a queen" (and Meghan Trainor singing "Better When I'm Dancing" from The Peanuts Movie.) The sticker has this one going for $61,435 (full price) and it includes such snazzy options like 20-inch allow wheels, leather-trim doors, heated back seats and a blind-spot intervention system (so you don't run over that Smart Car in the next lane).  Yeah, it's a lot of money, so make sure you can afford it and you need it.  How much could this baby cost you? Spread out over six years at a 3.11% interest rate, your monthly payments would be around $936, but that still may be less than the rent on your one-bedroom 550-square-foot apartment in the gay-borhood.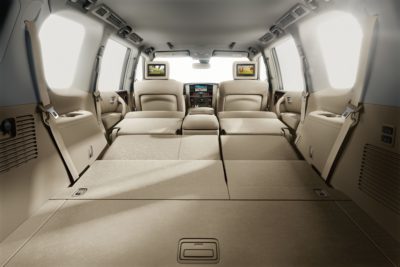 There are those of you out there who are in committed relationships where both partners make six-figure salaries and have passive income from rental properties and REIT options (must be nice). Throw in a couple of children and at least two pets, and you may need a large SUV that touches your inner-gay while satisfying you practical left brain persona.  (Not that you can't be gay and practical; all I can say is that I've never been able to merge all my multiple personalities.) If this is you and don't feel a classic like the Chevy Suburban or Tahoe is a match, check out the 2017 Armada.  It's gay, gay, gay in a good way, and somehow it still seems to appeal to all…
…even those who aren't quite sure just how gay they really are.