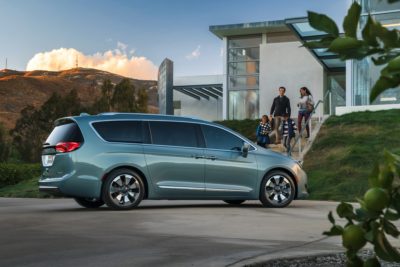 Nearly 35 years after Chrysler introduced the original minivan, it again plots revolution. It's only after a full day of driving the Pacifica Hybrid down California's Pacific Coast Highway, through the canyons around Malibu and Hollywood, and on open Interstate does the significance of this van develop. It will shake the segment to its core.
Fully charged, the van travels 30 miles on electricity before the 287 horsepower 3.6-liter V6 engine fires up to continue the fun for a total of 530 miles. Re-charge in 2 hours on 240v and expect 80-MPGe in city driving. A 16-kWh lithium-ion battery pack, regenerative braking, and electrically variable transmission make this possible. You can even change the charging schedule and pre-condition the vehicle's interior from your smartphone.
A typical electric car, there's nothing but silent smooth torque off the line. I drove over 30 miles through before the gas engine perked up. Thump the throttle hard at any speed and you'll awaken the engine early and often, but follow the "driving coach" in the instrument panel, gently apply brakes to replenish the batteries, and you'll get what's promised.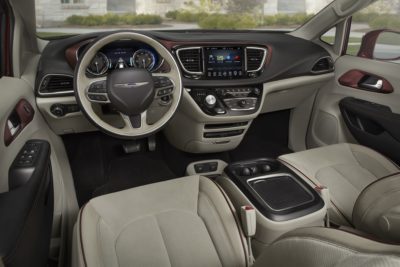 Chrysler already has a beautifully-sculpted people mover, with grille shutters and under-body panels to aid aero, so designers refrained from superfluous tweaks for hybrid duty. Look close, though, and you'll see subtle differences. The grille insert encompasses a wavy pattern instead of mesh, there's a front fender door for the plug, specific 17" wheels look sleeker, and centers of the Chrysler winged logo are teal instead of dark blue. Arching bodylines, canted rear windowline, and deftly applied chrome project an upscale presence. Get it in Silver Teal Pearl Coat paint to flaunt your green cred.
Inside, it's swaths of artistry and technology. Pacifica's dash projects elegance with a crisp center touchscreen, swoops of contrasting colors on the dash and doors, piano black trim around climate controls, chrome gear selector knob, and two-tone leather-wrapped steering wheel. Beige leather seats with teal piping are quite handsome. When heated and cooled, they're especially comfy. A twin-panel panoramic sunroof shines in.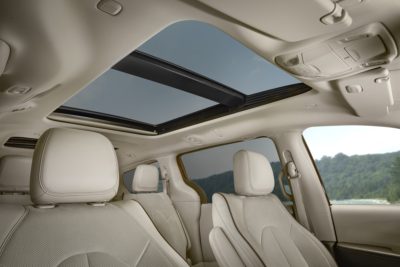 Chrysler's Uconnect infotainment system is about the world's easiest to use. Summon navigation, climate control, and audio via touchscreen, voice, or redundant buttons beneath. You can direct-tune Satellite radio, or twirl through the stations with a proper tuning knob. Active noise cancellation hushes the cabin. Enhance safety with available 360-degree camera, ParkSense Parallel/Perpendicular Park Assist, Adaptive Cruise Control, forward collision avoidance, and Lane Keep Assist systems.
Family and friends will posh out in the back rows too, enjoying a sweet continental cruiser or luxurious club limo. Foot-swipe power sliding doors and rear hatch make entry easy while available twin seat-mounted video screens, dedicated climate controls, and vacuum to suck up your munchkin's goldfish and Cheerios – or your friends' evening revenge – keep everybody fabulous. Third-row seats fold flat into the floor, but the middle row Stow n' Go seats gave their ghost for underfloor battery storage. If you must haul plywood, the twin captain's chairs are fully removable.
Pacifica Hybrid is surprisingly agile. Chrysler developed an entirely new architecture for the van that squashes squeaks and rattles, but also provides European handling. It drives more like a large Fiat than smaller Ram Van. Putting its girth through tight two lanes on Mulholland Drive was accomplished with finesse befitting sportier crossovers. On open freeways, the long wheelbase provided a smooth ride.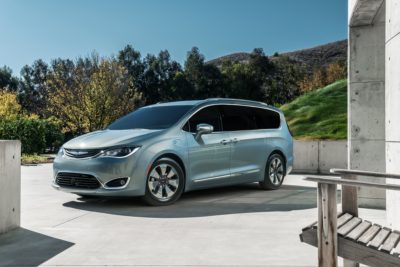 Ready for the stunner? With $7,500 in federal tax credits, you can get the Pacifica Hybrid for less money than a comparably equipped non-hybrid Honda Odyssey, Toyota Sienna, or Nissan Quest. With credits, prices start at $34,495. At that price, I may just be able to convince my husband to embrace a plug-in minivan. If Chrysler's marketing convinces crossover drivers this minivan is cool, and all it may take is one drive, they'll need another factory. Go start the revolution when deliveries begin late this year.
Storm Forward!
Send Casey your thoughts at [email protected], and follow him on YouTube and Twitter: @AutoCasey.
2017 Chrysler Pacifica Hybrid
Seven-passenger, FWD minivan
Powertrain: 287hp 3.6-liter V6, 16-kWh li-ion batteries
Suspension f/r: Ind/Ind Twist Blade
Wheels f/r: 17"/17" alloy
Brakes f/r: regen disc/disc
Must-have features: Hybrid, Style
All-elect. range: 30 miles
Total range: 530 miles
Fuel economy: 80 mpg-e city
Assembly: Windsor, ON
Base price (incl $7,500 credit): $34,495