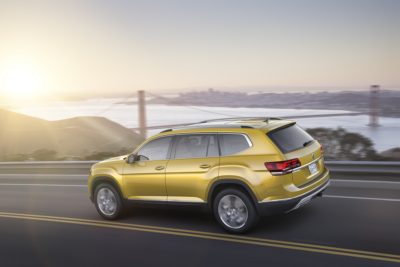 Volkswagen is entering the big SUV market in the U.S. in a very big way – and it's counting on the prestige of German engineering to power it past its American rivals.
In late October, Volkswagen introduced the world to the brand new 2018 Volkswagen Atlas. It's technically a midsized SUV, but at 16-and-a-half feet with three rows of seats, it easily spreads past the current VW king wagon, the Touareg. The Atlas gives VW a presence in the midsized SUV market, and yes, I thought they were already there with the Tiguan. The base engine will be a four-cylinder offering 238 horses, and Volkswagen has had quite a bit of success with this engine in smaller vehicles. A 3.6-liter V6 offering 280 horses will also be available, which actually makes more sense given the heft of this Charles Atlas. If the Touareg and the Tiguan are any indication, engine performance for the Atlas should be impressive.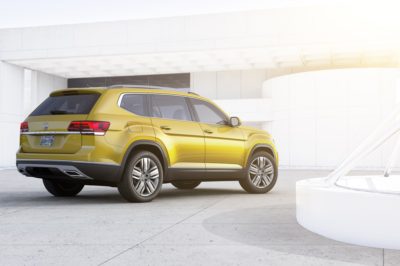 One of the big takeaways – and one of its big promises – is that the Atlas, per Volkswagen, will be able to seat seven adults comfortably. Getting seven adults of any size inside any vehicle is a challenge: many have tried, most have failed. If the company can truly pull this off, that right there might be how VW finally makes a significant crack into the U.S. SUV market — something that's often eluded them, at least in terms of popularity. To be sure, Volkswagen is betting much of its future popularity on the Atlas, which would give it a more complete 'family' of vehicles, and when a car company has more offerings for everyone, brand loyalty, in theory, is easier to achieve.
It's been a rough year for Volkswagen, to be sure, with all the lawsuits and recalls and trying to pull one over on federal regulators. It's betting on America's amazing ability to forgive and forget quickly (as witnessed by the crown handed to our current President-Elect), so with the Atlas being introduced for 2018, it's sorta like when roses and diamonds and furs are thrown in your face so that you don't notice the stack of gambling debts on the table. Volkswagen will survive its current mess and for many, it has already gotten past it.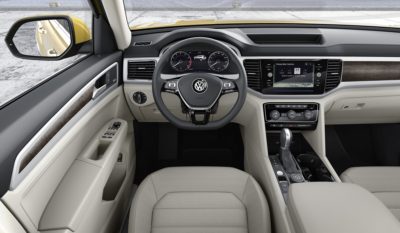 For a few years now, Volkswagen has partnered with Fender Premium Audio Systems to provide all that sound that people want in a car, even when it's just talk radio. Known for guitars, Fender has developed into a powerhouse of audio magic and indeed provides an amazing in-car audio experience that everyone can enjoy (including the police, so please just be careful).
Indeed, see the Atlas, because it is impressive.  It looks nice and big, even though it's a midsized SUV. Those who have seen the Atlas have used words like "bold" and "masculine" to describe it – as if somehow you can't be bold and feminine and still have a kick-ass car. One theme that is woven through all VW cars is the concept of 'German engineering'. By itself, that phrase can conjure up thoughts of Nazi Germany, but when spoken by Volkswagen, it has cachet that communicates more than just high-tech and precision.  VW is banking on its consumers, especially in America, to be drawn to allure of the German engineering.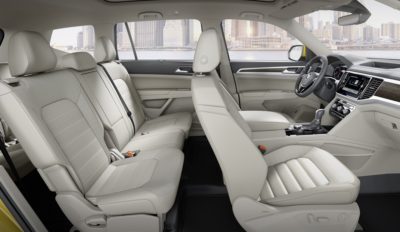 The Atlas will be on dealer lots this spring, though maybe not in time for Fat Tuesday. The one-night media event where it was revealed was exciting, and the live-streaming and party atmosphere made it seem like Hillary Clinton's victory party had started too soon. I think it would be worth a drive for those families (however defined) who want more than a RAV4 or CR-V.
Will the 2018 Volkswagen Atlas be a game changer? After the big game changer we endured on November 8, I'm not sure what to think of anything new and exciting…..