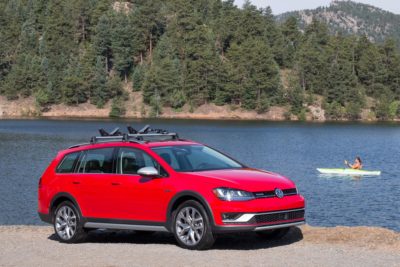 Look out, Subaru, we're coming to take away your gays!
In a not-so-subtle attempt to steer car buyers away from the all-wheel drive performance that Subaru has perfected for decades, Volkswagen is introducing the Golf Alltrack, a car with constant AWD combined with the fun of a Golf (turbocharged). In what has become a popular combo car meal of late, the Alltrack (technically a reincarnation of sorts of the Golf Sportwagen) is a small car, a roadster, a rugged SUV, a pioneering wagon and a family car.  Can't decide if your bi or just curious about having it all?  Perhaps this new incarnation of the Volkswagen Golf, which competes with Subaru's Outback and Crosstrek, is something to consider. Perhaps.
If you go to the dealer and don't ask for the Alltrack, you may be steered toward the Sportwagen, which is a very good car, perhaps the peppiest snazziest station wagon on the lot. Just by looking at the regular ol' (Golf) Sportwagen and the (Golf) Alltrack, you'd be hard-pressed to tell the difference.  They both look like wagons, and maybe they look quite a bit like the Subaru Outback wagon. Remember, this car is a Golf, and that alone means it's a good car.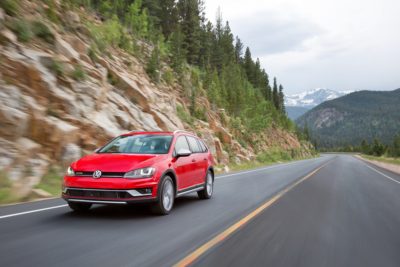 If you really do like to go off-road often (and not just when your new romance wants some thrills and spills in a wooded setting) and want something that is tamer than a Jeep, the Alltrack may be your vehicle.  It comes with the standard Golf engine – 1.8 liter turbocharged 4-cylinder offering 170 horses – and the standard rugged-luxury that has define the Volkswagen Golf for the last few years. The interior is nice but not overly luxurious, the exterior is sporty but not in your face, the overall feel of the car is that rare combination of practical and provocative, assuming you aren't into anything too outrageous.  I liked driving the Alltrack: it had the same secure feeling as other Golf vehicles – and what's not to like about that?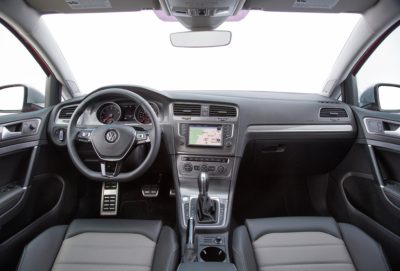 For you off-roaders, ground clearance on the Alltrack is better than on regular Golf trims (0.8 inch more) but not as high as you can get on Subarus. Trims for the Alltrack will be the same as other Golfs: S, SE and SEL. Manual transmissions are available on the S and SE trims, and that's something to crow about if you really do like to put your turbo to the test. Indeed, this just may be the car you buy if your spouse doesn't want to dump all the family kitty into an off-road vehicle but will allow you to get a car with a little bit of thrill to it. And doesn't mind driving a clutch (automatics available).
The Alltrack should be on dealer lots any day now.  This is a fun little car, to be sure, but it's also an SUV and it's a bit of a racetrack darling too. Pricing should start somewhere around $25.8K for the basic S trim (manual transmission), which does include AWD and a turbo. If you like the Golf Sportwagen and really enjoy Subaru's Outback or Forester, this is definitely a car to consider.  It's peppy and a lot of fun yet still seems rather practical.
If only the electoral college could see fit to ditch obligation and go for practical…..