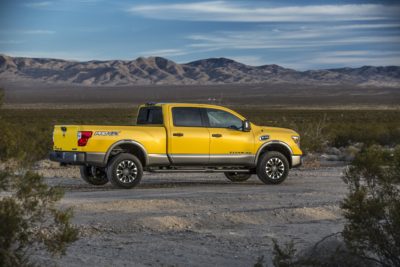 Just to clarify, the 2016 Nissan Titan XD Pro-4X (yikes, that's a mouthful) does not weigh four tons when empty. However, its gross vehicle weight rating is 8,500 lbs., meaning that you can haul a lot of stuff. For farming types and contractor goddesses, this is important.
So here, let your gay imagination run wild and imagine some sort of equipment–like, say, a harness–that can hold and handle four tons (nicely, according to many reviewers) in one session. Throw in Two Tons of Fun singing "It's Raining Men", and goodness, the fun won't stop until something snaps.
We here at Gaywheels.com really like the all-new Nissan Titan for 2016, a year that will unfortunately be known for "when they go low, we go high" and they win the White House. The 2016 Titan is a big, big, really big improvement over previous incarnations.  While the Titan has always been a reliable and sturdy vehicle (Hillary Clinton), it never had the glitz or glam or appeal that other competitors like the Ram 1500 (Bernie Sanders) has enjoyed as of late. Yet unlike retail politics, you can't go wrong with either the Titan or the Ram. The Titan is still a workhorse and a power packer when you need performance–and now, for those of you who need a truck with some glamour-girl going for it, you can get that too.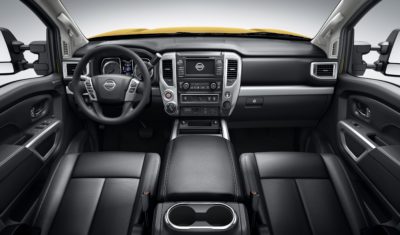 The Pro-4X nameplate is Nissan specialty package, if you will, that is for those who really do like to go off-road and not just look like they do. It's available on many Nissans and it gives the vehicle that extra set of legs and stealth needed to climb up or go down what you (hopefully) intended to attack with all fours.
You'll get 18-inch wheels with all-terrain tires, a lockable rear differential, hill descent control (which lets you sip your gingerbread latte while the truck goes downhill slowly and safely for you), and off-road-tuned shock by Blistein. These shocks are a big deal for those of you grease-gun guys who know how to crawl under something and make it perform; for the rest of us, here's a primer on shock, as in absorbers.  If you want to go all fabulous with leather and power and heated interior accessories with memory for your XD Pro 4X, you will have to pay extra, just as you would for that special person who really does have it all, or at least when he comes al dente.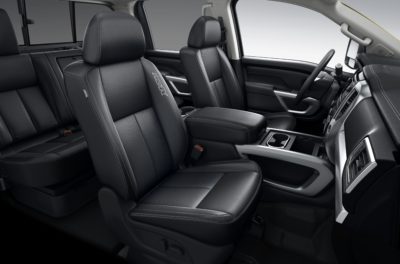 This truck can and does roll over anything, so caution is always advised. Yet realistically, you won't get anywhere near this truck unless you really need to and unless you have a residence in the middle of nowhere that costs about the same as a 600-square-foot condo in a big urban city with lots homo- and metro-sexuals. You can't turn this baby on a dime or even a Franklin, and while it takes a while to power it up, you can't just power it down because a moose or squirrel jumped in front of you. This car is a beast but it is also a beauty. Feed it, pet it, care for it and treat it like it is something special, because it is.
During this holiday season, one should always try to see and enjoy what's good in life.  That will be especially tough this holiday, but here are my thoughts: I really don't see marriage equality being undone (world peace, perhaps, but not marriage equality). Hard as the Republicans will try, I don't see them getting away with more restrictions and fewer freedoms for people they don't like (like us).  At the state level, there is already resistance. This resistance will continue.
Unfortunately, what I do see is the Republicans impeaching Donald Trump on any number of real criminal and ethical charges, and then Mike Pence would ascend to the throne. And when that happens, like the talking snowman in Rudolf the Red-Nosed Reindeer, all I can do is close my eyes, because all I'll have to protect me from harm is a flimsy umbrella.