Ed. note: Kia is the only automaker doing business in the U.S. that hasn't yet made it onto Gaywheels' gay-friendly list. Its sibling, Hyundai, recently made the switch, and we've been told that Kia is doing the same, but we're still awaiting confirmation. Until then, we encourage you to consider Kia's LGBT-(un)friendly employment policies when shopping.
* * * * *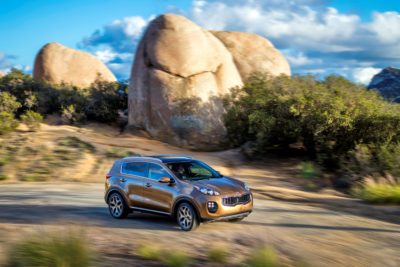 The Kia Sportage has been a staple in its class for quite a number of years now. In a segment that is chock full of worthy compact contenders, Kia has had to step up its game with the Sportage. Even though the crossover sports a new redesign for 2017 and a road-ready cheeky tude, does it have one-size-fits-all appeal and first-rate driving credentials?
The Sportage has been around since 1993, and with this latest incarnation, the Korean automaker took its small crossover to a more dramatic place. The Sportage has been updated every which way, inside, outside, mechanically, and with technological advances to boot. Exterior-wise, it's obvious, the Sportage's fluid design kicks boxy to the curb. Bold and sporty look with a butch stance, a combo of edgy/smooth lines, higher beltline, reshaped signature tiger-nose grille with higher positioned/swept back headlights (can anyone say "Porsche Cayenne!"), LED wraparound taillights, the CUV is a handsome beast that looks ready to eat up highway miles.
With an overall stylish interior design that does not disappoint, FINALLY, the folks at Kia made the decision to offer more cabin space than in previous models of the Sportage. More head and legroom all around with seating that offers impressive thigh, back and tush support, equals no bitching about comfort from any of the vehicle's occupants. The materials used in the CUV's innards have been kicked up the quality scale: Kia went "poof, be gone!" to even a hint of bargain-basement cheapies. The Sportage features soft-touch surfaces, driver-centric center console with simple-to-use technological features such as a high-res standard 7-inch touchscreen (an 8-inch is also available) with clear graphics, quick feedback and Uvo infotainment functions (including Apple CarPlay and Android Auto for full smartphone integration). The Sportage doesn't however have cargo-hauling bragging rights because of its less-than-stellar cubes that stands at 30.7 (with seatbacks down, 60.1 cubes) putting the CUV behind its competitors, who offer at least 4 to 6 cubes more room. So antique shot callers might be disappointed with the crossover's stingy cargo space.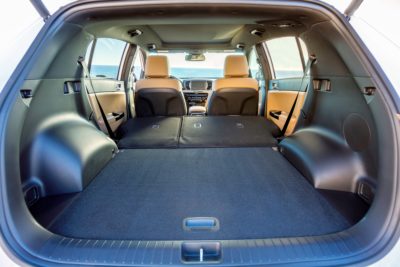 The Sportage comes in three trims: LX, EX and SX. The Kia's LX and EX trim comes in a 2.4-liter four-cylinder engine that puts out 181 horsepower and 175 lb-ft of torque. The SX Turbo model gets a fiercer turbocharged 2.0-liter four-cylinder that pumps out 240 hp and 260 lb-ft. of torque. Both engines come paired with a six-speed automatic transmission. On the performance front, gone is the rough rider from yesteryear, as this fourth gen Sportage is a pretty smooth operator. Hitting the road (test vehicle, the SX), the Sportage is agile, compliant, spirited, a real confident corner-taker and all in a hushed environment. Steering in the vehicle is light, informative, and braking imparts a feeling of safety.
Is the Sportage parched at the pumps? Not hardly! EPA guesstimates come in at about 26 mpg combined for the LX and EX and 23 mpg for the turbocharged SX.
As far as safety, the Sportage offers a respectable number of features like antilock brakes, rearview camera, airbags, hill-start assist and traction and stability control. Other safety gotta-haves that can be found on the SX but optional on the other trims include blind-spot monitor with rear cross-traffic, forward collision mitigation with auto emergency braking, lane-departure and parking sensors.
The 2017 Kia Sportage can certainly woo potential buyers across-the-board with its good looks, practicality, creature comforts, driving manners and fuel economy. The comfy whip also offers a value conscious sticker price to boot, $22,900. If you're shopping for a compact crossover, the Sportage is definitely worth a look-see.
Follow Ruth (aka Car Chick) on Facebook.