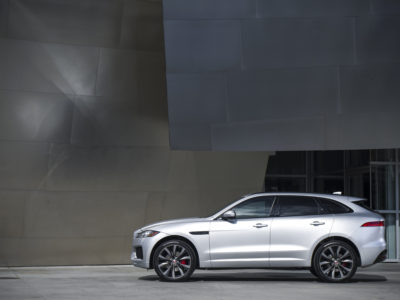 Practicality and beauty rarely go together so well as they do in the luxurious and strikingly good looking 2017 Jaguar F-PACE, which manages to combine the athletic performance of a Highland Game's competitor with the sexy stylings of a GQ cover model.
Roll the clock back to last August when I got to test drive the first-edition F-PACE model, my impression of Jaguar's initial entry into the sport utility vehicle market could be summed up as: not very prestigious, rather pedestrian. To quote my English mates, it was nice to be gobsmacked about Jag's second version of the F-PACE, which is both sensible and yet outrageously fun to drive.
The F-PACE feels like a mid-size SUV rather than a compact, but don't be fooled by the tidy exterior.  With its long hood with raised beltline, it's got eye-pleasing proportions: the height and weight balance is just right, and I love the high riding position. The aluminum chassis construction creates a rigid structure while providing superb body control and an uncommonly firm and distinct ride without being too hard.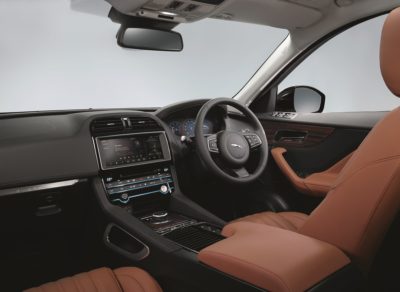 The supercharged V6 engine can produce an impressive 380 horsepower and couples up nicely with the eight-speed automatic transmission. Full-time AWD makes for the perfect mating, especially when Dynamic mode is selected: every shift-point produces a throaty symphony played superbly from the dual exhaust pipes, demanding that this Jag be driven with a heavy-foot, which I was only too happy to oblige.
It doesn't stop there: the F-PACE is chock-full of great safety and technology features like full-length side-impact curtain airbags, blind spot monitoring, front and rear parking sensors, lane keeping, and park assist, but it also has a few extras that set it apart from the rest of the class.
For example, there's the optional Activity Key, a FitBit like wearable device that allows you to leave your key at home.  There's also a driver drowsiness monitor: yup, the Driver Condition Monitor (DCM) constantly analyses driving inputs to detect lapses in concentration due to tiredness.  The InControl Pro Infotainment system included in the Technology package offers a larger 12.3 inch display and digital cluster, with 8 physical buttons that allow users greater menu access.  Plus, the 17-speaker Meridian digital surround-sound audio system kicks butt!
In short, the Jaguar F-PACE offers generous and luxurious seating for five, strong all-wheel-drive standards, and solid road manners, with the performance and styling to make the neighbors jealous.   If you have the means and ability to pick one up, I highly recommend it!
2017 Jaguar F-PACE
MSRP: from $43,390
MPG: 18 city / 23 highway
Horsepower: 340 hp @ 6,500 rpm
Towing capacity: 5,290 lbs
Engine: 3.0 L V6
Curb weight: 4,015 lbs
Dimensions: 186″ L x 82″ W x 65″ H