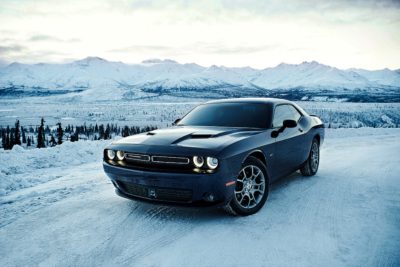 The Ellis Ranch Event and Wedding Center in Loveland, Colorado recently hosted the 2017 Dodge Challenger GT Winter Drive–a showcase for the world's first and only all-wheel-drive American muscle coupe.
Located an hour north of Denver, the Event Center and Wedding Park offered a rustic location to demonstrate the all-weather traction of the new Challenger GT. A small dirt course was set up in the back of the main hall where drivers could take the new Challenger off-road to see first-hand the advanced technology system that includes an active transfer case and front axle disconnect for excellent all-season performance.
The Challenger GT's award-winning, 3.6-liter Pentastar V-6 engine delivers 305 horsepower. Mated to a TorqueFlite eight-speed automatic transmission, it offers an EPA-estimated 18 mpg city / 27 mpg highway. The carriage trail dirt course showed the car's additional ground clearance and how the Challenger's sensors can indicate the need for additional traction. When they do, the system automatically engages the front axle, instantly transitioning the GT into all-wheel-drive mode.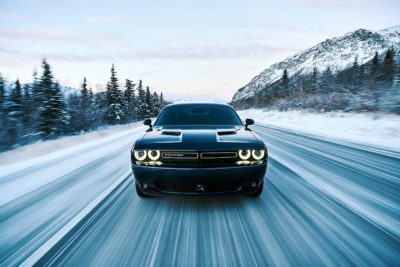 Inspired by the Challenger's 1971 design, the all-new Dodge Challenger GT features refined exterior styling and heritage muscle-car appearance, including a split grille, pronounced and functional power bulge hood, LED halo headlamps, and LED tail lamps. Well-equipped on the inside, the Challenger GT offers premium Nappa leather seating, heated and ventilated front seats with four-way power driver lumbar adjustment, heated steering wheel with power tilt, and a telescoping column. Other cool things I really liked were the 19-inch aluminum wheels with Hyper Black finish,  the deck-lid rear spoiler, and nine-speaker Alpine sound system with 506-watt amplifier.
Special thanks to Kelly and Crew at Fiat Chrysler Automobiles; Rick Deneau, Claire Carroll, Kristin Starnes from Dodge; and the terrific folks at Rocky Mountain Redline for bringing this event to Colorado.  I would have liked it even better if they'd set up a road driving course and allowed us to do some drifting to get a feel for the how the new GT delivers performance, power, and all-weather capability to carve through whatever weather Colorado's winters can dish out. Maybe next time (hint, hint).
Model: 2017 Dodge Challenger
MSRP: From $33,395
Horsepower: 305 hp
Curb weight: 4,108 lbs
MPG: 18 city / 27 highway
Engine: 3.6 L V6
Gross vehicle weight rating: 5,350 lbs
Torque: 268 lb-ft