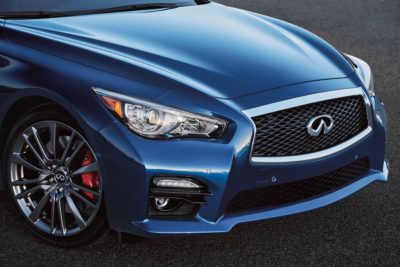 The Infiniti brand has always been a gamer, trying its damnedest to go wheel-to-wheel with the Deutschland crew (Audi, BMW, Mercedes) and Japanese premium-packers (Lexus, Acura). The brand also mixes it up with such American lux automakers as Lincoln and Cadillac, and yet Infiniti is still considered Tier 2. So, can the 2017 Infiniti Q50 rub fenders with the primos?
Eyeballing the Q50, it's pretty obvious that the five-passenger sedan has something brewing under the hood that's nasty in a good way. It's also pretty obvious that Infiniti snatched some Euro design cues for its Q50—sculpted sides, aggressive/wide stance, double arch signature grille, striking sinister-looking headlamps, long nose and snub rear. The sedan's brightwork has been kept to a tasteful minimum which gives it an upmarket look. I'd definitely call the Q50 "eye candy".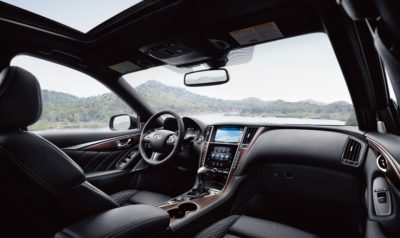 Inside the Q50 is where comfort is king. The well-thought-out interior is really spacious, front and back. The bolstered seating offers exceptional lateral support. The B-pillar that can be encroaching for talls in some vehicles isn't the case in the Q50. The fit and finish of the car's interior is on par with its segment leaders– tastefully appointed soft-touch surfaces, leather, wood trim, attractively laid-out and ergonomically positioned with instruments and controls that are intuitive. No readers needed to make out the vivid and easy-to-read icons on the available Infiniti InTouch with Navigation and Voice Recognition system.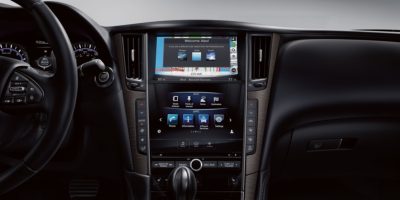 The Q50's Bose premium surround sound stereo system booms big time, delivering a really clean sound with just the right presence of bass (this chick loves cranking the music way up). One thing though: the sedan's low step-in height makes it an interesting adventure for the tall and horizontally challenged when getting into and out of the vehicle. The Q50 offers panoramic visibility in the front, but in the rear, not so much because of its high decklid. (Although the optional Around-View Monitor with Moving Object Detection totally takes care of the visibility issue.)
Now here is where the fun begins: punching the Q50 (3.0t Sport) was a blast! Overtaking a few of those autobahn wannabees and hugging corners really showed out the Q50's agile promise. Competent and tuned for performance, the Q50 3.0t Sport trim in particular provides more-than-adequate feedback as far as steering and crisp maneuvering dynamics. (There are four main trims and other variants.) My tester, the 3.0t Sport comes with a turbocharged 3.0-liter V6 engine that kicks out 300 horsepower and 295 lb-ft of torque, which is more than enough power for the average speed demon. However for those who want to tear it up, there is a Red Sport 400 edition that uses the same V6 engine, but cranks out 400 horses and 350 lb-ft of torque.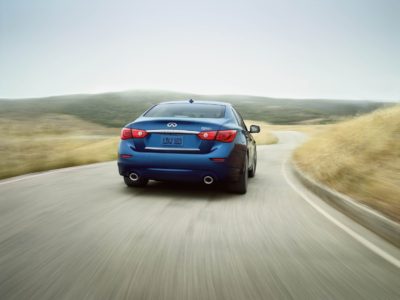 Safety features on the Q50 are plentiful, with such standards as airbags all around, brake assist, Vehicle Dynamic Control with Traction Control System and tire pressure monitoring. Options like Backup Collision Intervention, Predictive Forward Collision Warning, lane departure warning and blind spot monitoring are certainly 'must considerations.'
The 2017 Infiniti Q50 is an intriguing option in a class that is super competitive. The car's good looks, sportiness, style and high-tech accouterments give it a serious edge over its haters. So, all you badge snobs who refuse to budge, this Q50 is definitely worth peeping and can certainly rub fenders with the best of them.
Prices start at $33,950. Need more info? Visit infinitiusa.com.