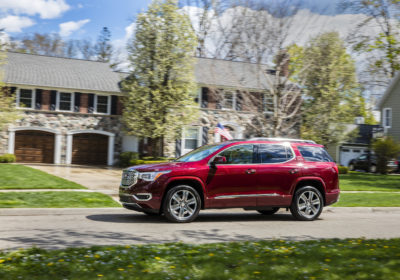 I can't quite put my finger on it, but something is missing with the 2017 GMC Acadia Denali, a nice car if there ever was one. This queen of Denalis is an attractive package indeed, offering a 3.6-liter V6-engine that puts out 310 horses and a lot of prowess on the road.  (The regular GMC Acadia comes standard with a 4-cylinder engine.) Style, looks, prowess…and yet, to be honest, something is missing.
Just what is the GMC Acadia, you ask?  Great question.  Despite having been on the American market for ten years, you just don't hear about the Acadia much (or GMC).  The vehicle and the name have failed to gain any real traction in the court of popular opinion, and that, no doubt in today's social media society, has had an impact on perception and sales. For 2017, it's a midsized SUV and not a full-sized monster, so it is a bit more approachable this year.  And yet there is still something missing….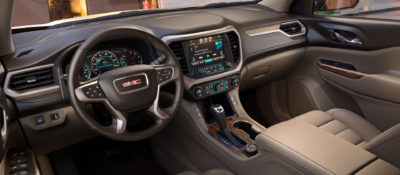 If you are a king, queen or jester of a certain age, you will appreciate the simple layout of the interior, especially the dashboard.  There is nothing complicated or Comic Con about the operations of the Acadia Denali (sounds like Drag Queen of the Year to me). The one I tested had a Cocoa (read: medium beige) interior, which looked nice, simple, soft and inviting, not threatening in the slightest.  Given the girth and mirth of this vehicle, I enjoyed knowing that if I really wanted to, I could run over someone who voted for Donald Trump while hoping he wouldn't take away Obamacare.  (I wouldn't do that. Really. I think.)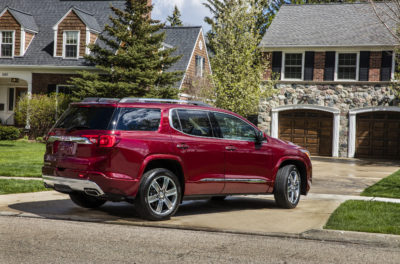 For families, Edmunds.com points out that the GMC Acadia is small and practical enough to serve as the sole family vehicle, mainly because of its third-row seats and approachability.  I never really thought about that, but it makes sense. Just because you can't get all your festive friends in the car doesn't mean it isn't right for the offspring you so desperately wanted five years ago. I imagine that parents need a car that is uncomplicated, something that can soothe the damaged nerves that child-rearing must produce.  But I wouldn't know, and honestly, the world is better off without me having left that kind of legacy.
And yet, for me, something was missing.  I can't honestly tell you what, because I have no complaints about the vehicle. The Acadia Denali I tested, after options like adaptive cruise control with automatic braking were thrown in, came to just over fifty-grand. Sure, that price is no sweat for a world-class writer like me (cue Hillary Clinton laugh) but I do feel there are better ways to spend a half-year's salary (I'm speaking to all you coding experts out there). I wasn't left with Wow or Ahh or anything, good or bad.  It was, for me, just the Acadia Denali.  Whatever that is. Or was.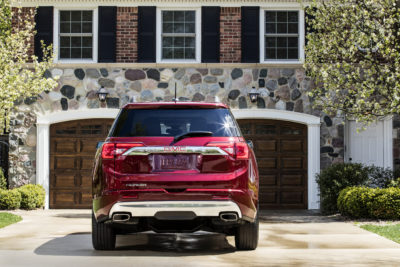 But therein may lay its true beauty.  Nothing spectacular.  Nothing that stands out in the crowd.  Nothing that makes you go hmmm. It just is, and for those of us who were lucky enough to make it through early adulthood and into the 21st Century, that's a great thing. (For comparisons, you should also look at the Toyota Highlander and Ford Explorer, both top-notch vehicles.)
If I sound like I am intent on bashing the Trump presidency, I am. The only reason Hillary Clinton is not in the White House is because she is a woman. There, I said it. Some might feel I have said too much.
Actually, I don't feel that I have said enough.