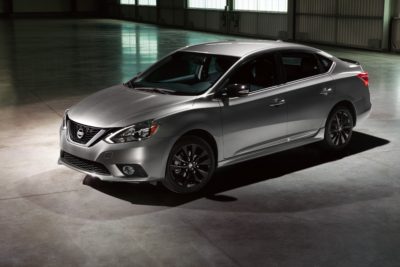 Practical, simple, sturdy, reliable, understated…. All the things you're supposed to look for and like in a soulmate, right? Not all of us listen to the adults in our lives, even though their words of wisdom are often worth heeding. If your anciaños are telling you (wisely) to get a smart, practical car so you can have more party money, listen to them, because they just may direct you to the 2017 Nissan Sentra.
Believe it or not, at one point in time, this car used to be snazzy and whiz-bang and reeked of German engineering, with a bit of BDSM thrown in to boot. Today, it's matured a bit, and now the Sentra is a 'smart' car offering plenty of interior room and even a turbo for right around $22K. And if you don't want or need a turbo, get the base level S trim and save five-grand, since the base model starts at $17K, which nowadays is a steal.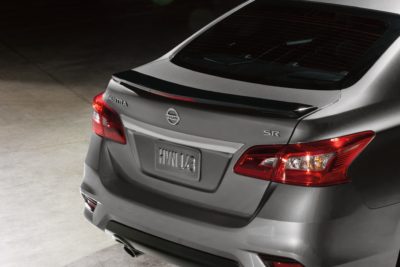 Driving this sentry around town, it was easy to forget about it, because it doesn't wow or dazzle you. It's sorta like the rescue pet that chose you and now it will always be there, waiting patiently outside, to rescue you and deliver you from sin or whatever antics you may find. It's one thing to go crazy, it's another thing to get home in one piece.  The 2017 Nissan Sentra will always get you home safely.
New this year is the offering of a 1.6-liter turbocharged engine on the SR trim. (The alphabet soup of trims goes from base to top with S, SV, SR, SL, SR Turbo and NISMO.) I tested the turbo, and it was truly a lot of fun in a safe, practical way. The SR Turbo trim won't win you any drag races, but it does give a pep to the car that can make you feel like you aren't completely without power. I can't say you really need a turbo on the Sentra, so I would start with the base S trim and see if you can live with 29 city / 37 highway miles per gallon.  (The turbo does slightly less, coming in at a combined 28 mpg.)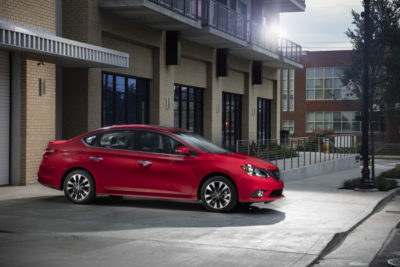 One of the most impressive features about this small sedan is that there really is plenty of room inside and in the rear. Piling a bunch of bears in the Sentra is not too difficult because it does offer a fair amount of head and hip room, something that can be tough to find in any car with practicality. Spilled nachos or shamrock shakes in the car are a breeze to clean, although you first have to remove the bears before you bring in Mr. Clean. (Check on this incredibly GAY commercial for Mr. Clean from the 1950s.) With all seats up, you get about 15 cubic feet of space in the rear, and that ain't bad for the class. I enjoyed the Sentra, my passengers didn't really notice it, and nothing adverse happened, other than the hot fast food that hit the ground when I was a little stiff with the clutch.
(Speaking of which, the 2017 Nissan Sentra has one of the easiest clutches I have driven in a while.  I admit, I'm lousy with a clutch, Prada or otherwise, but I had no trouble shifting this one while also handling a Cher CD, nachos from Kum n Go and a shamrock shake from McDonald's.)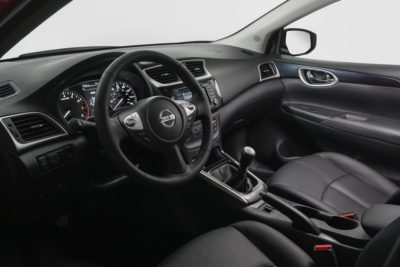 Be sure to check out the other cars in this small sedan category, to include the Nissan Versa, a car I really like because it's smaller but not tighter, has four doors and a generous amount of interior room. If street parking is a concern, the Versa is easier to handle than the Sentra, but both maneuver well through any rough or smooth situation.
When it comes to the loves of your lives, like sands through the hourglass, so go our loves, but hopefully they leave you with good memories. No car lasts forever, so why not get a car that you can afford and will be always ready to rescue you and take you home every night of the week? The Sentra can do that for you.
And that smart choice will give you more money for the burly blond who only orders call drinks when you're buying….