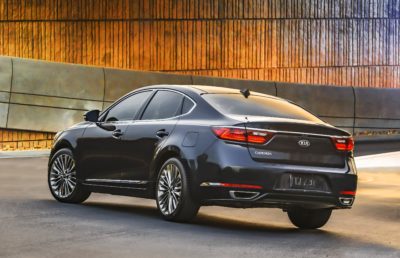 Obsessions, we all have them, like my penchant for bad TV. I'll admit, I'm a fiend for those reality shows where producers pull no stops to go to new depths in depravity. Throwing Martha Stewart-level dinner parties is another obsession; I've asked myself over and over, why would any relatively sane person still use candle snuffers and wine glass charms in this day and age? Then there's my shameful food obsession: anything salty satisfies my yummy requirements–chips, mixed nuts and yes, deli meats!
And of course, there are cars. Brute force machinery can certainly be beguiling. But can the 2017 Kia Cadenza truly become an obsession?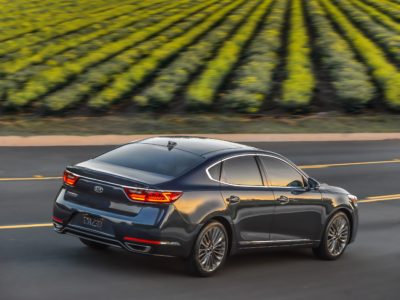 The 2017 Cadenza is pretty, a real showroom floor attention-grabber with Euro appeal. Gotta give Kia big ups for hitting the drawing board again after just three years and coming up with this latest Cadenza incarnation; the exterior look is a handsome amalgam of masculine and graceful lines. The automaker's "tiger nose" chrome concave grille with vertical bars idea for their Cadenza might have been snatched from Maserati, but no harm, no foul. The striking LED front and rear lamps house a Z-shaped lighting design that I'd describe as sensuous, as well as captivating. Wider and lower than the previous model, the Cadenza looks aggressive, so much so, it made want to step in to survey its goods.
Once inside the car, the cabin coddles. The five-passenger ride is a grand dame with premium appointments and room-to-stretch front and rear for most body types. Even with the supportive, lounge-chair-like front seats positioned all the way back, unless your rear passenger plays for the New York Knicks, kneecaps probably won't even touch the seatbacks. And speaking of knees, the Cadenza's praiseworthy padded driver knee rest is a definite considerate touch. Smoochies!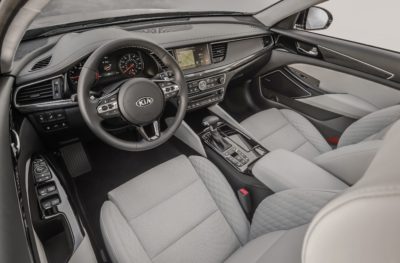 The expansive dash's instrument cluster is neat, attractive and easy on the eyes with controls that are conveniently and clearly mounted. There is more than enough storage for the Cadenza's occupants with a deep glove compartment, under center stack cubby, armrest bin, front door map pockets apportioned, proportioned and made to hold water bottles and car stashes. Alas, the vehicle has no folding rear seats but there is a ski pass-through.
The full-sized car's dash is outfitted with a 7-inch color display with rearview camera in lower trim, and two other hoity-toity trims receive an 8-inch touchscreen with navigation. Standard in the Cadenza line is Kia's UVO infotainment technology that comes with Apple CarPlay and Android Auto. The Cadenza's wonky navigation system, however, could certainly use some tweaking as it is a tad slow and got confused more than a few times with addresses.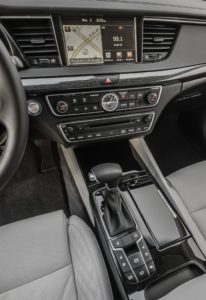 Another annoying tech 'design-don't'–not only in the Cadenza but in so many other vehicles as well–is that when a car is in motion, the navigation info originally inputted gets locked in, rendering my passenger pretty useless if an address needed to get changed while en route suddenly. The South Korean automaker can also take their voice recognition system back to their think tank for some fine-tuning. The available Smart Welcome is a cute feature whereby the vehicle detected its key as I approached it, unfolding its side mirrors and turning on its exterior and interior lights to let others know I was near. Yet another optional tech feature that will give an owner bragging rights is the Power Trunk that automatically pops up when you stand behind the vehicle with just the Smart Key; a sweet feature especially after hitting a Costco!
I was pretty anxious to get behind the wheel of the Cadenza and thankfully, was not disappointed with the end result. Getting into and out of the sedan was easy, and its all-around visibility gets really high marks. The car offered an abundance of satisfying handling dynamics–ride comfort, responsive road manners, firm braking, and it absorbed road insults with absolute ease. Powering the Cadenza is a 3.3-liter V6 engine with 290 horses and 253 lb-ft of torque. The ride was really composed, engaging and absolutely energetic enough for the average luxury-focused buyer.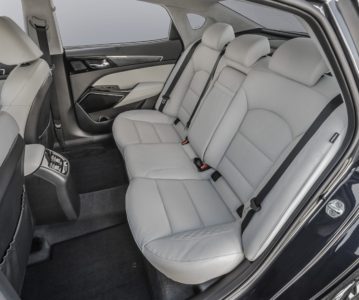 The Cadenza is also a host to plenty of standard safety features: airbags, ABS, vehicle stability management, traction control, brake assist, hill start control, tire pressure monitoring, front and rear crumple zones and side-impact door beams. On the fuel front, this Kia gets an estimate of 20 city, 28 highway and 23 combined.
The 2017 Kia Cadenza is styled to play well. It skews towards the comfy side of the riding spectrum and has enough of all the right stuff to make it an obsession for families. Kia certainly stepped out on a limb and now seems to have this luxury car thing on definite lock down.
Prices start at $31,990. Need more info? www.Kia.com.