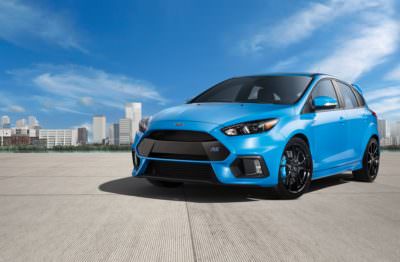 Any car bold enough to wear Nitrous Blue paint and a wing on its hatch better be able to back it up. When its badges include "Ford" and "Focus", one has to wonder about its fortitude. But, this is no average five-door grocery getter. Look a little closer and you'll notice RS badges. I'm not sure what those letters stand for, but we'll go with "Really Special".
From the moment you encounter it, you know the Focus RS means business. An aggressive trapezoidal grille and facia, lower splitter, and the big rear wing are big first clues. Notice also 19″ wheels, gaping openings for engine cooling, brake cooling ducts, and vertically-mounted LED foglamps. Peek through the wheels to see blue Brembo four-piston brake calipers. All of the accoutrement is no joke; it's all designed to help the RS go fast and stay fast.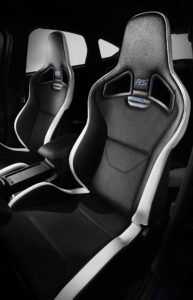 The basic body shell is shared with other Focus five-doors, which means you can flip down the rear seats and throw a bicycle through the hatch, click in a child seat, or settle in for a comfy daily commute. But, that's where the normality of owning a Focus ends. Rib-hugging RECARO seats, flat-bottom leather-wrapped steering wheel, and dashtop gauges for turbocharger boost pressure, oil temperature and oil pressure slap your face to the power within. Stylists dressed it up with contrasting blue stitching on the seats and steering wheel, seatback RS badging, and sill plates. Crank the 10-speaker Sony audio system, adjust the automatic climate control, and set navigation for a fun trip – whether that's cross country or just to the bar.
Slaying the idea of empty swagger is a 2.3-liter EcoBoost® four-cylinder engine, producing 350 horsepower and 350 lb.-ft. of torque, mated to a six-speed manual transmission. Making sure all of that muscle goes to good use, the car directs power through an all-wheel-drive system with torque vectoring that over-rotates the rear wheels to sharpen corners. Up to 100 percent of output can be sent to the rear wheels – perfect for drifting. On a side note, if you've never tried drifting before, now is the perfect time to do so. If you live in Australia, why not go drifting in perth on a white sandy beach? Drifting can be fun if you know what you're doing, so make sure you take some lessons beforehand. The car can accelerate from 0-62 mph in 4.7 seconds and reach 165 mph. Drive easy to see 19/25-MPG city/hwy.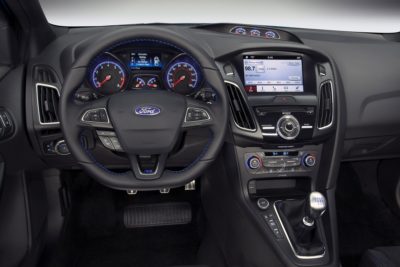 You'll want to pay attention to the clutch uptake, but modulating the turbo is pretty smooth and shifting through the gears brings carnal pleasures. Configure the handling and powertrain for Normal (easy cruising), Sport (aggressive throttle), Track (kills stability control), and Drift Mode (sends more power rearward). In any mode, the car handles better than any five-door hatchback should. And, if you live where winter is not your idea of a good time, the RS is available with Michelin Pilot Alpine snow tires. Why should the fun stop for a little powder? Heck, go find a big open parking lot and see how it drifts.
Ford is not going to sell many of these, but it's great the automaker puts the Focus RS in the same showrooms as Mustangs. They are totally different visions of a performance car, but the RS' smooth engine, all-wheel-drive, and adjustable modes make it fun to drive. The fact you can easily take friends, family, and gear makes it even better. Just be prepared to pay: Prices start at $36,120, coming to $41,370 as tested, making it fierce competition for the Subaru WRX, Audi S3, and Mercedes-Benz GLA45 AMG. While there is a big American blue oval badge on the RS' nose, it's built in Saarlouis, Germany.
Storm Forward!
Watch Casey's video of the Focus RS above, then follow him on YouTube and Twitter: @AutoCasey.
2017 Ford Focus RS
Five-passenger, AWD Hatchback
Powertrain: 350hp 2.3-liter Turbo-4, 6-speed manual transmission
Suspension f/r: Ind/Ind Control Blade
Wheels f/r: 19″/19″ alloy
Brakes f/r: Brembo disc/disc
Must-have features: Speed, Style
0-60 mph: 4.7s
Top speed: 165 mph
Fuel economy: 19/25 mpg city/hwy
Assembly: Saarlouis, Germany
Base/as-tested price: $36,120/41,370