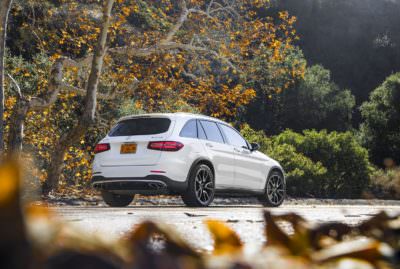 AMG has a long history of being Mercedes' in-house gym, delivering cars as diverse as the GT-S supercar that blips 0-60 mph in 3.7 seconds and G65, a 621 horsepower brick-square mountain goat with a biturbo V12. But, its card was swiped with the "Hammers" – modified 1980s E-Class sedans wagons that could move Porsche 911s out of the Autobahn's left lane. Somewhere in the middle of this array of this speed orgy and motorized hostility is the GLC43 that drops a hammer on crossovers.
In the flesh, the GLC43 is a compact crossover sharing basic architecture with the Mercedes C-Class sedan, but fortified for trashing fast lanes. Beneath its smooth flanks is a 3.0-liter biturbo V6 engine delivering 362 horsepower through a 9-speed automatic transmission. Fully throttled, it scamps from 0-60 mph in just 4.8 seconds. Fuel economy, partly due to ECO stop/start technology that pauses the engine at rest, is rated 18/24-MPG city/highway. Yeah, a Prius it won't challenge.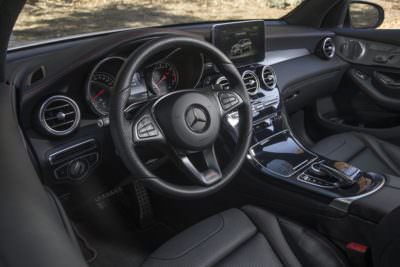 But one glance at its flash body identifies the GLC43 as from the sportier side of Mercedes' gene pool. I still miss the GLC's predecessor, the square GLK, but I'm warming to its streamlined flanks – especially when hunkered over 21" alloy wheels and lit with LEDs front and rear. A large grille star, twin bumps on the hood, and wrap-around taillamps honor Mercedes heritage. Large air intakes, badging, and spoiler tell you it's an AMG.
Beyond the threshold is a comfortable and special passenger space. Hugging MB Tex and suede heated seats up front, carbon fiber trim, flat-bottom steering wheel, and red accent stitching are the opening barrage. Settle in to notice the sweet-sounding Bermester audio system, dual pane sunroof, and Bluetooth. Take a big whiff of the perfume atomizer. Control the whole infotainment shebang via console dial, buttons, and writing-recognition touchpad. Ambient lighting adds allure.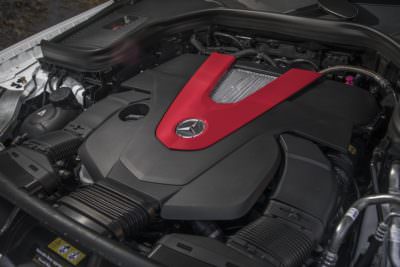 Look behind the star in the grille and you'll find the radar unit for adaptive cruise control and forward crash mitigation system. There are also lane keep assist, pedestrian recognition, and blind spot assist systems. A 360-degree camera and lane-centering steering control take stress off of drivers.
Driving any Mercedes is not just about power; it's also about refined and agile handling. 4MATIC all-wheel-drive handles tracks and poor weather, but the AMG Dynamic Select system also allows drivers to configure the powertrain, steering, and chassis for ECO (saves fuel), Comfort (everyday driving), Sport (getting ready), and Sport+ (head to the track). Those big wheels have a heck of a time keeping rough pavement from disturbing the cabin, but you can toss the crossover with abandon and know it's up to the challenge – flat-out down the Interstate or carving up backroads.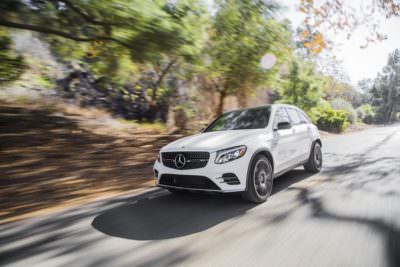 If you aren't impressed with this AMG GLC, just wait. Come 2018, the GLC63 AMG debuts with a 469 horsepower 4.0-liter biturbo V8 that rips from 0-60 mph in 3.9s. Hold onto your cape, super man!
Like all AMG products, the GLC43 adheres to the "One Man, One Engine" craftsmanship that sets it apart. It's special, adhering to a long heritage of grand performance machines. This one just happens to have five seats and a roomy cargo area. Step on the throttle and you'll know this hammer didn't drop far from the family tree.
Prices start at $54,900, but came to $62,025 with almost every box checked.
Storm Forward!
2017 Mercedes-Benz GLC43 AMG
Five-passenger, AWD Crossover
Powertrain: 362hp 3.0-liter Turbo-V6, 9-speed automatic trans
Suspension f/r: Ind/Ind
Wheels f/r: 21"/21" alloy
Brakes f/r: disc/disc
Must-have features: AMG Style/Speed
0-60 mph: 4.8s
Fuel economy: 18/24 mpg city/hwy
Assembly: Bremen, Germany
Base/as-tested price: $54,900/62,025