Once upon a time, the Chevy Cruze had the visual excitement of navel lint. Fast forward to the present, thankfully, as Chevy took the eye-catching design route, snatched away that fleet appeal of its Cruze, and brought to the table a sedan with whip appeal. In the words of that grand dame of domesticity, Martha Stewart, what Chevy has done to its Cruze is a "good thing!"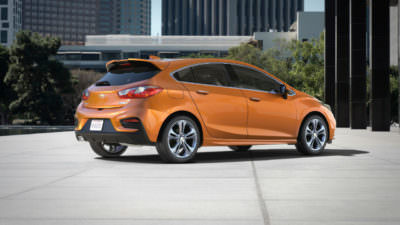 After its redesign last year, the second-generation compact Cruze now adds to the mix a hatchback bod that can go grille-to-grille with quite a few of its fiercest Japanese, Korean, and American rivals. At first peep, the vehicle looks larger than its previous design, but Chevy says it weighs 250 pounds less. Beefy is the operative word I'd use when describing the Cruze. The aerodynamic looking sedan has conservatively creased sheet metal, aggressive dual-grille front, rising beltline, curved roofline, and all of these Euro-like styling elements to make it hands-down sporty.
I was more than surprised when I slid into the Cruze's midsized-feeling innards, room on top of room! Head, leg/knee, and hip room, soft touch surfaces, nicely padded back soothing seating, pristine stitching–I dare say, the Cruze had a premium, modern-looking interior. Getting back to the room the sedan offers, not only was the front accommodating for more than your Average Joe body types, but the rear seating area was as well. Cargo capacity is competitive in the Cruze; the automaker boasted a very ample 14.8 cubic feet of cargo (13.9 in the Premier and LT trims). The Cruze hatch offered a really impressive 47.2 cubic feet of cargo space when the second row was down.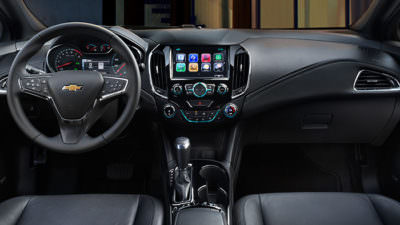 Giving the very attractive dash the once over, there was an intuitive center-mounted MyLink infotainment touchscreen (standard 7-inch or optional 8-inch) that offered 'didn't-need-to-make-a-move-for-my-glasses,' graphics. Refreshing! Bluetooth pairing my smartphone in the car was thankfully, not a hair pulling experience: the process was super quick was breezy. And speaking of technology, Apple CarPlay, and Android Auto are Cruze standards. OnStar's 4G LTE service that can turn the car into a mobile WI-FI hotspot is also available on all trims.
I was pretty curious to check out the Cruze's on-road performance, just to see if it was as brawny as it looked. The 1.4 liter DOHC turbocharged 4-cylinder engine with 153 horses and 177 lb-ft of torque was not as frisky as I somehow expected, but it was adequate. Don't get me wrong, the hatchback was fun. The Cruze was adept at cornering, compliant, pretty nimble, and so easy to maneuver, but launching it from a stop took a bit of pedal effort. However, once I got the Cruze going, I pretty much unleashed its secret—fun factor. At highway velocity, the hatch was also quiet. Fuel-wise the Cruze only sipped at 29 city/38 hwy. I thought to myself, now this is a REAL draw for commuters.
There were quite a few standard safety features on the Cruze that added up to savings overall, because oftentimes, many are offered as options: ten airbags, rear vision camera, four-wheel antilock disc brakes, electronic stability control, Teen Driver system (encourages safe driving behaviors and provides a report on teen's driving habits), tire pressure monitoring, and OnStar (which includes automatic crash notification, roadside assistance, remote door unlocking and stolen vehicle assistance). The National Highway Traffic Safety Administration awarded the Cruze a four-star, out of five, safety rating.
No doubt, overall, the 2017 Chevy Cruze is a looker that gets the job done with personality and a bit of flair. Its cavernous cabin, roomy trunk, and excellent fuel efficiency are high selling points. Kudos to Chevy for resuscitating their Cruze and for making it a real contender in an increasingly competitive segment.
Prices start at $16.975. Need more info? Visit Chevrolet.com.