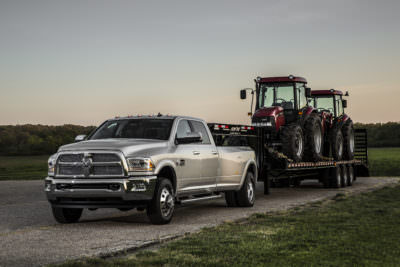 Disclaimer: I have always had an aversion to work.
Thus, why would I want or need a truck that is the ultimate workhorse / workaholic, designed for those county fair / Highland Games LGBTQ types who are even more of a workhorse and a workaholic than their tools?
There is only one word to describe this year's Ram 3500 Dually truck: wow!  Even if you are a size queen, this monster is too much for everyone except for those of you who live on a spread of land where there is a lot of room and a lot of work to do. This big, big, big truck is not for the faint of heart, or anyone who needs help getting their baggage to the honeymoon suite. It's safe to say that unless you like to work as hard as this truck does, it will all be lost (to include a fair amount of cash and credit) on you.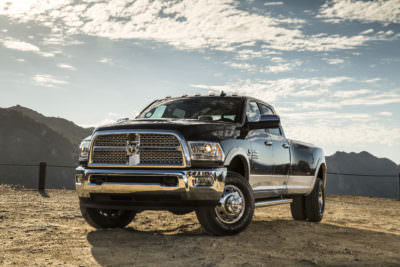 Big trucks can now come any way you want. This year's Ram 3500 can be configured however desired, with a choice of three cab styles, two bed lengths, three engines, two transmissions, and six trim levels. And that's just for starters. It used to be that you could have either a big sedan-like cabin that seats five adults or a long 8-foot truck bed, but not both. Well, you can now get a big spacious Crew Cab and Long Box all in one! Yes, that does sound gay and fun, and it is, but don't try to park this anywhere in the city. This is more truck than you will ever need – unless you need to tow 31,000 pounds.
Yup, if you have a lot of whatever to haul, those other skinny-latte trucks that can only handle four tons won't cut it. Well then, you should consider the Ram 3500. Mind you, 31-thousand pounds is the max you can tow with the big Cummins Turbo Diesel engine, which comes on the top-tier trim. Smaller engines are available with the 3500, but they'll limit you to towing as little as six or seven tons. So if you really do need to load Sixteen Tons, you'll need the primo top-o-the-line Ram 3500 Limited Crew Cab 4×4 Long Box, which is what I tested.  Goodness, that was exhausting just thinking about all the work I could do with this truck! Not that I ever think about work….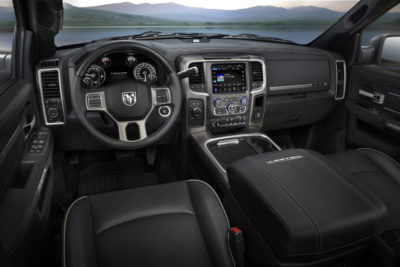 (More full disclosure: I am pretty sure this vehicle was loaned to me just to see what kind of fun I could have with it. Believe it or not, I did figure out how to put diesel fuel in it. I also managed to not run over anything that was breathing before the truck approached it. Mission Accomplished.)
Important note: there are six wheels on this Baby Huey, thus the nickname Dually (for dual rear tires). This is done mainly (so I'm told) so that the extra weight you are towing / hauling has more than just two wheels upon which to rest and balance. Again, why would anyone need six wheels unless you really do spend a lot of time being a fifth wheel socially and need some company?
I just love testing vehicles that I will probably never need or see again until they come on the rotation. Driving all kinds of new cars is fun and I encourage everyone to give it a try.  Just know that if you are doing it just to make enough money to eat and pay rent, you'll want to get a job or two.
Sometimes when you do what you love, the money does not follow.